Shortoff Mountain Trail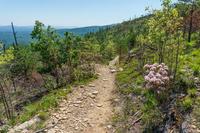 At A Glance


1.0 mi one-way
Steepness: Climbs Moderately
Tread Condition: Moderately Rough
Blaze Color: None
Trail Number: 235

This trail is located in the Linville Gorge Wilderness area. For a list of all the trails in that area, see the Linville Gorge Wilderness trails list page.
Hikes That Use This Trail:
Shortoff Mountain
Description
Connects the Wolfpit Road parking area at the edge of Linville Gorge Wilderness to the Mountains to Sea Trail about 2/3 of the way up Shortoff Mountain. Passes through an area that has been burned by wildfires repeatedly in the last 20 years, notably in 2002, 2007, 2013 and, most recently, in March 2017. Most large trees are dead; the few standing ones are gnarly and true survivors. There used to be a lot of standing dead snags along this trail, but the wildfire of March 2017 actually took care of a number of those. Fires notwithstanding, a thick carpet of understory plants including rhododendron, mountain laurel, and ferns are pioneering the charred soil and it was looking already rather green just a few months after the fire.
The lack of trees makes for some spectacular views back down toward the Piedmont with Lake James shimmering in the distance; farther off the South Mountains grace the horizon while Morganton and Marion are nearly hidden among the trees. The trail is mostly dry and rocky with just a few wet spots here and there if it's rained recently. Be prepared for bright sunshine and exposure on this trail - unlike anywhere in the region outside perhaps the balds in Shining Rock Wilderness.
There is one junction near the bottom with an unnamed old logging road; take a right (this junction is signed). A faint trail goes left at the first right-hand switchback; keep right to stay on the trail. At the Mountains to Sea Trail junction, where this trail technically ends, continue straight on the Mountains to Sea Trail to reach the level summit of Shortoff Mountain and its spectacular views of Linville Gorge, and a small natural pond. This junction is also signed.
Also known as the Wolfpit trail. The entire trail across Shortoff Mountain to The Chimneys is often referred to as the Shortoff Mountain trail, but is now probably best identified as part of the Mountains to Sea trail, which is blazed along that route.
All Photos from the Trail
GPS Map
Download GPS Data
Click routes, trails, or points on the map to download them (on the GPS Data tab).
Total Calculated Length: 1.02 mi
This value is derived from our underlying map data, so it may not match officially published information.