Table Rock Summit Trail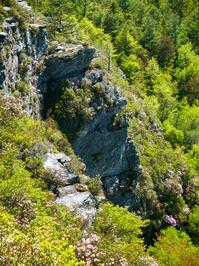 At A Glance


1.4 mi one-way
Steepness: Climbs Steeply
Tread Condition: Moderately Rough
Trail Number: 242

This trail is located in the Linville Gorge Wilderness area. For a list of all the trails in that area, see the Linville Gorge Wilderness trails list page.
Hikes That Use This Trail:
Table Rock
Description
Rocky climb through forest varying between dead and burned pines, hemlocks (mostly dead), and shrubs. Neat rock features. Fantastic views from the summit. Very popular; makes up the Table Rock Best Hike.
All Photos from the Trail
GPS Map
Download GPS Data
Click routes, trails, or points on the map to download them individually (on the GPS Data tab).
Trail Segments
Trails are often made up of several connecting paths which may have different characteristics, allowed uses, and seasons. This trail is divided into multiple segments as follows:
Table Rock Summit - Parking to Little Table Rock Tr.
Allowed Uses:
Length: 0.3 mi
Table Rock Summit - Little Table Rock Tr. to MST
Allowed Uses:
Length: 299 ft
Table Rock Summit - MST to Top
Allowed Uses:
Length: 0.35 mi
Total Calculated Length: 0.71 mi
This value is derived from our underlying map data, so it may not match officially published information.
Intersecting Trails
Feedback
Ratings
Average Rating: 5.0 (rated 2 times)
Rate It Now:
Comments