The Best Hikes to Waterfalls
Hikes By Features: Waterfalls | Views | Historic Sites | Kids and Families
Here's a collection of what we consider to be the best waterfall hikes in the Western North Carolina region.
One of the most popular destinations for hiking in the mountains, waterfalls abound in the southern Appalachians, with ample rainfall falling on erosion-resistant rocks underlying the smooth, round ridges. Waterfalls are a common feature on both smaller streams and larger rivers.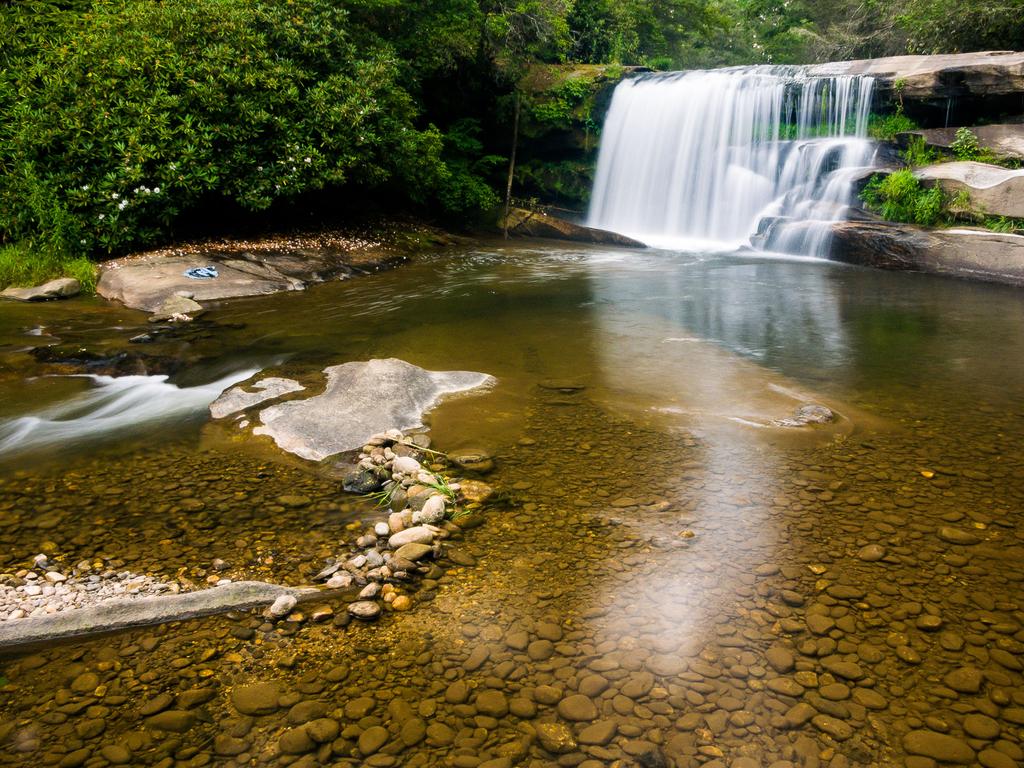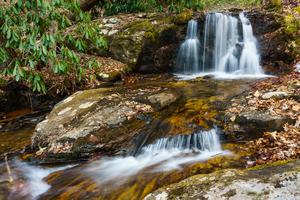 While these are what we consider the best hikes in the region that include a waterfall, they are by no means an exhaustive list of all the waterfalls you can hike to. For ALL the waterfalls we know about in Western North Carolina, visit our sister site, WNCWaterfalls.info!
Here are the hikes, organized from easiest to hardest.
Toms Creek Falls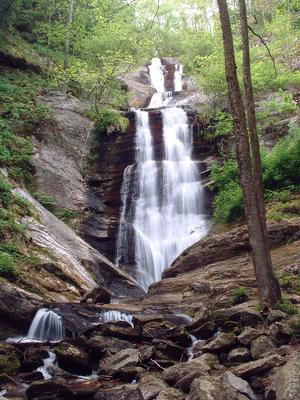 0.8mi, Easy
Climbing: Climbs Gently
Tread Condition: Graveled
This easy hike is excellent for families and children, with a reward at the end that everyone will look forward to. It's short enough that adults who have to carry tired kids won't be too worn out at the end to enjoy it themselves. The waterfall isn't the only thing to enjoy on this trail, however. You'll see a lush cove hardwood forest with smaller streams, a bridge, huge boulders, and flakes of shiny mica. Kids will love the small pool at the base of the 60-foot falls which is perfect for wading. During the spring, there are a wide variety of wildflowers to see and photograph.
Hickory Nut Falls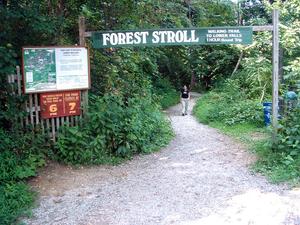 1.5mi, Easy
Climbing: Climbs Gently
Tread Condition: Some Obstacles
This moderate hike takes you out-and-back through a vibrant forest to the base of Hickory Nut Falls. This is a very high and neat waterfall. You'll travel along the base of the cliffs that form the edge of the Hickory Nut Gorge and the Falls. Trees along this trail are large and interpretive signs help you identify points of interest in the geography and the ecology. At the base of Hickory Nut Falls, enjoy a splash of cold mountain water on a hot day - or just relax in the beauty of one of the highest waterfalls in the East!
Lower Douglas Falls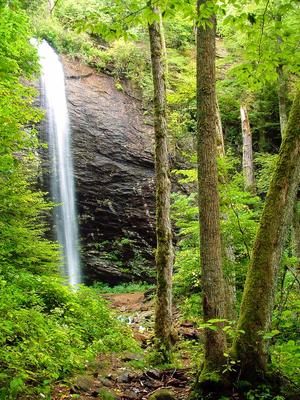 1mi, Moderate
Climbing: Climbs Gently
Tread Condition: Moderately Rough
This spectacular, 70 ft. falls is located in an old-growth forest. The lower access to the falls is a walk on a gently sloped trail to its base. The hike is markedly changed from years past; though the hemlocks in the area are dead, you'll travel through an otherwise beautiful woodland and discover pleasant forest scenes along the way. Enjoy the falls from in front and from behind! The drive to the falls is an experience of its own, and along the way you'll pass many more scenic and interesting features.
Moore Cove Falls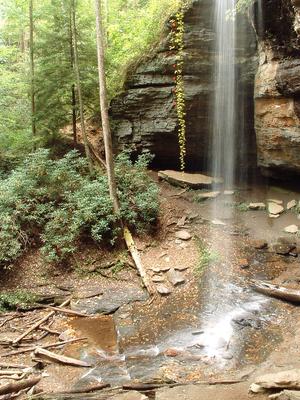 1.4mi, Easy
Climbing: Climbs Gently
Tread Condition: Few Obstacles
This showery plunging waterfall is located in one of the most popular areas of the Pisgah National Forest, near the Davidson River in the "Land of Waterfalls". It's a delightful, beautiful walk thru fern-filled woods. And it's easy enough for families with small children to complete. This falls is highly recommended, and it could be combined with another nearby hike in the area if you want to add some more trail mileage to your day.
Skinny Dip Falls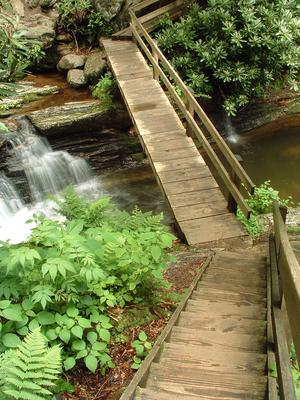 0.8mi, Moderate
Climbing: Climbs Moderately
Tread Condition: Moderately Rough
This moderate, short hike takes you to an appealing waterfall and swimming hole on the Yellowstone Prong of the Big East Fork of the Pigeon River. It makes a great summer swimming destination, a great way to stretch your legs if you're traveling the parkway, and a great place for photographers - both for the falls and forest scenes and wildflowers on the way down. If you're feeling hoppy, this would make the start of a more strenuous trek into Graveyard Fields.
Dupont Waterfalls Tour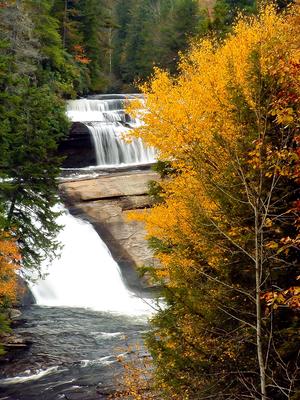 0.6 - 6mi, Easy
Climbing: Climbs Moderately
Tread Condition: Some Obstacles
**Note (July 2013):** the Hooker Falls parking area has been expanded and the new pedestrian bridge is in place! On this hike, you'll visit up to 5 of the 6 major waterfalls in Dupont State Forest. It starts as an easy path to some of the most spectacular waterfalls in the area: Hooker, Triple, and High Falls. Covered picnic shelters with views of the falls make for excellent family outing possibilities. If you wish to continue to Grassy Creek and Bridal Veil Falls, this will become a moderate hike. You'll cross the big covered bridge and pass a beautiful mountain lake on the way - well worth the extra effort!
Crabtree Falls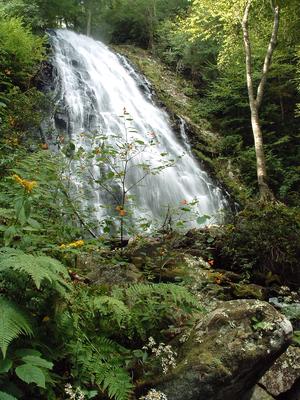 2.5mi, Moderate
Climbing: Hilly
Tread Condition: Some Obstacles
This popular, short loop descends on a moderate path to a majestic 70' waterfall, which is widely touted as one of the most photogenic in the area. You'll climb steeply up the opposite ridge for a short distance, then hike a wide, smooth trail beside the stream. Many very large trees populate the forest in this area. Finish out the loop by climbing gently through a beautiful hardwood forest. The hike starts in a Blue Ridge Parkway campground, which makes a good base camp for further explorations into the area. You'll share this trail with many others during the summer, but if it's winter (and especially if the gate is closed), you'll likely have it all to yourself.
Linville Falls - Erwin's View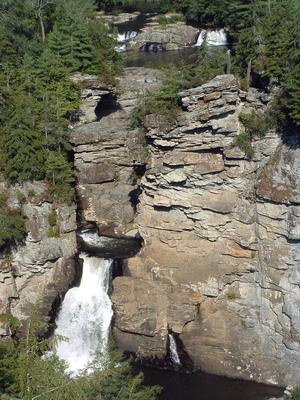 1.5mi, Moderate
Climbing: Few Hills
Tread Condition: Some Obstacles
Linville Falls has two mail trails: Erwin's view and Plunge Basin. Erwin's view is the easier of the two, and stops at three main overlooks: Upper Falls, Chimney View, and the eponymous Erwin's View. This trail passes through a majestic forest of old-growth hemlock and white pines, to spectacular cliff-top views of one of the most scenic and photographed waterfalls in the East. Spectacular views of the falls, the surrounding mountains, and the Linville Gorge await.
Graveyard Fields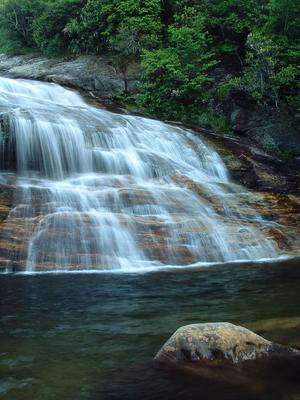 3.2mi, Moderate
Climbing: Hilly
Tread Condition: Some Obstacles
A unique loop trail winds through this high-elevation, flat valley. Two spurs lead to some of the most photographed and enjoyed waterfalls in the state! You'll pass through open areas, stands of Mountain Laurel and Rhododendron, and young northern hardwood forests. Between the falls is a relaxing, lazy section of stream. This is a truly unique and highly recommended hike!
Stone Mountain Loop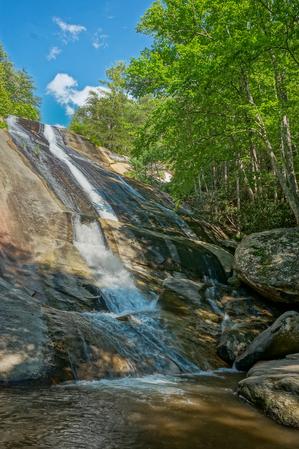 4.5mi, More Difficult
Climbing: Hilly
Tread Condition: Moderately Rough
Passing three of the most sought-out points in the park - the summit of Stone Mountain, the Hutchinson Homestead, and Stone Mountain Falls - this hike is as varied as the park itself. A moderate climb through open, pleasant woods gives way to more and more dramatic views before the trail plunges to the valley below and winds into a meadow below the mountain with historic buildings and sweeping views back up to the top. The trail meanders past a beautiful 200 ft. sliding waterfall before climbing a huge set of steps back to the start. It's the best way to see all of what Stone Mountain has to offer.
Panthertown Valley Tour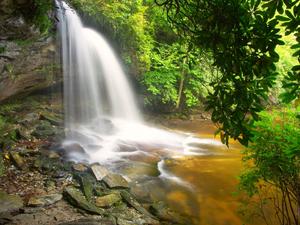 8.8 - 10.0mi, More Difficult
Climbing: Hilly
Tread Condition: Moderately Rough
This is a large loop with a wide variety of main attractions. The trails will take you past lazy, meandering streams with clean white sandbars, yet you'll discover 5 major waterfalls as well. You'll explore the unusual, flat-bottomed, high-elevation valley and 300-foot high granite domes standing guard over it. Sheer cliffs offer great views of the unique area. Carnivorous plants grow among thick blankets of sphagnum moss, and rare and endangered species exist in the moist spray-cliff communities and on the dry, windy granitic domes as well. Be sure to bring your camera on this long hike!
Harper Creek Falls
8.5mi, Most Difficult
Climbing: Hilly
Tread Condition: Very Rough
A wilderness experience awaits along Harper Creek. This is not your typical, easy hike to Harper Creek Falls. However, this is a relatively gentle encounter with wilderness due to its short length, moderate grade, and sparse (but useful) trail blazes. From intimate creekside scenes, to long-distance views, to close-up encounters with two major waterfalls, excellent scenery awaits along this hike. You'll follow a major, free-flowing stream for several miles and cross it a total of 12 times, getting you wet up to your knees. Not recommended in winter or during high water.