Art Loeb Trail
Description
The 30.1 mile Art Loeb Trail is one of the longer and more difficult trails in the state, and it's also one of the more popular. This trail is a memorial to Art Loeb, an activist from the Carolina Mountain Club, and a man who "deeply loved these mountains." Traveling mainly along peaks and ridges rather than in the valleys, the trail offers many views along the way to its lofty high points. It skirts along the southwestern rim of the Davidson River valley, then skips across some of the highest peaks in the area before descending Cold Mountain to the Daniel Boone Scout Camp. Along the way, you'll see some of the finest scenery to be found in Pisgah and you'll view or cross many of the landmark mountains in the region. Many folks use this trail for an extended backpacking trip (at least 2-3 days) and plenty of campsites along the trail will facilitate that kind of trip. Others use shorter sections of the trail for day hikes, or use connecting trails to form loops. However you find yourself on the trail, it's one you're sure to enjoy.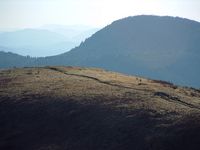 Starting at the Davidson River near the Davidson River Campground, near Brevard, NC, the trail climbs generally west-southwest and curves around Cedar Rock Mountain. Next, the trail swings west-northwest and ascends Pilot Mountain, where it turns north toward the main Pisgah Ledge, the backbone of the mountains in this region. It ascends to over 6000' above the Blue Ridge Parkway at Silvermine Bald - a more remote location on the trail - before climbing to Black Balsam Knob (click for photos), where you're sure to find crowds. At Black Balsam, the trail's high point, is a plaque commemorating Art Loeb himself and the Trail.
This is the most famous and most popular section of the trail, for good reason. The views and uniqueness of this section of trail are unsurpassed in the region. Finally, it travels across several more mountain balds and through the Shining Rock Wilderness past Shining Rock itself, then up Cold Mountain, before descending steeply to end near the Daniel Boone Boy Scout Camp on the Little East Fork Pigeon River. A spur leads to the summit of Cold Mountain.
The Art Loeb trail uses the same path as the Mountains to Sea & Mountains to Sea Alternate trails along portions of its length. The trail is split into three main sections, with four trailheads - two at each end and one in between each section - where there is a road crossing and parking. Other trails connect to the Art Loeb, making loops on portions of the longer trail a popular option.
Map
See below for a map of just the Art Loeb Trail. To see all the other connecting trails, see the Davidson River and Shining Rock Wilderness maps.
Download GPS Data
Click routes, trails, or points on the map to download them individually (on the GPS Data tab).
All Map Data
Routes
Points