Licklog Hike
This is an easy, scenic hike with a silly name making it kid-friendly! It consists of a pleasant walk along a rolling, grassy forest road ending in three wildlife meadows. Along the way, you'll enjoy a beautiful, varied forest with conifers normally found at much higher and much lower elevations growing together - but don't lick any of the logs you might find! A couple of babbling brooks and limited views round out the hike, which makes a great alternative if you're looking for an easy hike near the Black Mountains without the crowds.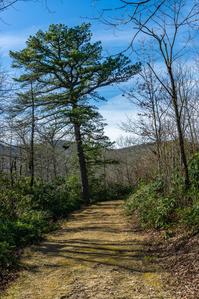 At A Glance

1.8 mi round-trip
Difficulty Rating: 2.19


Tread Condition: Few Obstacles


Climb: Climbs Gently


Lowest Elevation: 3980 ft
Highest Elevation: 4140 ft
Climb Total: 180 ft
Configuration: Out-and-back
Starting Point: Junction of Curtis Creek Road (FS 482) and Licklog Road (FS 482B)

Directions
From the Blue Ridge Parkway at NC Hwy. 128 (at the Mount Mitchell State Park sign), go 7.8 miles north to milepost 347.5 and turn right onto gravel Curtis Creek Road, FS 482.
Or, from the Blue Ridge Parkway at NC Hwy. 80, go 3.4 miles south and turn left onto gravel Curtis Creek Road, FS 482.
Go 0.4 mi on Curtis Creek Road to the junction Licklog Road, FS 482B, on the right. FS 482B is signed at the junction and closed by a rusty tube steel gate. There is room for 3-4 vehicles to park along Curtis Creek Road, and more room further back toward the Parkway if necessary. Do not block the gate.
Avoid Lower Curtis Creek Road: You might think you could come up Curtis Creek Road, 10.3 mi from US Hwy. 70 to Licklog Road on the left. Maybe, but don't be tempted by this more-direct looking route on the map - this is a very rough road, unsuitable for some low-clearance vehicles, and it closes in the winter and during bad weather, making it much quicker and safer to just swing up NC 80 and come in from the Parkway rather than finding a closed gate, or getting your sedan high-centered on a rock.
Winter Access: Access to this hike will be restricted during the winter months. Curtis Creek road generally closes in early winter, and the Blue Ridge Parkway also closes during much of the winter. However, the Parkway is often open from NC Hwy. 80 up to Mount Mitchell in good winter weather when the portion south past Craggy Gardens to Asheville is closed, making it accessible again.
Finally, there is another gate between the Parkway and Licklog Road which may be closed even if the Parkway is open. But don't let that deter you - you can park on the Parkway-side of the gate (without blocking it or the road) and just walk the very short distance down to Licklog Road on the right for the hike.
Details
Hike Description
---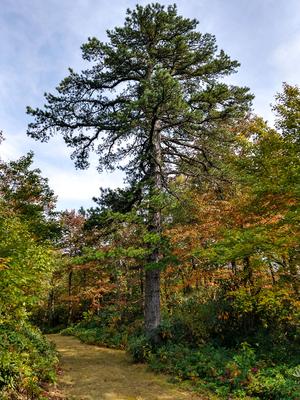 A word on hunting
This old forest road, FS 482B, is a Linear Wildlife Opening, closed to all but official vehicles. It is grassed over and used by the Forest Service to encourage wildlife populations, and leads to three wildlife fields that serve the same purpose. It is frequently used by hunters during the open season.
Share the road. Any foot traffic is welcome, whether or not you're hunting, but be quiet and respectful if you're just hiking here, so as not to unnecessarily scare off wildlife. Wear blaze orange during hunting season - a good idea whether you're on a wildlife road or any trail during that time of year. Keep dogs on a leash - they will definitely lick any logs they come across. Bring binoculars - given its management status, if you're quiet and move slowly, you'll stand a good chance observing wildlife yourself!
There are hundreds of miles of gated, closed Forest Service roads across the National Forests in North Carolina. While we don't normally list them as hikes, instead preferring dedicated trails, this road is so exceptional we will make an exception for it. Many if not most trails start out as old roads anyway!
---
So what's with the silly name?
Yes, Licklog is the official Forest Service label for this old road! It is presumably named for the somewhat-nearby Licklog Branch feeding into Curtis Creek to the road's southeast, or maybe Licklog Creek over the ridge to the northeast, but the road doesn't actually go to either stream. Or maybe it's even named for Licklog Knob a few miles further south on Heartbreak Ridge. Or maybe the road had its own licklog at one point! Nevertheless, it's a very popular name in the vicinity of the road.
And what's a licklog, anyway? Well, that refers to a mineral lick (also known as a salt lick) - a place (manmade or natural) where animals can go to get essential salts and mineral nutrients from either a natural or human-installed mineral deposit.
"They provide essential elements such as phosphorus and the biometals (sodium, calcium, iron, zinc, and trace elements) required in the springtime for bone, muscle and other growth in deer and other wildlife".
A "licklog" refers to the human-created version, using a log to hold the minerals for the animals. So presumably there was one ore more installed in the vicinity, probably a long time ago! Whether it was for wildlife in the area or for livestock like cattle is unknown.
The hike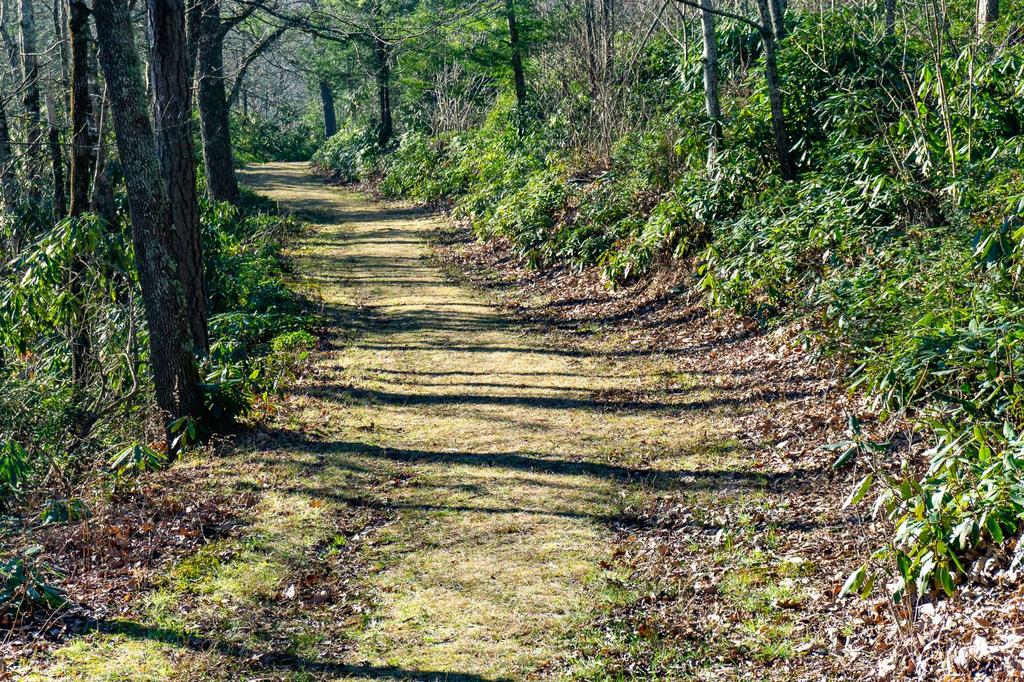 Begin the hike behind the rusted gate. The old road is nearly level to start, and has a grassy surface. It's surrounded by a forest with many evergreens - rhododendron and mountain laurel in the understory, with Pitch Pine and Hemlocks overhead and Galax carpeting the ground. One particular pitch pine makes a photogenic bookend to a straight stretch of the road - you can't miss it.
The road is at a high enough elevation that the forest feels markedly different from the usual hardwood forests down below - the trees are shorter, twistier, and consist of species normally found at lower elevations. But trees that normally grow way down in the valleys can be found here too, such as Eastern Hemlock, White Pine, Pitch Pine, and Tuliptree (or Yellow Poplar). Galax blankets the acidic slopes, even creeping onto the road in places. You'll cross a seep that stays wet during rainy weather, and the road begins a gentle, short uphill climb through the Curtis Creek headwaters cove.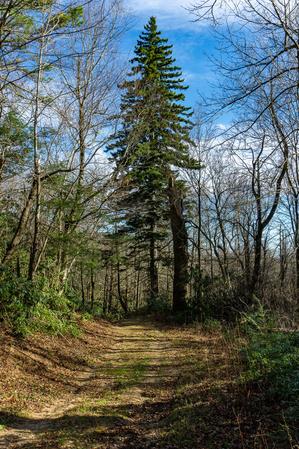 Shortly after it starts climbing, the road passes a big, prominent, symmetrical Red Spruce tree on the left, most visible during the months leaves are off the trees. This one has been here for quite some time, and there are a number of them in this forest all the way to the end of the hike - from little seedlings, to medium-sized trees biding their time as they grow in the shade of larger hardwoods, to big giants that have popped out of the canopy into bright sunlight, and now reign supreme. Red Spruce is a big, long-lived species, so provided that this forest isn't logged again any time soon, they may come to dominate this area again over the next few centuries. And though they normally grows at much higher elevations, generally above 4500 ft, foresters have noted they are becoming increasingly common at lower elevations down to about 3500 ft just outside of its normal range.
Past the big spruce, on the right, is the first of the three wildlife meadows on this hike. This one is the smallest, roughly triangular-shaped, and gently sloping. It showcases the terrain you'll be traversing nicely - a unique area this high up on the Blue Ridge, consisting of 50-60 acres of nearly perfectly flat or very gently sloping ground, around and south of Big Laurel Gap, with steep slopes descending up to 2000 ft below this level bench.
Continue on the road past the meadow. The road finishes its very modest uphill section in a grove of White Pine, which carpet the surface in pine needles for a short distance before the road hooks left across the upper headwaters of Curtis Creek, which it crosses via a culvert. This babbling brook will be irresistible to the little ones on a hot day, so bring a change of shoes - or expect to be taking them off and hitching up the pants right about here.
Past the creek, the road turns south and winds ever so gently toward the second wildlife meadow, which you'll reach in short order. This meadow sits on a low ridge, and the road goes right through the middle of it past an isolated tree in the middle of the meadow. There are some good views up toward the Blue Ridge Parkway and the Rough Ridge Tunnel from here.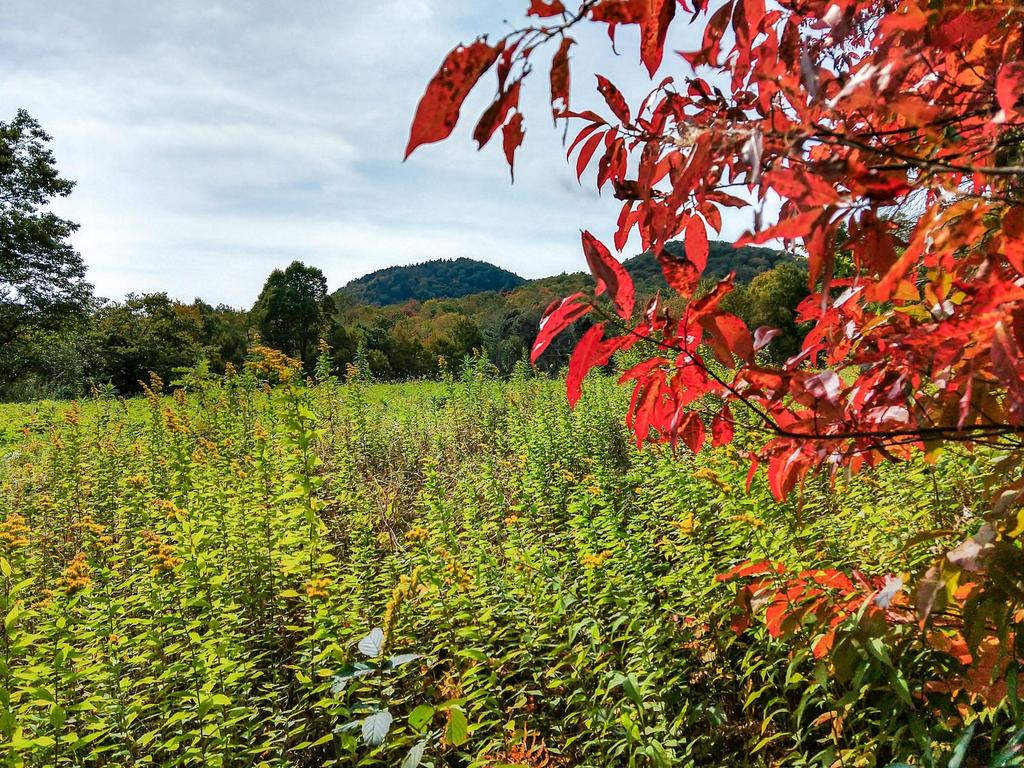 Follow the road through the meadow, downhill just a wee bit, and into the forest on the other side. You'll cross another headwaters branch (shoes off again!) and traverse one area of sloped mountainside before emerging at the third and final wildlife meadow.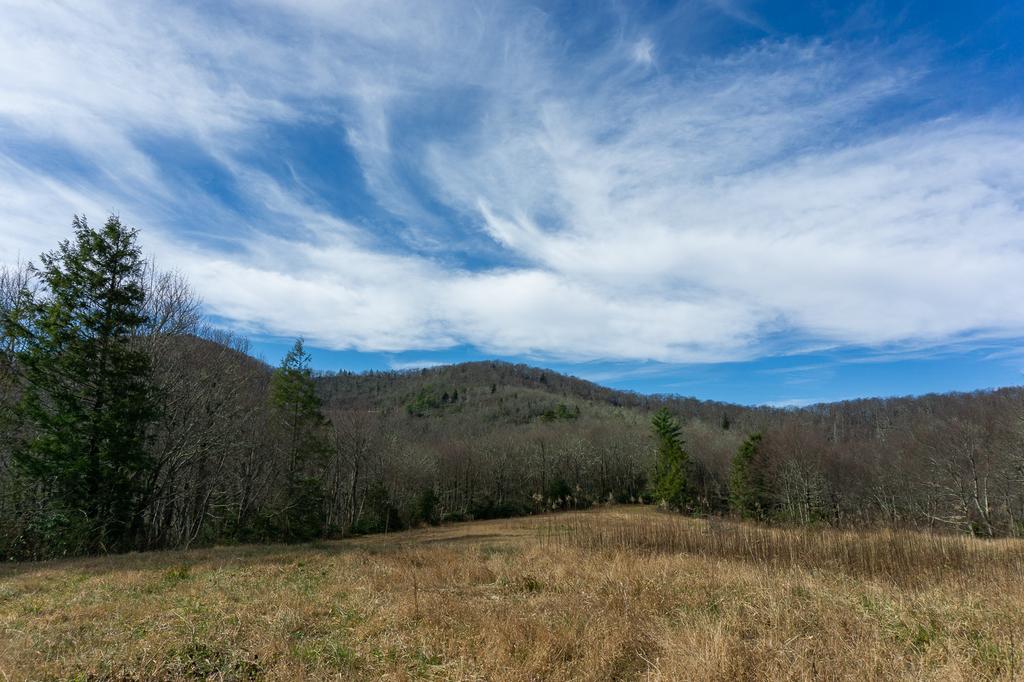 This is the biggest of the 3 meadows, and extends east along the round, level ridge. This beautiful clearing normally has a number of mown paths through it so you can explore, look for wildlife, spot wildflowers, have a picnic, etc. Just be courteous if you come across anyone hunting here, and give them space.
At the far end of the meadow is a decent view through the small trees during the winter months. The view back up toward the Parkway is also a good one. It's just a very inviting place to relax and spend some time observing nature.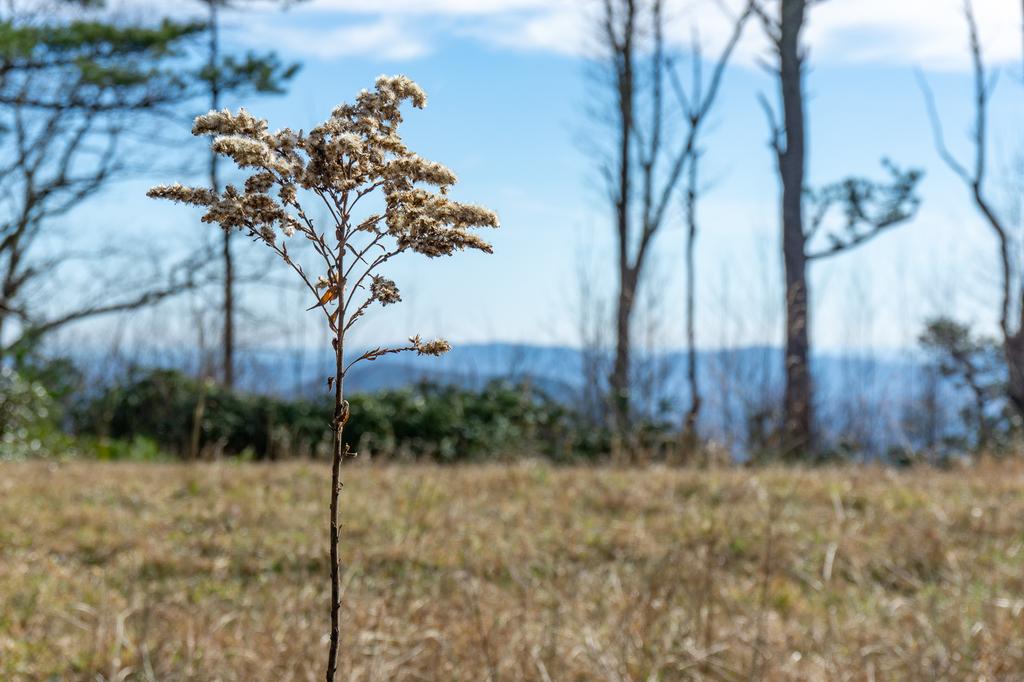 When you're finished exploring, return to your vehicle on the same path - nearly all level or downhill this time, save for a very short uphill at the second meadow.
This could also make a fantastic end to a 9.4 mi cross-country ski route after heavy snow, starting at NC 80.
All Photos from This Hike
Map
Green highlight indicates the route to follow within the trail network for this hike.
Tip: Printing this map? You can pan and zoom the map as desired before printing to show the area you need.
Map Information
Download GPS Data
Click on a route, trail, or point on the map and select the GPS Data tab to download its data.
Data Formats
KML (Google Earth)
KML is the main file type used by Google Earth. If you have Google Earth installed, clicking the KML link should open the trail or point directly in Google Earth for viewing. This is the native file format used by Google Earth, but many other map applications can use and understand KML as well, so if you're not sure which one to download, KML is a good bet.
GPX
The GPX format stands for GPS Exchange - a free, open, XML format for exchanging GPS and map data. GPX is compatible with Google Earth, many other mapping programs, and most GPS devices (such as Garmin). Load the file directly into your GPS to help find your way on your next trip!
GeoJSON
GeoJSON is a newer, lightweight data exchange format which can be used to quickly share map data and may have a smaller size than KML or GPX. Many professional mapping and GIS applications support the GeoJSON format.
About the Map
Copyright
Base Layers
Base layers provided by OpenStreetMap, the US Geological Survey, the US Forest Service, and NC OneMap. Base layer images are subject to the respective copyright policies of their owners. Base layers may not be available at all times due to system maintenance or outages.
WNCOutdoors Base Layer
The WNCOutdoors Base layer is provided by WNCOutdoors.info. It is licensed by Creative Commons Attribution 3.0.
Trail and Marker Overlays
Trail layers and downloadable data are all original works created by WNCOutdoors with guidance from a variety of sources, including ensembles of our own GPS tracks, user contributed GPS tracks, official maps and GIS data from government agencies, and field observations. WNCOutdoors data is made freely available under the Open Database License - you are free to copy and use it for any purpose under the terms of that license (summary).
Tips
Hover over a trail to see it highlighted. Helps to see start and end points for an individual trail.
Scroll and zoom the map before printing, and that view will persist into the printed image.
Click a trail for more details and to download it individually.