The Best Hikes in Western North Carolina
There are hundreds of individual trails in the Western North Carolina region, but often sticking to a single trail doesn't make for the most enjoyable hike. So how do you piece the trails together into a great trip?
We've done that work for you!
Our Best Hikes represent many of Western North Carolina's not-to-miss routes. You can find the perfect hike for the time you have based on its features and highlights, difficulty, and length. Once you find one you're interested in, each hike guide contains all of the information you need to print out and take on your next outing!
Each hike has its own guide page with all the information and links, including (where available):
Length
Elevation change
Trailhead location
Images from along the way, and
A detailed description and trail directions.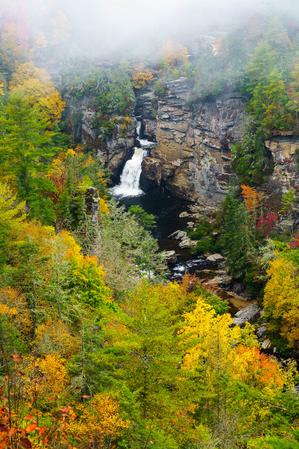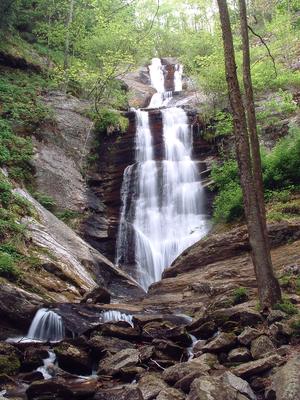 Find a Hike
By Difficulty
| | |
| --- | --- |
| Easy | Gentle climbs and descents with a relatively smooth surface, sometimes on pavement or other trail structures. No tricky water crossings or exposed cliffs. Some trails may be wheelchair and stroller accessible. Family-friendly meaning almost anyone including smaller children should be able to complete these. |
| Moderate | Some climbs and descents with a few obstacles on the trail surface. May contain water crossing that are not overly difficult and occasional exposure to drop-offs beside the trail that aren't too risky. Most people with some experience hiking including older children should be able to complete these. |
| More Difficult | Significant climbs and descents with considerable elevation change, but short of the hardest trails in the region. A trail surface that can be somewhat rough in places, but short of dangerous climbing or rock scrambling. May contain tricky water crossings and some exposure to cliffs and drop-offs beside the trail. Experienced day hikers in good shape should be able to complete these. |
| Most Difficult | Large climbs and descents with high elevation change. A trail surface that can be very rough in places, including possibly dangerous exposure to cliffs and drop-offs, and rock scrambling. May contain very tricky water crossings. Only experienced day hikers and backpackers in excellent shape should attempt to complete these. |
The US Forest Service (among others) separates trails into just three difficulty levels. Since that's a bit condensed given the variety of trails we have in our region, we have four difficulty levels for our hikes and trails. Here's a description of typical conditions you might find on hikes with a given difficulty level. (Choose a level for a listing).
These descriptions include typical conditions which may vary and which may overlap within the difficulty levels somewhat. Determinations are subjective.
By Feature:
Waterfalls | Views | Historic Sites | Kids and Families
Search for a Hike
You can also search for a hike if you know its name.
All Hikes