Hiking at Pearson's Falls
Overview
Located on the Southeastern escarpment near the towns of Saluda and Tryon, Pearson's Falls is a mountain gem owned and preserved by Tryon Garden Club, Inc. It is a North Carolina Natural Heritage Area.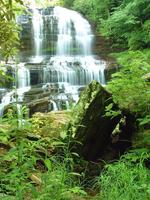 Originally owned by an individual who used the land as a spot to relax for family and friends, the property was offered to a timber company in 1931. This is when the Tryon Garden Club stepped in to save this unique cove. Several hundred acres were purchased and are still owned by the club today, and public access is graciously allowed.
Only one trail, 1/4 mile long, is within the preserve, but it is highly recommended. It leads from the parking to the falls. The trail is developed, with steps and fences, as it leads up the creek to the base of the falls. Large trees grace the slopes along the stream in this lush, mixed hardwood forest. Many species of ferns and wildflowers grow beside the trail. There is a gentle climb along the trail's whole length, though it is never steep. Watch for occasional loose rocks, roots, and wet areas.
Amenities
Guides to area flora and fauna area available at the entrance gate as you pay. Information boards, picnic tables, parking and restrooms are available just past the entrance gate. There is a two-table picnic shelter available if needed.
Rules
Stay on the trail. Do not climb slopes or the rocks at the falls.
Do not pick flowers or harm any other vegetation or wildlife.
No fires are permited. NO SMOKING.
Clean up. Trash containers are provided.
No wading, fishing, grills, alcohol, or pets are allowed.
Hours and Fees
A fee of $5.00 per person is charged to those over 12 years of age. Children 6-12 years old are $1.00, and those under 6 are free. Proceeds are used to maintain the park and trail. It is well worth the small fee and tax deductible contributions to The Tryon Garden Club, Inc. are welcome. The park is open 7 days a week, but closed Thanksgiving and Christmas day, and all of the month of January.
Fees, hours, and operating schedule are subject to change, so see the official web site before you go to make sure the gate will be open.
Directions
The way to the falls is well signed and easy to find. From Saluda, drive 3 miles East on US 176 and turn right on Pearson's Falls Road; or from Tryon drive 4 miles West on US 176 and turn left. Follow Pearson's Falls Road for 2 miles to the gated entrance on the left.