Chestnut Cove Trail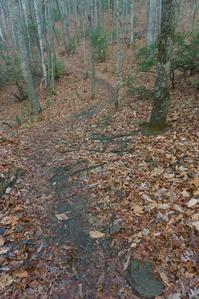 At A Glance


0.2 mi one-way
Difficulty Rating: 0.2 (Moderate)
Steepness: Climbs Moderately
Tread Condition: Some Obstacles
Blaze Color: Yellow
Trail Number: 662

Description
Since being re-worked to eliminate the straight-up-the-hill approach, this is a moderate climb through a couple of switchbacks. Only a few rocks and/or roots.
Though technically closed to bikes, it receives heavy bike usage and is none the worse for wear. It should probably be opened to bikes since the re-route was designed for such use.
Intersecting Trails
This trail is located in the Bent Creek area. For a list of all the trails in that area, see the Bent Creek trails list page.
All Photos from the Trail
GPS Map
Download GPS Data
Click routes, trails, or points on the map to download them (on the GPS Data tab).
Total Calculated Length: 0.22 mi
This value is derived from our underlying map data, and it may not match officially published information.