Sidehill Trail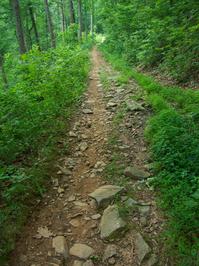 At A Glance




0.5 mi one-way
Difficulty Rating: 0.5 (Moderate)
Steepness: Climbs Moderately
Tread Condition: Some Obstacles
Blaze Color: Yellow
Trail Number: 145

This trail is located in the Bent Creek area. For a list of all the trails in that area, see the Bent Creek trails list page.
Description
Most of this trail was turned into a road during 2005. From Ledford Gap to Boyd Branch Road, it is a gravel road and will be permanently maintained that way. Not a trail. From Boyd Branch Road to Ingles Field Gap, it is currently an unimproved road turning back into a trail. But this section has been renamed as part of Little Hickory Top trail now.
The remaining section of trail called Sidehill connects from Little Hickory Top down to Laurel Branch Road. It's short and bumpy with lots of rocks and roots in spots.
All Photos from the Trail
GPS Map
Download GPS Data
Click routes, trails, or points on the map to download them (on the GPS Data tab).
Total Calculated Length: 0.9 mi
This value is derived from our underlying map data, and it may not match officially published information.