Wolf Branch Trail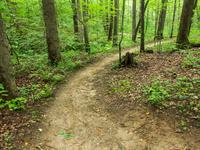 At A Glance



1.2 mi one-way
Difficulty Rating: 1.2 (Moderate)
Steepness: Climbs Moderately
Tread Condition: Some Obstacles
Blaze Color: Yellow
Trail Number: 666

This trail is located in the Bent Creek area. For a list of all the trails in that area, see the Bent Creek trails list page.
Description
Travels through the relatively flat stream bottom at the base of the mountains. Near the western end of this trail, you can see the hills rising out of the valley, and you'll start climb them before you reach Ledford Branch Road. Lots of ground pine, mountain laurel tunnels, and fern-filled woods; nice scenery. Several large mud holes and small stream crossings were replaced with sturdy wooden bridges on June 2, 2007 - National Trails Day. Popular, pleasant trail.
All Photos from the Trail
GPS Map
Download GPS Data
Click routes, trails, or points on the map to download them (on the GPS Data tab).
Total Calculated Length: 1.21 mi
This value is derived from our underlying map data, and it may not match officially published information.