Douglas Falls Trail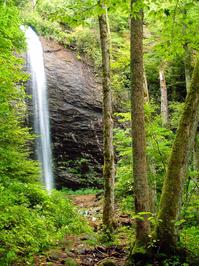 At A Glance


2.7 mi one-way
Difficulty Rating: 2.7 (More Difficult)
Steepness: Climbs Steeply
Tread Condition: Moderately Rough
Blaze Color: White
Trail Number: 162
Hikes That Use This Trail: Douglas Falls (Lower Approach)

This trail is located in the Big Ivy (Coleman Boundary) area. For a list of all the trails in that area, see the Big Ivy (Coleman Boundary) trails list page.
Description
From FS 74, the trail begins as an easy, 0.5 mile walk to its spectacular eponymous waterfall - a great family hike. The trail continues on a much more difficult, rugged, and steep course above the falls, to eventually join up with the Mountains to Sea Trail. Along the way, you'll pass The Cascades, another high waterfall that's difficult to see in the summer and during low water flow. The trail passes through rich, old-growth forests including enormous hemlocks and northern hardwood specimens. Most of the hemlocks are now dead, sadly.
Turning right (south) on the Mountains to Sea Trail leads to the Parkway and the Craggy Gardens Visitor Center. Visitors to the falls looking for a more difficult hike can start there, hike down, and back out again.
All Photos from the Trail
GPS Map
Download GPS Data
Click routes, trails, or points on the map to download them (on the GPS Data tab).
Trail Segments
Trails are often made up of several connecting paths which may have different characteristics, allowed uses, and seasons. This trail is divided into multiple segments as follows:
Douglas Falls (Upper)
Allowed Uses:
Length: 2.17 mi
Douglas Falls (Lower)
Allowed Uses:
Length: 0.53 mi
Total Calculated Length: 2.7 mi
This value is derived from our underlying map data, and it may not match officially published information.
Intersecting Trails
Feedback
Ratings
Average Rating: (rated 0 times)
Rate It Now:
Comments