Elk Pen Trail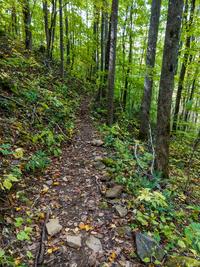 At A Glance



1.9 mi one-way
Difficulty Rating: 3.41 (Moderate)
Steepness: Climbs Steeply
Tread Condition: Some Obstacles
Lowest Elevation: 2700
Highest Elevation: 3450
Total Elevation Gain: 750
Trail Number: 166

This trail is located in the Big Ivy (Coleman Boundary) area. For a list of all the trails in that area, see the Big Ivy (Coleman Boundary) trails list page.
Description
Created for use in the movie "The Last of the Mohicans" (supposedly) and used in the opening scene. Passes through some of the oldest oak and poplar (tuliptree) forest in the area with some very large trees; unfortunately the larger hemlocks in the area are now dead but that makes it easier to see the big hardwoods. Connects with FS 74 at both ends; the upper junction is across from the Upper Corner Rock trail so they can be joined.
All Photos from the Trail
GPS Map
Download GPS Data
Click routes, trails, or points on the map to download them (on the GPS Data tab).
Total Calculated Length: 1.52 mi
This value is derived from our underlying map data, and it may not match officially published information.