Big Butt Trail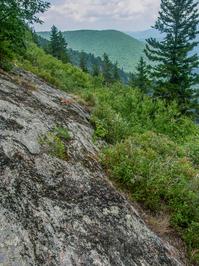 At A Glance


5.6 mi one-way
Difficulty Rating: 5.6


Steepness: Hilly


Tread Condition: Very Rough


Blaze Color: White
Trail Number: 161
Other Map ID: BRP MP 359.8

Description
Yes, this really is the trail's name. Starts at the left side (facing away from the road) of the Walker Knob Overlook in Balsam Gap on the Blue Ridge Parkway, heading downhill. (The trail to the right, heading uphill, is the Mountains to Sea Trail). The trail has been well-maintained in recent years and is in fantastic shape, with lots of water management and well-placed log steps minimizing erosion as the trail has seen increased usage. It used to become quite overgrown in the summer, but overgrowth had been actively trimmed as of my last visit in July 2017.
The trail descends beside the Parkway, then angles north and continues onto Pisgah National Forest/Appalachian Ranger District property. It begins a gradual climb up Brush Fence Ridge, which is the western ridge of the Black Mountains.
The trail passes through a high-elevation forest with lots of Red Spruce and Sweet Birch, a few Fraser Fir, and other northern hardwoods. Some of the Red Spruce along the ridge are enormous.
The trail crosses a low-prominence unnamed summit and then climbs gently to Point Misery at 5715 ft. Past Point Misery, the trail descends somewhat more steeply through a set of switchbacks and more big Red Spruce. It bottoms out in a gap at about 5330 ft. and begins climbing again toward Little Butt mountain in an area with hawthorn trees. From Little Butt the trail follows the narrow ridge leading to Big Butt, which drops off steeply on both sides, where there are at times excellent views of the Cane River Valley, the eastern Black Mountains and Mount Mitchell - an exhilarating vista.
The trail then skirts the east side of Big Butt before crossing Flat Spring Knob and a few smaller, unnamed summits on the ridge to its north. Where Wilson Ridge angles northeast, the trail angles northwest toward Cane River Gap, descending steeply through switchbacks. The northern terminus of this trail is on NC 197.
Intersecting Trails
This trail is located in the Blue Ridge Parkway Section 4 area. For a list of all the trails in that area, see the Blue Ridge Parkway Section 4 trails list page.
This trail also crosses into these trailhead areas:
All Photos from the Trail
GPS Map
Download GPS Data
Click routes, trails, or points on the map to download them (on the GPS Data tab).
Feedback
Ratings
Average Rating: 5.0 (rated 2 times)
Rate It Now:
Comments