Big Butt Trail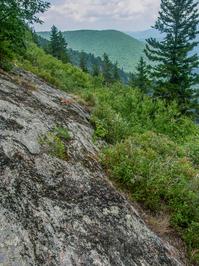 At A Glance


5.6 mi one-way
Steepness: Hilly
Tread Condition: Very Rough
Blaze Color: White
Trail Number: 161
Other Map ID: BRP MP 359.8

This trail is located in the Blue Ridge Parkway Section 4 area. For a list of all the trails in that area, see the Blue Ridge Parkway Section 4 trails list page.
This trail also crosses into these trailhead areas:
Description
Yes, this really is the trail's name. Starting at the Walker Knob Overlook in Balsam Gap on the Blue Ridge Parkway, this trail continues onto Pisgah National Forest/Appalachian Ranger District land. Leads along the western ridge of the Black Mountains. Traveling through a forest of Spruces and Firs, and also northern hardwoods, there are at times excellent views of the Cane River Valley, the eastern Black Mountains and Mount Mitchell. This is a rugged, ridgeline trail, peaking at 5720 ft, and at times the ridge drops off steeply on both sides - where the view is exhilarating. Overgrown in the summer sometimes. The northern terminus of this trail is on NC 197; from Big Butt the trail descends steeply on many switchbacks to the gap.
All Photos from the Trail
GPS Map
Download GPS Data
Click routes, trails, or points on the map to download them individually (on the GPS Data tab).
Intersecting Trails
Feedback
Ratings
Average Rating: 5.0 (rated 1 times)
Rate It Now:
Comments