Entrance Trail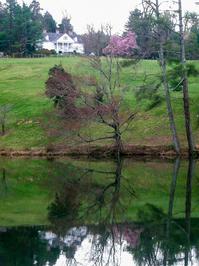 At A Glance


0.25 mi one-way
Difficulty Rating: 0.25 (Easy)
Steepness: Climbs Moderately
Tread Condition: Few Obstacles

This trail is located in the Carl Sandburg Home National Historic Site area. For a list of all the trails in that area, see the Carl Sandburg Home National Historic Site trails list page.
Description
This short path doesn't have an official name, but I'll call it the Entrance Trail since it serves as the public entry way to the main house. It starts as a paved path at the parking area and passes the small visitor center/contact station. It then crosses a bridge over the dam for Front Lake where the stream makes a little waterfall going over the dam. It then goes up the hill to the house, between the driveway and pasture in rows of pine trees. It's the main way to get to the house, and most people should be able to make it up this very short path - even the kids. Continue past the house to get to some of the longer trails on the property.
All Photos from the Trail
GPS Map
Download GPS Data
Click routes, trails, or points on the map to download them (on the GPS Data tab).
Trail Segments
Trails are often made up of several connecting paths which may have different characteristics, allowed uses, and seasons. This trail is divided into multiple segments as follows:
Entrance Trail - Parking to Split
Allowed Uses:
Length: 198 ft
Entrance Trail - over Dam
Allowed Uses:
Length: 280 ft
Entrance Trail - Dam to Home
Allowed Uses:
Length: 0.16 mi
Total Calculated Length: 0.25 mi
This value is derived from our underlying map data, and it may not match officially published information.
Intersecting Trails
Feedback
Ratings
Average Rating: (rated 0 times)
Rate It Now:
Comments