Four Seasons Trail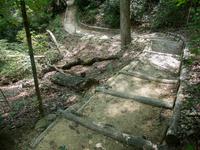 At A Glance


0.6 mi one-way
Difficulty Rating: 0.6 (Moderate)
Steepness: Climbs Moderately
Tread Condition: Moderately Rough
Blaze Color: None
Hikes That Use This Trail: Chimney Rock Tour

This trail is located in the Chimney Rock State Park area. For a list of all the trails in that area, see the Chimney Rock State Park trails list page.
Description
Winds its way uphill from the upper end of the Meadows area to the Hickory Nut Falls trail. Smaller kids will have trouble on this one, but it does offer one of the longer hikes in the park and - combined with the Hickory Nut Falls trail - a more strenuous out-and-back hike to the falls. Passes by some neat rock formations and under one giant overhang. It gains 400' in elevation along the way. Some sections are steep and in very poor condition (although an update August 2013 by the park says there have been improvements). Other sections are more level and better maintained. There are plenty of bridges and step structures; the last leg is a set of 70 stairs leading straight uphill. It travels through hardwood trees, past thickets of Carolina Rhododendron and mountain laurel, and alongside abundant wildflowers and indigenous plants. Some of these species are not found along the Park's other trails. You may even spot deer and wild turkeys. Wooded; great for birding with a variety of interpretive signs about birds you might find. Shows off changes in plant and animal life throughout seasons.
All Photos from the Trail
GPS Map
Download GPS Data
Click routes, trails, or points on the map to download them (on the GPS Data tab).
Total Calculated Length: 0.62 mi
This value is derived from our underlying map data, and it may not match officially published information.