Rumbling Bald Trail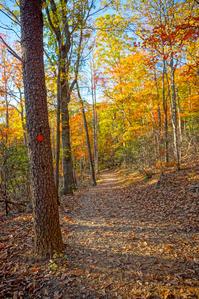 At A Glance


1.5 mi one-way
Difficulty Rating: 2.21


Steepness: Climbs Moderately


Tread Condition: Some Obstacles


Lowest Elevation: 1330
Highest Elevation: 1650
Total Elevation Gain: 320
Blaze Color: Orange

Description
A wide, newly-constructed, well-built trail that loops around on the ridges leading up to the boulder field below the south face of Rumbling Bald Mountain. The trail splits shorty beyond the parking area. Going clockwise: a nice view to the east opens up of Lake Lure and the Piedmont area beyond. Then the trail begins a climb, generally following a low ridge through an open forest that burned in the 2016 Party Rock fire.
The trail reaches a gentle bench area, and a junction with a side path to the West Side boulderfield and the Hanging Chain boulderfield. Though the main trail goes to the right, it's worth the side trip to roam among the huge boulders sitting in the serene forest with the massive face of Rumbling Bald looming above the trees.
The trail then follows the bench southeast through a gully to the Central Boulderfield. (A side path connects back to the West Side Boulderfield from there). Past the Central Boulderfield is the East Side Boulderfield (or the "Breakfast Area", with many boulders carrying breakfast-related names), where the trail turns back downhill, going through a few stair step areas before widening and leveling out again.
The trail passes through a mixed oak hardwood forest along its entire route.
The trail winds downhill through a series of switchbacks, crossing a small stream before reaching the junction to complete the loop. Turn left to return to the trailhead.
This trail is located in the Chimney Rock State Park area. For a list of all the trails in that area, see the Chimney Rock State Park trails list page.
All Photos from the Trail
Feedback
Ratings
Average Rating: (rated 0 times)
Rate It Now:
Comments