Skyline Trail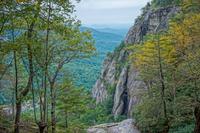 At A Glance


1.1 mi one-way
Difficulty Rating: 1.1


Steepness: Climbs Moderately


Tread Condition: Moderately Rough


Blaze Color: Blue

Description
Starting at Exclamation Point, this newly re-opened trail travels on a path in the forest on Chimney Rock Mountain above the cliff band that forms Hickory Nut Gorge. While the new trail is situated at a much safer position on the mountain, it foregoes the many views that the old "trail" once provided. Still, it's a nice addition to the trail system in the more developed part of the park.
The trail climbs moderately on a graveled path through a few switchbacks on a slope covered in late summer wildflowers. It heads west, picks up an old road bed at times, and passes by some very large trees. A few trickles of water appear at springs during wet weather. The trail passes a picnic spot at Peregrine's Point where better views of the gorge and Lake Lure are available. It winds down into the small valley that gives rise to Fall Creek, crosses the creek on stepping stones or a huge fallen log, and then ends on the bank above the upper cascades and a view out across the brink of Hickory Nut Falls, with a view of the gorge walls beyond.
This is an out-and-back only hike, as the trail dead-ends at the top of Hickory Nut Falls.
This trail is located in the Chimney Rock State Park area. For a list of all the trails in that area, see the Chimney Rock State Park trails list page.
All Photos from the Trail
Feedback
Ratings
Average Rating: (rated 0 times)
Rate It Now:
Comments