Cragway Trail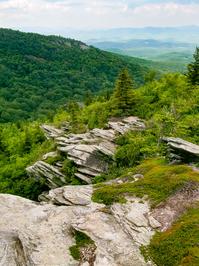 At A Glance


1.0 mi one-way
Difficulty Rating: 1 (More Difficult)
Steepness: Climbs Steeply
Tread Condition: Very Rough
Blaze Color: Orange

This trail is located in the Grandfather Mountain State Park area. For a list of all the trails in that area, see the Grandfather Mountain State Park trails list page.
Description
Although about 80% of the trail surface is in decent shape, it is steep, and some sections are quite eroded and rocky. At least one part is nearly a hand-over-hand climb. Passes by boulders and "crags" - rocky outcroppings that give the trail its name, and also rhododendron and blueberry thickets interspersed with spruce trees. Outstanding views of the Boone Bowl valley and the surrounding balds and craggy ridges, down into the populated areas north and East, and up to Calloway Peak. Can be used to make a loop hike (one of the few on Grandfather Mountain) by combining with the Nuwati and Daniel Boone Scout Trails.
All Photos from the Trail
GPS Map
Download GPS Data
Click routes, trails, or points on the map to download them (on the GPS Data tab).
Total Calculated Length: 0.85 mi
This value is derived from our underlying map data, and it may not match officially published information.