Profile Trail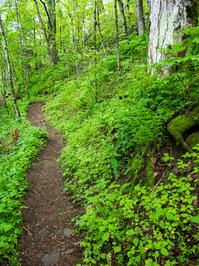 At A Glance


3.1 mi one-way
Difficulty Rating: 3.1 (Most Difficult)
Steepness: Climbs Steeply
Tread Condition: Moderately Rough
Blaze Color: Red with hiker symbol
Hikes That Use This Trail: Grandfather's Profile

This trail is located in the Grandfather Mountain State Park area. For a list of all the trails in that area, see the Grandfather Mountain State Park trails list page.
Description
Probably the best way to "summit" Grandfather Mountain is via this fantastic trail, and I believe it's one of the finest trails in the state. The trail first winds through lush mid-altitude cove hardwood forests, with a few stream crossings and scenic cascades. It climbs moderately at first and more steeply higher up, with many switchbacks. Sections created by master trailbuilders are laid from massive, flat stones arranged in stair-step fashion. The trail passes several views (both up and down), including one of the old man's "profile" which gave rise to the mountain's name. There are lots of big trees, rock features, and good water at Shanty Spring. Beyond that point it shoots straight up the mountain, gets very steep and rocky and transitions into the spruce-fir forest zone closer to the summit. The trail is generally well signed and blazed.
All Photos from the Trail
GPS Map
Download GPS Data
Click routes, trails, or points on the map to download them (on the GPS Data tab).
Total Calculated Length: 2.51 mi
This value is derived from our underlying map data, and it may not match officially published information.