Bearwallow Falls Trail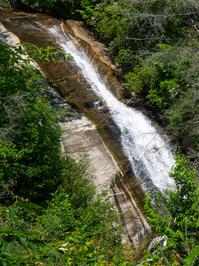 At A Glance


3.2 mi one-way
Difficulty Rating: 3.2 (Moderate)
Steepness: Climbs Moderately
Tread Condition: Few Obstacles
Blaze Color: Blue

This trail is located in the Grassy Ridge Access area. For a list of all the trails in that area, see the Grassy Ridge Access trails list page.
Description
Descends a short distance into the small gorge formed by Bearwallow Creek as it drops off the escarpment, to a viewing platform overlooking the falls. Though rated strenuous, it's not really that bad - the surface is well maintained and there are benches to stop and rest at at the end of each switchback, so it should even be kid-friendly. Kids will probably want to get closer to the water than you can from the viewing deck; it's not very close. However, it's not safe to descend to the creek from the end of the trail.
The view of the falls is nice...but, there is a group of dead hemlock trees below the falls that detracts from the scene somewhat.
All Photos from the Trail
GPS Map
Download GPS Data
Click routes, trails, or points on the map to download them (on the GPS Data tab).
Total Calculated Length: 0.26 mi
This value is derived from our underlying map data, and it may not match officially published information.