Bearwallow Valley Trail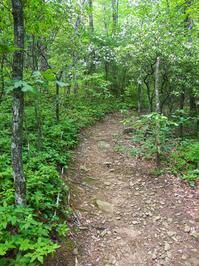 At A Glance


2.5 mi one-way
Difficulty Rating: 2.5


Steepness: Climbs Moderately


Tread Condition: Few Obstacles


Blaze Color: Red

Description
This short trail winds from the picnic shelter up a little ridge on the Blue Ridge Escarpment, through a few switchbacks. It ends at a small viewing platform overlooking a steel tower, and a view out of an electrical transmission line corridor. The view is nice, but I was a bit underwhelmed by the powerlines in the scene.
This trail is located in the Grassy Ridge Access area. For a list of all the trails in that area, see the Grassy Ridge Access trails list page.
All Photos from the Trail
GPS Map
Download GPS Data
Click routes, trails, or points on the map to download them (on the GPS Data tab).
Feedback
Ratings
Average Rating: (rated 0 times)
Rate It Now:
Comments