Picnic Area Connector Trail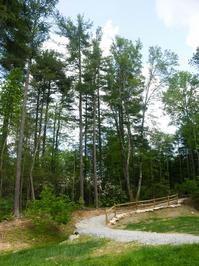 At A Glance


0.25 mi one-way
Difficulty Rating: 0.25 (Easy)
Steepness: Few Hills
Tread Condition: Few Obstacles
Blaze Color: White

This trail is located in the Grassy Ridge Access area. For a list of all the trails in that area, see the Grassy Ridge Access trails list page.
Description
Short gravel path connects the two main picnic shelters over a small hill and through some nice woods. Pretty ferns and mountain laurel (blooming in late May) grow beside it. For maximum hiking distance, park at the northerly picnic area, take this trail to the Bearwallow Valley trail, and then go out-and-back to the overlook. Return; go down to the other picnic shelter and across the parking lot. Take the Bearwallow Valley trail out-and-back, then return to your vehicle again on this trail.
All Photos from the Trail
GPS Map
Download GPS Data
Click routes, trails, or points on the map to download them (on the GPS Data tab).
Total Calculated Length: 0.42 mi
This value is derived from our underlying map data, and it may not match officially published information.