Rainbow Falls Trail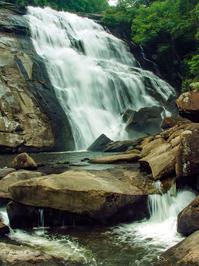 At A Glance


1.9 mi one-way
Difficulty Rating: 1.9 (More Difficult)
Steepness: Climbs Steeply
Tread Condition: Moderately Rough
Blaze Color: Red
Hikes That Use This Trail: Rainbow Falls

This trail is located in the Grassy Ridge Access area. For a list of all the trails in that area, see the Grassy Ridge Access trails list page.
Description
This trail really has two "trailheads", but it officially starts in Gorges State Park and access is controlled by the park, so it is included here. Travels from the Grassy Ridge parking area in Gorges State park, onto National Forest property, then down to the Horsepasture River above Stairway Falls. It then heads up the Horsepasture river to Rainbow Falls, Turtleback Falls, and ends at the private property boundary just below Drift Falls. The trail from the parking area down to the river is nicely graded, with a gravel/soil surface. There are not too many rocks or other obstacles on this section, which travels through a nice 2nd growth forest. After meeting with the river, the trail narrows and becomes much steeper and rougher up to the falls. The old steep, rocky, eroded side trail up to NC 281 is no longer open.
All Photos from the Trail
GPS Map
Download GPS Data
Click routes, trails, or points on the map to download them (on the GPS Data tab).
Trail Segments
Trails are often made up of several connecting paths which may have different characteristics, allowed uses, and seasons. This trail is divided into multiple segments as follows:
Rainbow Falls - Parking to NF Boundary
Allowed Uses:
Length: 0.86 mi
Rainbow Falls - NF Boundary to Stairway Falls Spur
Allowed Uses:
Length: 0.21 mi
Rainbow Falls - Stairway Falls Spur to Rainbow Falls Overlook
Allowed Uses:
Length: 0.48 mi
Rainbow Falls - Rainbow Falls Overlook to Turtleback Falls
Allowed Uses:
Length: 0.16 mi
Rainbow Falls - Turtleback Falls to Drift Falls
Allowed Uses:
Length: 0.23 mi
Total Calculated Length: 1.94 mi
This value is derived from our underlying map data, and it may not match officially published information.
Feedback
Ratings
Average Rating: 5.0 (rated 1 times)
Rate It Now:
Comments