Mountains to Sea Section 1 Trail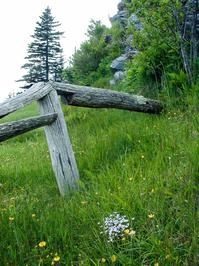 At A Glance


68.9 mi one-way
Difficulty Rating: 68.9


Steepness: Hilly


Tread Condition: Moderately Rough


Blaze Color: White

Description
Clingman's Dome to Waterrock Knob
From the start of the trail at Clingmans Dome on the Appalachian Trail in the Great Smoky Mountains National Park (north), to the summit of Waterrock Knob off the Blue Ridge Parkway. The trail is all on existing footpath in the Smoky Mountains, but then follows two alternate routes which are not yet completed and include segments of road.
The two alternate routes include the southern one, which passes through Cherokee, Bryson City, and Dillsboro, and then climbs back to the Blue Ridge Parkway through the town of Sylva's Pinnacle Park.
The northern alternative passes through the Smokies' Balsam Mountain area, and then follows the Parkway south to Waterrock Knob.
It has not been decided which of the two routes will eventually be chosen due to the terrain and land disputes along them.
This trail is located in the Great Smoky Mountains National Park area. For a list of all the trails in that area, see the Great Smoky Mountains National Park trails list page.
All Photos from the Trail
Feedback
Ratings
Average Rating: (rated 0 times)
Rate It Now:
Comments