Otter Falls Trail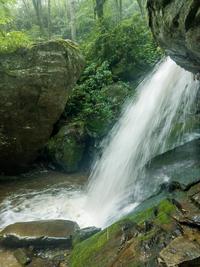 At A Glance


0.6 mi one-way
Difficulty Rating: 1.05


Steepness: Climbs Moderately


Tread Condition: Some Obstacles


Lowest Elevation: 3620
Highest Elevation: 3840
Total Elevation Gain: 220
Blaze Color: Red, Blue, Yellow, Orange

Description
A series of paths (each with its own color blaze designation) leads downhill on a moderate-to-steep grade toward Otter Falls, with a short stretch of path following the creek below the falls. The trails follow old roads in places and are newly-blazed in others. The mixed hardwood forest setting is beautiful, with some nice big trees and communities of intact native flora. At the falls, an observation platform juts out unfortunately over the plunge pool, ruining some of the view and potential photographs but nonetheless providing a safe spot to view the falls. A large rock overhangs the small cascades below the falls. It's an overall scenic and peaceful setting.
If you stick to the right at all junctions on the way down and back up (and explore the short out-and-back yellow path), you can hike all the trails in the park on a nice 1.2 mile loop.
This trail is located in the Town of Seven Devils area. For a list of all the trails in that area, see the Town of Seven Devils trails list page.
All Photos from the Trail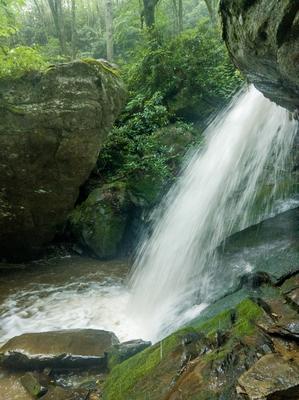 Feedback
Ratings
Average Rating: (rated 0 times)
Rate It Now:
Comments