High Shoals Falls Loop Trail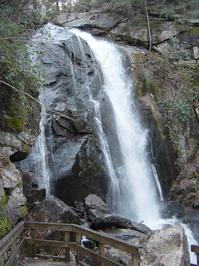 At A Glance


2.7 mi one-way
Difficulty Rating: 2.7 (More Difficult)
Steepness: Climbs Steeply
Tread Condition: Moderately Rough
Blaze Color: Blue Circle
Other Map ID: 7

This trail is located in the South Mountains State Park area. For a list of all the trails in that area, see the South Mountains State Park trails list page.
Description
This short, but steep, and very popular trail takes hikers about a mile to High Shoals Falls. All junctions are signed and the tail is well blazed.
Starts at the Jacob Fork parking area on an old road to the right of the picnic area. (You can also take the Hemlock Nature trail which parallels this trail but closer to the river for a short distance). Past the junctions with Chestnut Knob and Hemlock Nature trail, this trail crosses Shinny Creek on a bridge. Junction with the H.Q. trail is past the bridge on the right; continue straight. The trail enters a small clearing where it splits to make the loop portion of the hike. The quickest way to the falls is to take a left here and do the loop clockwise.
This path, which is now a purpose-built trail, follows the beautiful Jacob Fork river upstream to the falls beside huge boulders, large trees, and deep, clear pools. Climbs along this part of the trail are moderately steep. The surface is quite rocky on this stretch with many bridge and staircase structures along the way. Before the final ascent to the falls, the trail crosses the river once at a beautiful area stacked high with huge boulders and small cascades all around them.
A side path to the right leads across a bridge to a viewing area near the middle of the falls atop a huge boulder.
The trail continues to climb beside the falls up a very steep set of steps. It crosses the river above the falls on another bridge and then starts heading northeast across a low ridge. Keep right at the two Upper Falls trail junctions. It then heads back downhill on a moderately steep path through nice but nondescript forest areas to the loop split.
Turn left to head back to the parking area.
All Photos from the Trail
GPS Map
Download GPS Data
Click routes, trails, or points on the map to download them (on the GPS Data tab).
Trail Segments
Trails are often made up of several connecting paths which may have different characteristics, allowed uses, and seasons. This trail is divided into multiple segments as follows:
High Shoals Falls Loop - Picnic Area to Trail
Allowed Uses:
Length: 0.44 mi
High Shoals Falls Loop - Trail to Falls
Allowed Uses:
Length: 0.41 mi
High Shoals Falls Loop - Falls to Top
Allowed Uses:
Length: 0.21 mi
High Shoals Falls Loop - Road Portion
Allowed Uses:
Length: 0.52 mi
High Shoals Falls Loop - Upper Falls Tr.
Allowed Uses:
Length: 0.34 mi
Total Calculated Length: 1.91 mi
This value is derived from our underlying map data, and it may not match officially published information.
Feedback
Ratings
Average Rating: 3.5 (rated 6 times)
Rate It Now:
Comments