Camping and Lodging Directory
Our directory of camping and lodging facilities in Western North Carolina can help you choose where to stay when visiting from outside the region.
Camping
Developed Public Campgrounds
Several nice campgrounds are located throughout the National Forests, the Great Smoky Mountains National Park, along the Blue Ridge parkway, and in several area state parks. Below is a select list of public campgrounds near hiking trails; all are close enough to at least some trails so you will not need a vehicle shuttle to go hiking from your campsite.
Piped drinking water is provided at all of these campgrounds. Nearly all sites are secluded, shady, and level, and tables, grills, and campfire rings are standard. There are generally no RV hookups (although some campgrounds have started installing those in the last few years), but there at least a few sites at each campground long enough to accommodate RV's if you can live without water and electrical connections.
Reservations
For most federally owned (National Park and National Forest) campgrounds, reservations can now be made online at recreation.gov. You an make reservations at most North Carolina State Park campgrounds as well at Reserve America. A link to each campground's reservations page is provided, where available.
---
Lake Powhatan Campground
Location: at the Lake Powhatan Recreation Area, Bent Creek
Season: March 1 to November 30
Facilities: flush toilets, hot showers, swimming area
Number of sites: 85, some with electrical and water hookups
Comments: Located right near Lake Powhatan and Bent Creek, you can walk right out of the campground onto the Bent Creek area trails!
---
North Mills River Campground
Location: 5 miles west of NC 280 on North Mills River road — at the North Mills River Recreation Area.
Season: Primary April 1 to October 31 (some sites open year-round; limited services from Nov. to Mar.)
Facilities: Flush toilets & showers in season; purchase firewood, ice, and tube rentals
Number of sites: 17
Comments: Right on the river, within a short distance of many great trails in Mills River area and within a few minutes' drive of all the Mills River Area's trails.
---
Davidson River Campground
Location: about one mile west on US 276 past Pisgah National Forest entrance when coming from Brevard
Season: all year
Facilities: flush toilets, hot showers, amphitheater, river swimming; purchase ice and firewood on-site and rent bikes nearby
Number of sites: 174
Comments: Closest to the most trails: the North Slope trail starts right out of the campground itself, and several others start across the street! Within a 15 - 20 minute drive of all trails in the Davidson River area
Comments: Right on the river, within a short distance of many great trails in Mills River area and within a few minutes' drive of all the Mills River Area's trails
---
Tsali Campground
Location: at the Tsali Recreation Area, near Bryson City, Cherokee, and the Great Smoky Mountains National Park.
Season: open April thru October
Facilities: hot showers & flush toilets, new restrooms, lake swimming, boat ramp nearby
Number of sites: 42
Comments: Right at the confluence of the Tsali trails and within a short drive of many others
Reservations not available
---
Mount Pisgah Campground
Location: on the Blue Ridge Parkway across from the Pisgah Inn
Season: May to October (estimate - always check the weather and call the Parkway (828-298-0398) for possible closings in early spring and late fall).
Facilities: flush toilets, amphitheater, camp store, laundry, beautiful high elevation setting within view of Mt. Pisgah's summit, hiking trails, restaurant within walking distance
Number of sites: 127
Comments: High elevation (nearly 5000 feet), wooded and secluded paved sites, separate tent/RV areas, within a short drive of Graveyard Fields, Sliding Rock, and the Bent Creek, Mills River and Davidson River areas via the scenic Blue Ridge Parkway.
---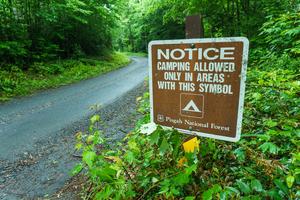 Roadside Camping
Roadside camping is allowed for free on a first-come basis in designated sites found along some forest service roads. These are usually very scenic sites (and close to the trails), providing a parking spot, tent pad, and a fire ring, and some have picnic tables and lantern posts.
Keep in mind that there are no restroom or shower facilities since these are individual roadside sites. Pack out everything you bring in.
No roadside camping is allowed outside of designated sites on National Forest roads, within 1000 feet of National Forest roads not at a designated site, or anywhere on the Blue Ridge Parkway, in the Great Smoky Mountains National Park, or in North Carolina State Parks.
---
Backcountry Camping
Dispersed camping is generally allowed anywhere in the National Forests as long as you are:
1000 feet from roads open to vehicles and parking/recreation areas
Not in a specially managed area or an area specifically closed to camping
Not in a managed wildlife meadow
Remember, a good camping site is found, not made. Don't destroy vegetation to make a campsite. Be fire safe; use common sense. Try to use existing fire rings if you do have a fire, but camp stoves are recommended. Do not scar large rocks or overhangs with your fire. Fires are prohibited in designated wilderness areas. Don't leave trash behind!
Backcountry camping is prohibited on the Blue Ridge Parkway and its property, in Linville Gorge Wilderness (without permit), in Bent Creek Research and Demonstation Forest, and on State Park property. Backcountry camping is allowed in the Great Smoky Mountains National Park by permit only and only at designated backcountry sites.
Private Campgrounds
---
Black Forest Family Camping Resort
This campground is located 4 miles from the trailhead at the Dupont State Forest, making it the closest place to DSF to camp. Tent sites as well as RV sites with hookups are available and it gets rave reviews from visitors each year.
http://www.blackforestcampground.com
---
Buck Hill Campground
Features 60 RV campsites with full hookups, as well as tent camping with picnic tables and fire pits. Our amenities include an arcade and fitness room, trout fishing on the north Toe River, hiking and family fun. The campground is pet friendly, and has clean bath houses with laundry facilities, a gathering room and wi-fi.
Phone: 828-766-6162
https://www.buckhillrvcampground.com/
---
Tumbling Waters Campground
Tumbling Waters Campground and Trout Farm is just a 5 minute drive from Tsali.
https://brysoncitycampground.com/
---
Turkey Creek Campground
Located just 5 minutes from Tsali on NC 28 is this private campground, for those who would like a few more amenities than the Tsali public campground.
https://www.turkey-creek.com/
---
Ash Grove Resort Cabins and Camping
Nature Revives the Spirit. Revive yours at one of our fully-equipped 1, 2 or 3 BR cabins, secluded tent campsites, or RV sites. Located less than 10 minutes from Dupont State Forest or downtown Brevard, and 20 minutes from Pisgah National Forest, we are a convenient and hospitable base for your mountain biking adventures. Our comfortably furnished cabins have gas log fireplaces, full kitchens and baths, TV/VCRs, heat and A/C, screened porches, grills and picnic tables. The secluded, walk-in tent sites (no water or electricity) include a level tent pad, fire ring/grill and picnic table. We also have shady tent sites and rv sites with water & electric service, picnic table and a fire ring/grill. Amenities on our 14 mountaintop acres include: a hot tub, hiking trails, waterfall, badminton, horseshoes, and a stone bonfire pit.
https://www.ash-grove.com/
---
Lodging
The cities located throughout the area (Asheville, Waynesville, Brevard, Bryson City, Cherokee, etc.) offer plenty of hotel/motel chains, B&B's and other lodging opportunities, all within minutes of the trails. Below are just few suggestions for places to stay near the trails.
For a complete listing of places of lodging, including chain motels, in the Brevard area with contact information, visit the official Brevard & Transylvania County Tourism web site.
Suggested Places of Lodging
(in alphabetical order)
---
Asheville Cabins of Carolina Mornings
Asheville cabins of Carolina Mornings are your best choice for cabin and vacation rentals in Western North Carolina. With over 80 unique properties spread all over WNC, you're sure to find the perfect cabin, cottage, condo, or home for your stay to our mountains! Pet-friendly, top notch amenities, and great customer service. Come see why our customers stay with us year after year.
(828) 348-0066
https://www.CarolinaMornings.com
---
Asheville Cottages
Whave four cottages only 4 miles from the Lake Powhatan Recreational Area. Our goal is simple: To Provide You With The Most Luxurious Vacation Rental Cabin Stay You Have Ever Experienced. We are so confident that we will provide this to you that we give you a Free Stay Guarantee!
https://www.ashevillecottages.com/
---
Ash Grove Resort Cabins and Camping
Nature Revives the Spirit. Revive yours at one of our fully-equipped 1, 2 or 3 BR cabins, secluded tent campsites, or RV sites. Located less than 10 minutes from Dupont State Forest or downtown Brevard, and 20 minutes from Pisgah National Forest, we are a convenient and hospitable base for your mountain biking adventures. Our comfortably furnished cabins have gas log fireplaces, full kitchens and baths, TV/VCRs, heat and A/C, screened porches, grills and picnic tables. The secluded, walk-in tent sites (no water or electricity) include a level tent pad, fire ring/grill and picnic table. We also have shady tent sites and RV sites with water & electric service, picnic table and a fire ring/grill. Amenities on our 14 mountaintop acres include: a hot tub, hiking trails, waterfall, badminton, horseshoes, and a stone bonfire pit.
https://www.ash-grove.com/
---
Bent Creek Lodge
Bent Creek Lodge offers the perfect place to stay for your Western North Carolina biking adventure. The inviting lodge is located in a section of forest between the Blue Ridge Parkway and the French Broad River. You can easily hike or drive from the Lodge to the Bent Creek Recreation Area. The North and South Mills River areas are just a short drive down the road, and the Davidson River area and Dupont State Forest are only 45 minutes away. After a long hike you can come back to the Lodge, soak those tired muscles in a whirlpool tub and head for the night life and great restaurants in Asheville, only 15 minutes away!
https://bentcreeknc.com/
---
Blue Ridge For Rent
100+ Vacation Rentals near Boone, Blowing Rock and Banner Elk, in Western North Carolina. Featuring both luxury and budget cabin rentals, from 1-10 bedrooms and sleeping 2 guests to over 200. We are family reunion, church and corporate retreat friendly! Our private cabins have hot tubs, firepits, wifi and many are pet friendly, with mountain views or on fishing creeks and rivers. Easily SEARCH by availability, amenities and by party size. WNC's High Country has a lot to offer for your next family vacation or weekend getaway!
https://www.blueridgeforrent.com/
---
Bon Paul & Sharky's Hostel of Asheville
Relax in our back deck hot tub and watch the sunset with beautiful views of Mount Pisgah. Our friendly knowledgeable staff will tell you about all the great places to hike and check out in town. High Speed wireless internet is available. Linens are included. We have bikes to borrow, bus and airport pick up, and camping available as well!
http://www.bonpaulandsharkys.com
---
The Chestnut Street Inn
Indulge yourself at one of the most distinctive, fully restored Homes in Asheville. This Historic, Award Winning 1905 Grand Colonial Revival home will engulf you in its warmth as you step into its Architectural Charm and Grace in the midst of eight beautifully appointed rooms. You will be awakened each morning by the aroma of fresh brewed coffee and tempting smells that delight your palate with our Home Made 3 Course Gourmet Breakfast prepared especially for you. After breakfast stroll three blocks downtown for shops, Galleries and restaurants, Drive 2.5 miles to the Biltmore Estate or the breathtaking views of the Blue Ridge Parkway. Return to the Inn to be Pampered and Refreshed with afternoon tea and one of our Home Made Deserts just waiting to temp you. Relax on the Verandas while viewing Goddess Diana in the beautiful gardens or enjoy a relaxing In Room Massage designed to melt away your every woe. Private Baths with Jacuzzi tubs, Steam Shower, Romantic and Spa packages available.
https://www.chestnutstreetinn.com/
---
Deer Ridge Property Management
Mountain Vacations combine the serenity of nature with the vigor of outdoor adventure. Deer Ridge offers comfortable vacation homes which enhance this experience. Available amenities include biking and hiking trails, swimming, canoeing, tennis, golf, and more.
https://deerridgepm.com/
---
Dry Ridge Inn
Most important to your Asheville getaway is a warm welcome and courteous attention. This is what you will receive at the Dry Ridge Inn. Our historical three story home has eight rooms and all include private baths, gas fireplaces, and Cable TV and DVD Player. Some can be combined to make suites for large families. Our bed and breakfast country inn is just a short drive from the Blue Ridge Parkway - ideal for recreation or simply to enjoy the enchantment of the Blue Ridge mountains. The Biltmore Estate and downtown Asheville are also just 10 minutes away. The inn provides a wonderful getaway for those romantic special occasions: honeymoons, an anniversary, or any other time when romance is in the air! Our desire is that your stay with us at our bed and breakfast accommodation be a comfortable, happy, and memorable one. You will find our home comfortable, food delicious and our spacious grounds inviting and relaxing. Enjoy a book on the porch swing or gaze into the water garden and let the waterfall soothe you.
https://www.dryridgeinn.com/
---
Fall Creek Cabins
Our private log cabins, located on 54 acres, set the atmosphere to create many long-lasting memories. All of our cabins are ideal for honeymoons romantic getaways, yet equipped to handle most family vacations. Enjoy a cozy country setting, romance by the stone fireplace, and pamper yourself in your bubbling hot tub. Amenities includes: an equipped kitchen, TV/VCR, firewood, covered porch with rocking chairs, gas grill, picnic table, campfire pit, swing, and much more. Nature lovers will enjoy our rushing trout stream and clear meandering creek that cascades over rock faces and ledges creating beautiful waterfalls and rock pools. Enjoy our numerous hiking trails, have a picnic by the creek, and if you're lucky you may spot some of our non-paying guests which include deer, turkey, raccoon, squirrel, fox and others. Our tranquil setting is just east of the Blue Ridge Parkway entrance near Deep Gap, centrally located between the towns of Boone, Blowing Rock, West Jefferson, and Wilkesboro.
http://www.fallcreekcabins.com
---
Fall Creek Vacation Rentals
Featuring log cabin vacation rentals in the Boone, Todd, and Ashe County area. Mountain views, New River access, peaceful settings, wildlife viewing & privacy. Ideal location for canoeing, tubing, kayaking, biking, walking, & fly fishing. Hot tubs, fireplaces, fully equipped kitchens, covered porches, rocking chairs, grill, game tables & much more. Ideal for weekend getaways & family vacations. Call today and reserve your Mountain Escape.
http://www.fallcreekvacationrentals.com
---
Hampton Inn Brevard
Fall from your cloud nine bed to the trail when you stay with us at the Hampton Inn Brevard. We are conveniently located at the gateway to the Pisgah National forest where you can actually hike straight from your room to the trail. The hotel is bike friendly and host to numerous cycling groups, races and training programs throughout the year. We also offer a large meeting room for events and can also assist with your group tours.
https://www.hilton.com/en/hotels/bvdnchx-hampton-brevard/
---
The Hinton Center
The Hinton Center is nestled in the Blue Ridge Mountains of Western North Carolina just outside the city limits of Hayesville, North Carolina and approximately 2 hours from Atlanta, Asheville and Chattanooga. Our facilities have gorgeous views of Lake Chatuge and the surrounding mountains. We are conveniently located near many outdoor recreation areas including the Nantahala National Forest, and the North Carolina Section of the Appalachian Trail. Lodging is available year round for groups and individuals and include special off-season discounted rates. For more informatin, please visit our web site below.
https://www.hintoncenter.org/
---
Hot Springs Log Cabins
We offer cozy, romantic, one-room Honeymoon Style log cabins. There are 5 cabins on 11 acres with views of Pisgah National Forest. All 5 cabins feature a hot tub, fireplace, gas grill, washer/dryer, full kitchen & bath, and comfy queen bed. We have pet friendly vacation rentals, so invite your dog too! Located 6 miles south of Hot Springs, North Carolina - "About an hour" from Asheville, Biltmore, & Cherokee. https://hotspringslogcabins.com/
---
Inn On Main
A romantic, century-old Victorian bed and breakfast, featuring seven guestrooms, some with whirlpool tubs and fireplaces and furnished in lovely antiques. Enjoy mountain views from the huge porches. Just 10 minutes north of Asheville, 15 minutes from the Biltmore Estate and a short, scenic drive below Bull Gap on the Blue Ridge Parkway. Also nearby are whitewater rafting, skiing, golf, trail rides and the private mineral baths at Hot Springs Spa. Quaint, quiet Weaverville, NC is home to Secret Garden Spa, art and craft studios and galleries, the Milling Company restaurant, Sunnyside Cafe, Well-Bred Bakery, Blue Mountain Pizza and Zebulon Vance Birthplace.
https://innonmain.com/
---
Little Bird Cabin Rentals
Located just steps from the AT in Hot Springs NC, our pet-friendly rental cabins offer a clean, well-maintained, and affordable place to stay. From the cabins, a 5 minute walk will get you to all of the restaurants and shops of Hot Springs, and a 10-12 minute walk will land you at the Hot Springs Spa where you can soak in our famous mineral waters!
Chickadee Cabin sleeps 4
Goldfinch Cabin sleeps up to 7
49 S Serpentine Ave
Hot Springs NC 28743
Phone: 828-206-1487
https://www.littlebirdcabinrentals.com/
---
Limestone Cabin
Limestone Cabin is a 100 year old log cabin located in Hot Springs, NC that was dismantled and relocated to the banks of the French Broad River. It is great for Honeymoons, Anniversaries, or just a quite getaway. Attractions nearby include hiking, fishing, rafting, horseback riding or you can just relax in the hot tub.
https://limestonecabins.com/
---
Nantahala Tiny Homes & RV Park
Nantahala Tiny Homes & RV Park is located in the Nantahala Gorge two miles from the Nantahala River. Our park was built on Silvermine Road by Avery Taylor, a descendant of the family property. A unique park with full RV hook ups and easy access. Sites back up to Silvermine Creek with full view and limited access to the creek for your pleasure.
https://nthrv.com/
828-341-5044
---
Norally Vacation Rentals
Norally House is a 4500 sq. ft. 6 bedroom, 4 bath completely supplied vacation rental that includes game room, hot tub and breath taking views of the mountains. Large groups up to 32 can rent both the Norally House and cottage. The 3 bedroom two bath cottage is with in walking distance.
https://ashevillenc-vacationrental.com/
---
The Orchard Inn
The Orchard Inn is a charming mountaintop bed and breakfast near Asheville, NC. The cozy intimacy and hospitality of our inn provide the perfect setting to enjoy stunning views of natural North Carolina. Our luxurious rooms offer amenities including a gourmet breakfast, complimentary internet, child-friendly and pet-friendly rooms, air conditioning or heat, and more. Call 828-749-5471 today to start planning your escape to the Orchard Inn.
https://orchardinn.com/
---
Pisgah Inn
Located in Flat Laurel Gap on the Pisgah Ridge at an elevation of 5000' next to the Blue Ridge Parkway at the Mt. Pisgah Recreation Area and finally...across from the Mount Pisgah campground. Now that we've narrowed down where it is...it offers luxury traditional hotel style accommodations and is one of the highest places of lodging on the East Coast. It's a man-made rest stop in a sea of forest and mountains. Boasting a spectacular view, the inn also has a great restaurant for after your long hikes. The scenery in the area (just below Mt. Pisgah's 5720' peak) is fantastic and it is within a short drive of the Bent Creek, Mills River, and Davidson River riding areas. Reservations are recommended, however, as it is a popular destination.
https://www.pisgahinn.com
---
Red House Inn English Bed and Breakfast
The newly renovated Red House Inn provides comfortable bed and breakfast accommodation in downtown Brevard, NC. The Inn is a short walk from many shopping and dining opportunities and within easy driving distance to Brevard Music Center, Pisgah National Forest and Dupont State forest. It is ideally situated for exploring the North Carolina mountains, visiting waterfalls, hiking, mountain biking and fishing. The Red House Inn is owned and operated by a couple who hike and bike frequently with their daughter and dog and will help you plan your outdoor experience in WNC!
https://brevardbedandbreakfast.com/
---
Riverbend Lodging
Located near Tsali in Bryson City, this motel is at the foot of the Great Smoky Mountains and the beautiful Tuckasegee River flows alongside the property. They offer 11 rooms with AC and cable TV and one cottage rental which sleeps up to 6 and has the same furnishings.
https://www.riverbendlodging.com/.
---
Rolling Thunder River Company
Provides white water rafting and camping in the Tsali area.
https://www.rollingthunderriverco.com/
---
Smoky Mountain Retreat
Located approximately 6 miles from Tsali, this retreat offers 4 hand-crafted log homes to stay in. One will accommodate 10 guests; one 14; and 2 will accommodate 16 each. Also offered is the Mountain Place which will accommodate 14 guests and the Brick Annex which will accommodate 8 guests. Homes are completely furnished with all modern amenities.
http://www.smokymountainretreat.com/
---
Spring Valley Farm Dog Care
Your pet needs something fun to do all day while you bike, hike, or fish! Spring Valley Farm Dog Care is DOGGY PARADISE with 5 acres of fenced, grassy play fields and a creek for your pup to play in! Offering Day Care ($20-$25/day) and Boarding ($35/24 hours) with fully supervised playtimes and cozy kennels for napping. Located near Brevard in Pisgah Forest, we are only 15 minutes to the trails in Dupont State Recreational Forest and 10 minutes to the closest trails in Pisgah National Forest.
http://www.​springvalleyfarmdogcare.com
---
Sunset Farm Cabins
Pet friendly cabin rentals near Cherokee and Bryson City at affordable rates. Located in the mountains with great views, great amenities, and great service. Our 6 one and two bedroom cabins are fully equipped so all guests need to bring is personal items. We are truly in the heart of all Western NC activities including the entrance to the Great Smoky Mountain National Park, the Blue Ridge Parkway, White Water Rafting, Hiking, Waterfalls, Golfing and much more. All cabins include satellite tv, wireless internet, linens, towels, covered porches, BBQ grills, picnic tables, and more. Please visit our website for online reservations 24 hours a day!
https://sunsetfarmcabins.com/
---
Sunset Motel
Walk to downtown from this kitschy, clean, quaint and affordable vintage gem. Recently renovated, the motel has an apartment, cottage and 18 rooms – all differently decorated. Smoke-free with modern amenities.
https://thesunsetmotel.com/
---
Sweet Peas Hostel
Hostel accommodations are the smart traveler's ideal choice, and Sweet Peas' clean, contemporary environment is hostelling at its finest. Outdoor and music enthusiasts will find Sweet Peas the perfect place to meet, make new friends, and stay in a clean, comfortable bed. After the day's adventures, guests can cook a meal in our fully equipped hostel kitchen, lounge in our spacious living room with wide screen and views of downtown, or grab a beer and a bite downstairs in Asheville's hottest new brewery - Lexington Avenue Brewery.
23 Rankin Ave.
Asheville, NC 28801
828.285.8488
http://www.sweetpeashostel.com
---
Tree House Cabins
Tree house Cabins are located in Hot Springs North Carolina, 4 minutes from the French Broad River, the Appalachian Trail, and the famous Mineral Hot Springs. Our cabin will sleep 2 to 6 guests, with Queen size Beds, Full kits, Fireplace, Satellite TV, and a private hot Tub at your cabin with a great view over looking the valley of Hot Springs, NC.
https://www.hotspringstreehousecabinsnc.com/
---
Vacation in Asheville
Looking for a place to stay during your Vacation-In-Asheville? Our properties can be your vacation home in the mountains! We have transformed some of the best locations in the Asheville region into vacation rental homes that cater to nearly every taste. Visit www.VacationInAsheville.com or call 866 858-0863 for toll free reservations.
The Brigman House of BreakAway Inn
The Brigman House has 5 BR/4.5 BA

BreakAway Cabin
For a more independent stay with a delightful full amenity kitchen, gas fireplace & spa tub - wonderful for two to six guests.

Asheville Mountain Vista
A 4 BR 3 BA house, with WIFI throughout, decks, stunning views, hot tub, wonderful cycling and hiking access, just 3 miles off the Blue Ridge Parkway at MPM 377.5 (Craven's Gap at Town Mountain Road), where there is trail head parking to the "White Dot Trail" (Mountains to Sea Trail).

Avondale Ridge
A 6 BR 3 BA house, just 2 miles off the Blue Ridge Parkway from the 74-A access ramp (MPM 384) and only minutes to the Folk Art Center (MPM 383) Avondale Ridge borders the Blue Ridge Parkway, has stunning views, WIFI, grill, decks, fireplace, W/D and Sauna, to name a few of the many amenities.

Hawk's View Chalet
(4 BR 3 BA)

Brigman House, BreakAway Cabin, Hawk's View Chalet (reserve together or separately) with access off the Blue Ridge Parkway at Bull Gap via Ox Creek Road. From 2 bedrooms to 5 bedrooms per unit (total 11 BR 9.5 BA if reserved all together). All with WIFI, grills, gas fireplaces, views, creek and many other delightful amenities.
---
Watershed Luxury Log Home Rentals
Located minutes from Tsali, these brand-new cabins are perfect for groups. A great view, luxurious interior (including Jacuzzi hot tub and all new modern furnishings), and reasonable rates make this a great mountain bike getaway for you and your friends. The cabins are a short 10 minute drive from local dining and shops. With as few as 5 people in a group, each person pays about what an average hotel room costs per night, yet the cabins house up to 14 guests making for a great deal on lodging.
https://www.watershedcabins.com/
---
Wolf Branch Cabin
This cabin is located 34 miles (or a 40-minute drive) north of downtown Asheville, on 25 private acres surrounded by trees & water. The cabin is about 12 miles from the Appalachian Trail where it crosses Sam's Gap at the NC/TN state line. Enjoy soaking in the hot tub on the deck while listening to the creek, which runs right in front of the cabin. This cabin has 2 bedrooms. The main BR is in the loft with a skylight over the bed - great for stargazing! The kitchen & 1.5 baths are fully equipped. Amenities include a gas grill, satellite TV, XM radio, extensive movie, book & CD collection, gas fireplace, W&D, privacy, and much more. Linens are provided plus Pets are Welcome!
http://www.wolfbranchcabin.com/
---
All of these directory listings are provided free of charge upon request. Please contact us if you would like to have your business listed here. Thanks!