Great Woodland Adventure Hike
Winding through the woods below Chimney Rock is the Great Woodland Adventure trail, a Kids In Parks TRACK Trail which aims to engage kids in learning about all that can be found in the forest. A perfect introductory hike for families with small children! Woodland creatures take the spotlight at 12 discovery stations along this easy winding trail. Kids will have a blast climbing all over them and spotting them in the woods. This is one of the easiest and most family-accessible trails in the region!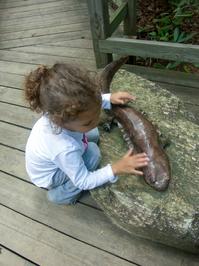 At A Glance

0.6 mi round-trip
Difficulty Rating: 0.74


Tread Condition: Graveled


Climb: Climbs Gently


Lowest Elevation: 1480 ft
Highest Elevation: 1570 ft
Climb Total: 90 ft
Configuration: Loop
Starting Point: The Meadow, Grady's Animal Discovery Den

Trails Used: Great Woodland Adventure
Details
Hike Description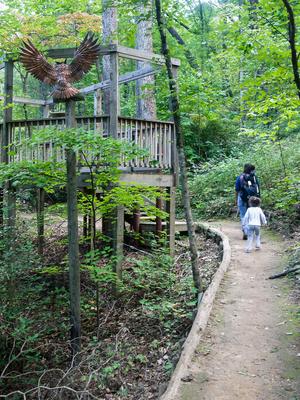 The Great Woodland Adventure trail is quite a unique experience, providing kids with such a variety of play and learning opportunities, like a half-mile long learning playground. You'll look for a variety of forest creatures of all shapes and sizes, represented by well-placed figures which might require a little hunting to locate, giving the little ones motivation to keep going to see what's next.
There are 12 main discovery stations along the trail, each spotlighting a particular creature or habitat for kids to explore. On easy-to-read signs, Grady the Groundhog, the Park's mascot, illustrates how his forest friends live, including chipmunks, frogs, owls and butterflies, spiders, turtles and birds of prey. Larger-than-life wood and metal sculptures lie along the trail and in the woods, bringing an extra dimension of discovery to the path.
The trail's literature - both the brochures you can bring with you as well as signs strategically placed along the trail - is filled with interesting information, proving that Grady the Groundhog, the park's famouse February prognosticator, knows more about the natural world he lives in than just when Spring will arrive.
Starting at the upper end of the Meadows, beside the Grady's Groundhog Animal Discovery Den, the trail is marked by a big arch entrance sign. On the deck of the Discovery Den, stop and pick up the current TRACK Trails brochures that help kids learn more about the Park and the Blue Ridge Mountains while on the trail. The trail is easy to follow, with only a few steps and a bridge or two in places. Plus, it's short enough that even if the little ones conk out, adults can safely carry them back to the car without too much trouble.
Don't forget to check out Grady's Animal Discovery Den after hiking the trail! Grady's Den is home to lots of forest friends, like reptiles and amphibians. There's plenty of information available to learn about them inside the Den. And finally, the enclosures out back are home to Greta the Groundhog and her pal Fionna, a Virginia Opossum. Be sure to stop by and say hello!
For those with older children looking for a bit more of a hike, you can take the Four Seasons trail across the street up to the main Chimney area instead of driving. Trails in that area link with all others on this side of the park.
All Photos from This Hike
Map
Green highlight indicates the route to follow within the trail network for this hike.
Tip: Printing this map? You can pan and zoom the map as desired before printing to show the area you need.
Map Information
Download GPS Data
Click on a route, trail, or point on the map and select the GPS Data tab to download its data.
Data Formats
KML (Google Earth)
KML is the main file type used by Google Earth. If you have Google Earth installed, clicking the KML link should open the trail or point directly in Google Earth for viewing. This is the native file format used by Google Earth, but many other map applications can use and understand KML as well, so if you're not sure which one to download, KML is a good bet.
GPX
The GPX format stands for GPS Exchange - a free, open, XML format for exchanging GPS and map data. GPX is compatible with Google Earth, many other mapping programs, and most GPS devices (such as Garmin). Load the file directly into your GPS to help find your way on your next trip!
GeoJSON
GeoJSON is a newer, lightweight data exchange format which can be used to quickly share map data and may have a smaller size than KML or GPX. Many professional mapping and GIS applications support the GeoJSON format.
About the Map
Copyright
Base Layers
Base layers provided by OpenStreetMap, the US Geological Survey, the US Forest Service, and NC OneMap. Base layer images are subject to the respective copyright policies of their owners. Base layers may not be available at all times due to system maintenance or outages.
WNCOutdoors Base Layer
The WNCOutdoors Base layer is provided by WNCOutdoors.info. It is licensed by Creative Commons Attribution 3.0.
Trail and Marker Overlays
Trail layers and downloadable data are all original works created by WNCOutdoors with guidance from a variety of sources, including ensembles of our own GPS tracks, user contributed GPS tracks, official maps and GIS data from government agencies, and field observations. WNCOutdoors data is made freely available under the Open Database License - you are free to copy and use it for any purpose under the terms of that license (summary).
Tips
Hover over a trail to see it highlighted. Helps to see start and end points for an individual trail.
Scroll and zoom the map before printing, and that view will persist into the printed image.
Click a trail for more details and to download it individually.