Great Woodland Adventure Trail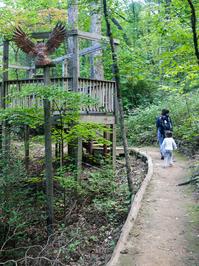 At A Glance


0.6 mi one-way
Difficulty Rating: 0.6 (Easy)
Steepness: Few Hills
Tread Condition: Few Obstacles
Blaze Color: None
Hikes That Use This Trail: Great Woodland Adventure

Description
Perfect introductory hike for families with small children! Woodland creatures take the spotlight at 12 discovery stations along this easy winding trail at the Meadows, giving the little ones motivation to keep going to see what's next. On easy-to-read signs, Grady the Groundhog, the Park's mascot, illustrates how his forest friends live, including chipmunks, frogs, owls and butterflies, spiders, turtles and birds of prey. Larger-than-life wood and metal sculptures lie along the trail and in the woods, bringing an extra dimension of discovery to the path. The kids will have a blast climbing all over them and spotting them in the woods. There are a few bridges and steps, but most children 3 and up should be able to handle it on their own. Bring your camera on this one.
This trail is located in the Chimney Rock State Park area. For a list of all the trails in that area, see the Chimney Rock State Park trails list page.
All Photos from the Trail
GPS Map
Download GPS Data
Click routes, trails, or points on the map to download them (on the GPS Data tab).
Total Calculated Length: 0.41 mi
This value is derived from our underlying map data, and it may not match officially published information.