Tuckasegee High Falls Hike
There's a lot of neat things to see packed into this relatively short, 0.7 mi path. Even if the trail didn't start at a beautiful swim-worthy mountain lake and recreation area (it does), and even if it didn't pass a beautiful 60 ft waterfall along the way (it does), and even if a truly huge waterfall weren't at the end of the trail (it is), it would be worthy of a hike on its own just for the scenery along the path. But there's so much more!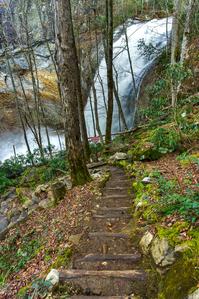 At A Glance

1.4 mi round-trip
Difficulty Rating: 2.68


Tread Condition: Some Obstacles


Climb: Climbs Steeply


Lowest Elevation: 2875 ft
Highest Elevation: 3510 ft
Climb Total: 650 ft
Configuration: Out-and-back
Starting Point: Pines Recreation Area

Trails Used: High Falls
Directions
From the I-40 and I-26 interchange in Asheville, NC, take I-40 west about 18 miles to Exit 27 for the Great Smoky Mountains Expressway, US 74/19/23 toward Waynesville. Follow the expressway for about 21 miles to Exit 85 for Sylva/Cullowhee. Follow Business 23 for about 1.8 miles into town and turn left on NC 107. Go just over 20 miles on 107 (past Western Carolina University) and turn right onto Pine Creek Road. It's 2 miles on this crooked road to The Pines Recreation Area, just across the dam, where there is parking on both sides of the road for the trail.
Details
Hike Description
For years, this waterfall was a thing of legend, but nearly inaccessible to the public, for those unwilling to trespass. But as part of re-licensing its dams with the government in the 2010's for the next 30 years, Duke Energy agreed to build a trail to the falls for hiker and kayaker access. This was truly a waterfall enthusiast's dream come true!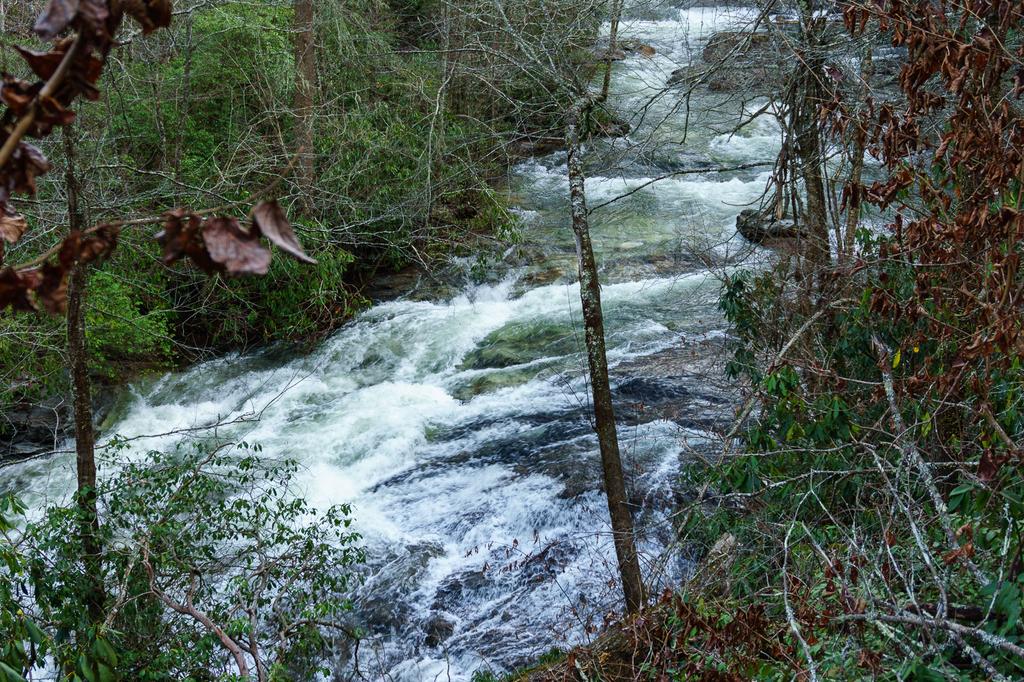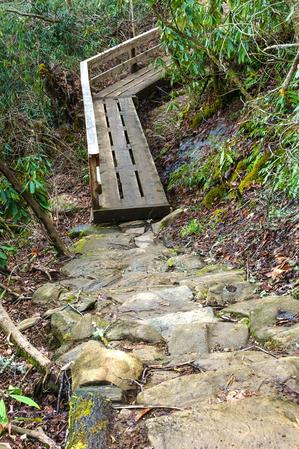 Water Releases
The falls is not flowing full-force all the time. Duke lets some water over the falls on a regular basis several days per year, primarily for whitewater kayaking in the stretch of river downstream. But water is also released during periods of heavy rain or when the lake is lowered for maintenance.
To see a schedule of water releases, visit Duke Energy's scheduled releases page. Select Nantahala from the drop-down, and look under West Fork to see when the water is being released. A link to a calendar for upcoming release days is on the right side of the page.
Also see American Whitewater's page on the river. Releases are sometimes rescheduled for various reasons, so check as the date approaches to make sure it's still on.
On The Trail
Now, the trail itself. Assuming you're here on a release day or just hiking when the water is lower, the trail starts at the parking area away from the lake. It begins as a gated road leading down below part of the dam. It winds downhill on a graveled path to a hairpin turn near a drainage basin, then turns right at a sign. From there the trail becomes much steeper and descends sets of log steps toward the river, which it begins following downstream.
Upstream from this point is Onion Falls, a man-made cataract that constitutes the dam's spillway. You aren't allowed to leave the trail to see it, however, and though it's high and interesting-looking, it's man-made and has that non-natural look to it. I recommend keeping on toward High Falls.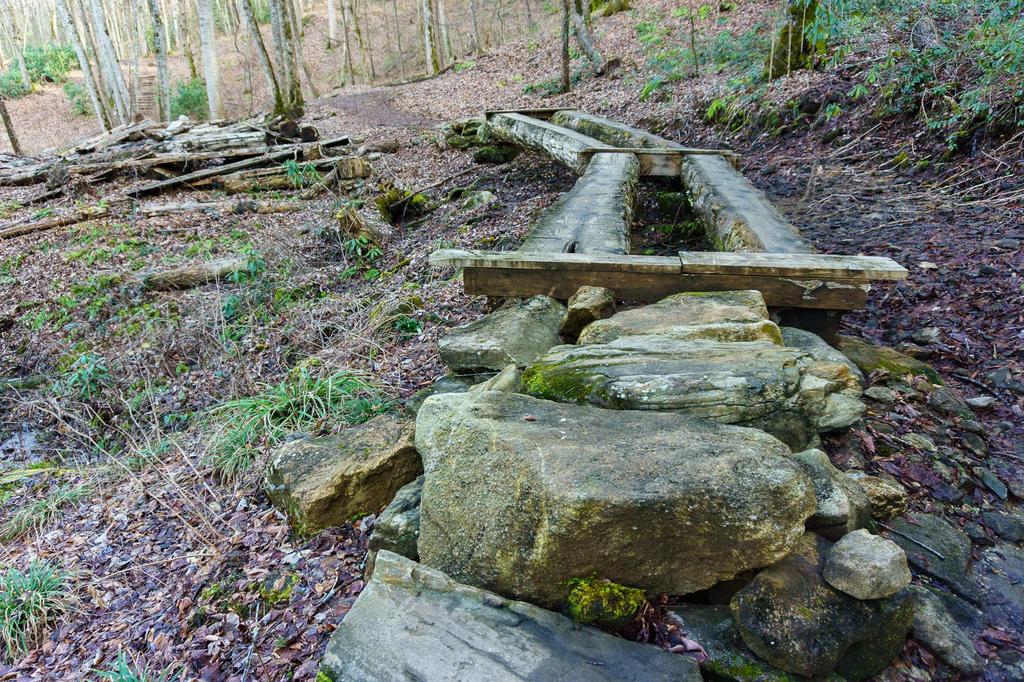 The trail will cross a couple of unique, small bridges and then descend steeply on rock steps. Only short stretches are actual dirt trail. You'll see how much work was required to build this trail - hundreds of massive logs and stones (sourced from on-site) were put into place to keep hikers safely on the path. It's truly a remarkable work of trailbuilding expertise.
The trail passes by a distinct, separate upper waterfall, called First Falls by the whitewater community. Now - here's the thing about First Falls. Frankly, it's a heckuva waterfall on release days, dropping about 60 ft against a massive rock face before veering river-left into a deep pool in a massive plume of spray, with picturesque rapids downstream.
What's just amazing is that a waterfall this size barely even gets mentioned as a footnote most places (though to be fair - most of the time, it is nearly dry). Thousands of people literally hike right past it, yet you can barely even find a photo of it. So here's one for you: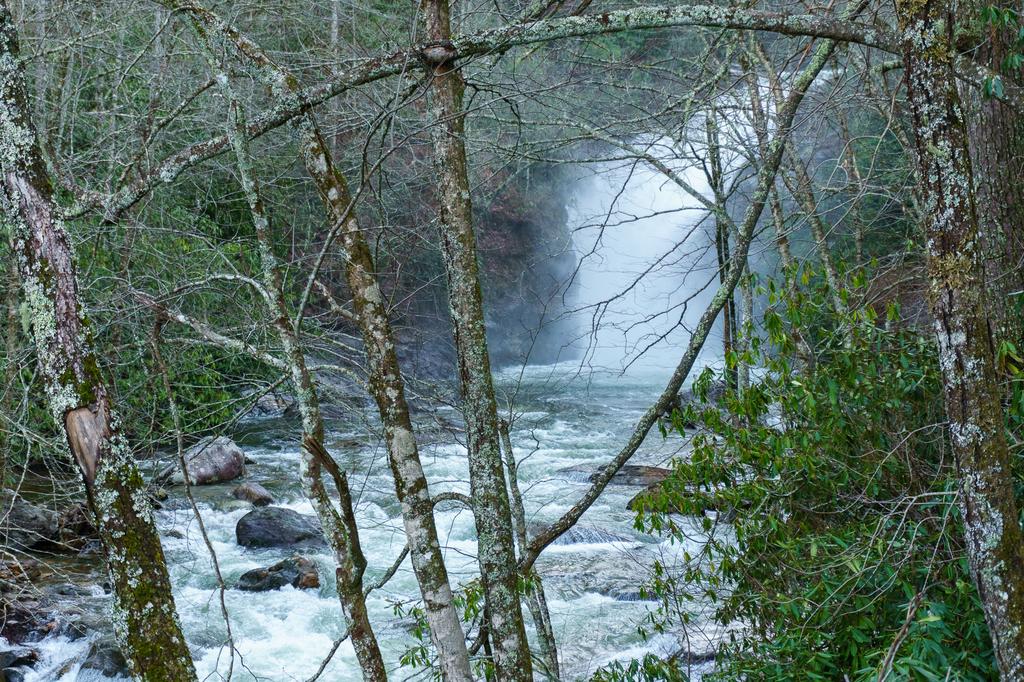 If 150-ft High Falls wasn't just downstream, First Falls would be a well-known destination in its own right!
But given the bigger waterfall downstream and the extremely rugged area in which it is situated, it's not exactly safe to try to get a closer look. And most people just want to get on to the main event already, so barely give First Falls a passing glance. So enjoy what you can see from the trail - the view is decent during the winter when the leaves are off the trees.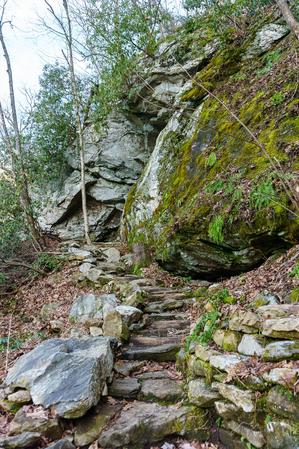 Past First Falls, the trail passes under a neat overhanging cliff as you go past the brink of High Falls. The trail then descends on rock steps through a mossy forest on a series of masterfully-constructed switchbacks, with rock walls and artfully chosen anchors at each segment of trail. You get to hike this beautiful (if short) stretch of trail, right beside the roaring upper part of High Falls (or the quieter version on non-release days). Either way, it's truly amazing.
The trail finally descends enough to reach the boater put-in at the base of High Falls. There's not a ton of room for moving around or hanging out on this side of the river, but there is adequate space to take in the view. And what a view it is! The upper, smooth portion of the falls is still visible, but now you get to see the lower portion, which often splits into two or three distinct streams over the craggy ledge below the smooth cliff face above.
If the water is flowing, the last set of steps will be soaked from the spray, and completely iced over during freezing weather. You will get wet on this one.
Some final words of caution:
Water could potentially be released from the dam at any time, without advance notice, even when it is not scheduled. So be very careful if visiting on non-release days and always expect the possibility of rapidly rising water levels.
All the property downstream of the kayaker put-in is private property, so keep off.
The put-in is not the optimal viewing area for the waterfall when the water is high (it's right in the spray zone so you'll get soaked), but crossing the river just isn't a viable option. So don't get swept away trying to get a better view.
Don't arrive in the morning before a release starts and get trapped on the other side of the river, either. Once it's flowing, it rages, and there's just no safe way across.
The first water tends to carry with it whatever fell into the riverbed since the last release, so watch out - it could carry mud, leaves, sticks, logs, etc. until it clears up.
For the full experience of the natural force of this waterfall, visit when the water is high or watch a release. For a chance at close-up exploration (and perhaps better conditions for photography), visit when the water is low.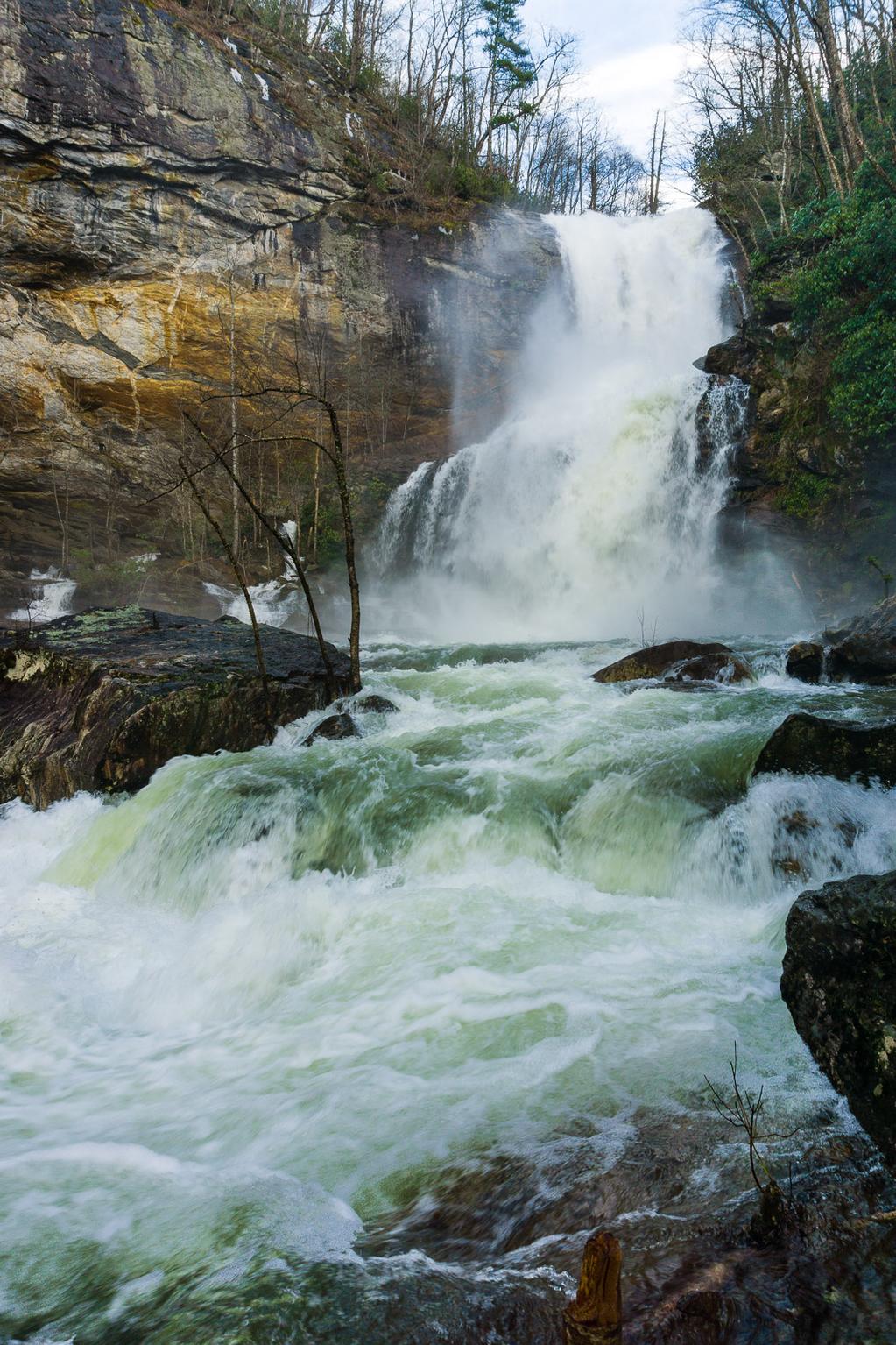 Once you've taken in the view, return to the parking area via the same path. Remember, the hike out is all uphill, so allow yourself adequate time and energy.
All Photos from This Hike
Map
Green highlight indicates the route to follow within the trail network for this hike.
Tip: Printing this map? You can pan and zoom the map as desired before printing to show the area you need.
Map Information
Download GPS Data
Click on a route, trail, or point on the map and select the GPS Data tab to download its data.
Data Formats
KML (Google Earth)
KML is the main file type used by Google Earth. If you have Google Earth installed, clicking the KML link should open the trail or point directly in Google Earth for viewing. This is the native file format used by Google Earth, but many other map applications can use and understand KML as well, so if you're not sure which one to download, KML is a good bet.
GPX
The GPX format stands for GPS Exchange - a free, open, XML format for exchanging GPS and map data. GPX is compatible with Google Earth, many other mapping programs, and most GPS devices (such as Garmin). Load the file directly into your GPS to help find your way on your next trip!
GeoJSON
GeoJSON is a newer, lightweight data exchange format which can be used to quickly share map data and may have a smaller size than KML or GPX. Many professional mapping and GIS applications support the GeoJSON format.
About the Map
Copyright
Base Layers
Base layers provided by OpenStreetMap, the US Geological Survey, the US Forest Service, and NC OneMap. Base layer images are subject to the respective copyright policies of their owners. Base layers may not be available at all times due to system maintenance or outages.
WNCOutdoors Base Layer
The WNCOutdoors Base layer is provided by WNCOutdoors.info. It is licensed by Creative Commons Attribution 3.0.
Trail and Marker Overlays
Trail layers and downloadable data are all original works created by WNCOutdoors with guidance from a variety of sources, including ensembles of our own GPS tracks, user contributed GPS tracks, official maps and GIS data from government agencies, and field observations. WNCOutdoors data is made freely available under the Open Database License - you are free to copy and use it for any purpose under the terms of that license (summary).
Tips
Hover over a trail to see it highlighted. Helps to see start and end points for an individual trail.
Scroll and zoom the map before printing, and that view will persist into the printed image.
Click a trail for more details and to download it individually.