Dupont State Recreational Forest
Overview
Featuring an array of stunning destination features such as the mighty waterfalls of the Little River, DuPont State Recreational Forest, or DSRF, has quickly become one of the most popular recreation areas in the Mountains since its opening in the mid 1990's.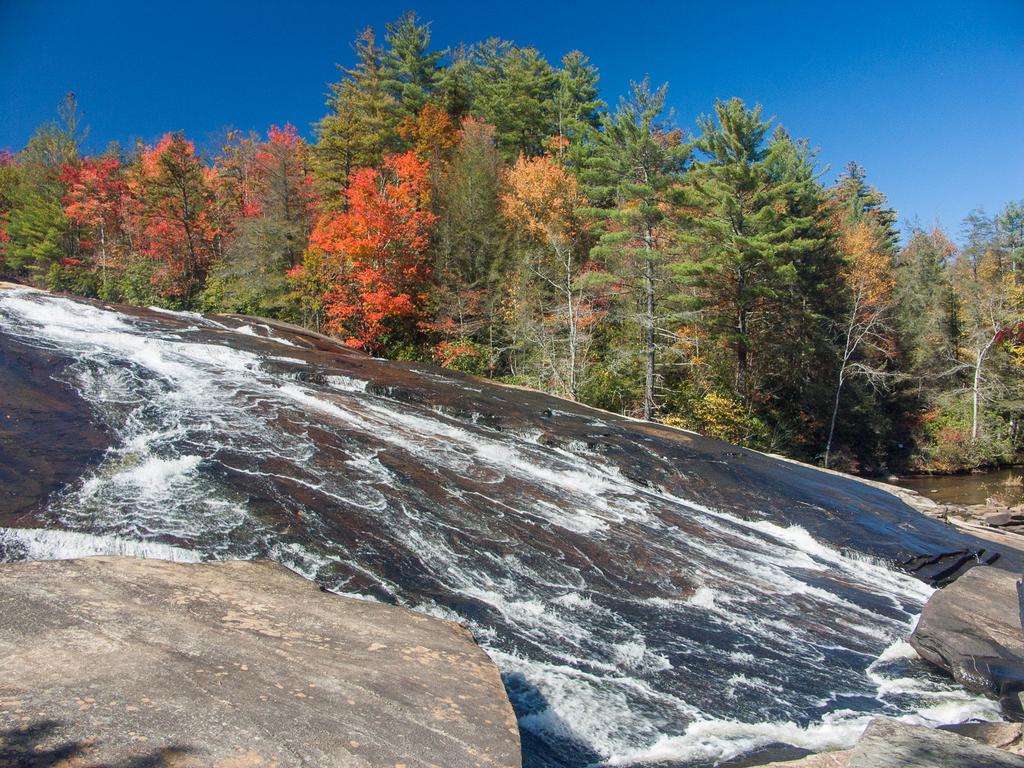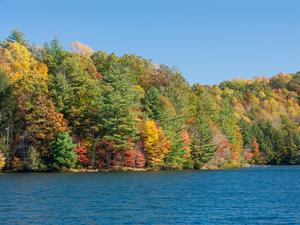 North Carolina's first State Recreational Forest is located southeast of Brevard in North Carolina's Blue Ridge Mountains. DuPont is 10,400 acres in size, and offers almost 100 miles of recreational trails providing access to its attractions.
Originally considered a regular State Forest, DuPont earned the "Recreational" part of its name in 2011 when a bill was passed emphasizing management of the area's recreational aspects, including trails.
Hiking Opportunities
Some trails pass over large expanses of solid rock on large granite domes. Others twist through the woods, offering more traditional Carolina style. Nearly all trails are multi-use (biking, hiking, and equestrian) and they are well signed and well marked.
There are five main parking areas at DSRF: at Hooker Falls, High Falls, Guion Farm, Fawn Lake, and Corn Mill Shoals. We'll break down our overview of the hiking available in DSRF by what's accessible from the various parking areas.
In the Hooker Falls Area
This is the largest parking lot in the forest and even though it can hold a lot of vehicles, it fills up on busy weekends. But it's easy to see why. From there, you have access to some of DSRF's most popular destinations, including 4 of the major waterfalls in the forest.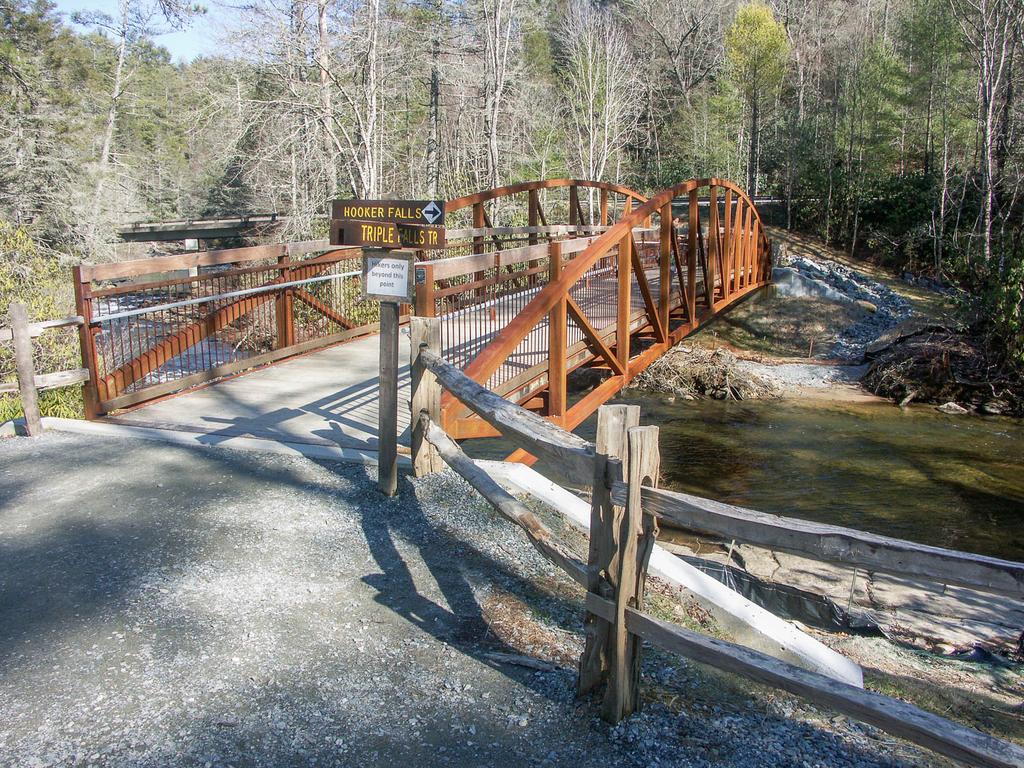 The Hooker Falls Road trail leads downstream a short distance on the Little River to Hooker Falls, a scenic ledge-type falls which plunges into a deep swimming hole. Observe from the wheelchair accessible deck above, or from the large, flat rocks at the edge of the pool below. Head upstream on a moderate hike via the Triple Falls and High Falls trails to reach the waterfalls of the same name.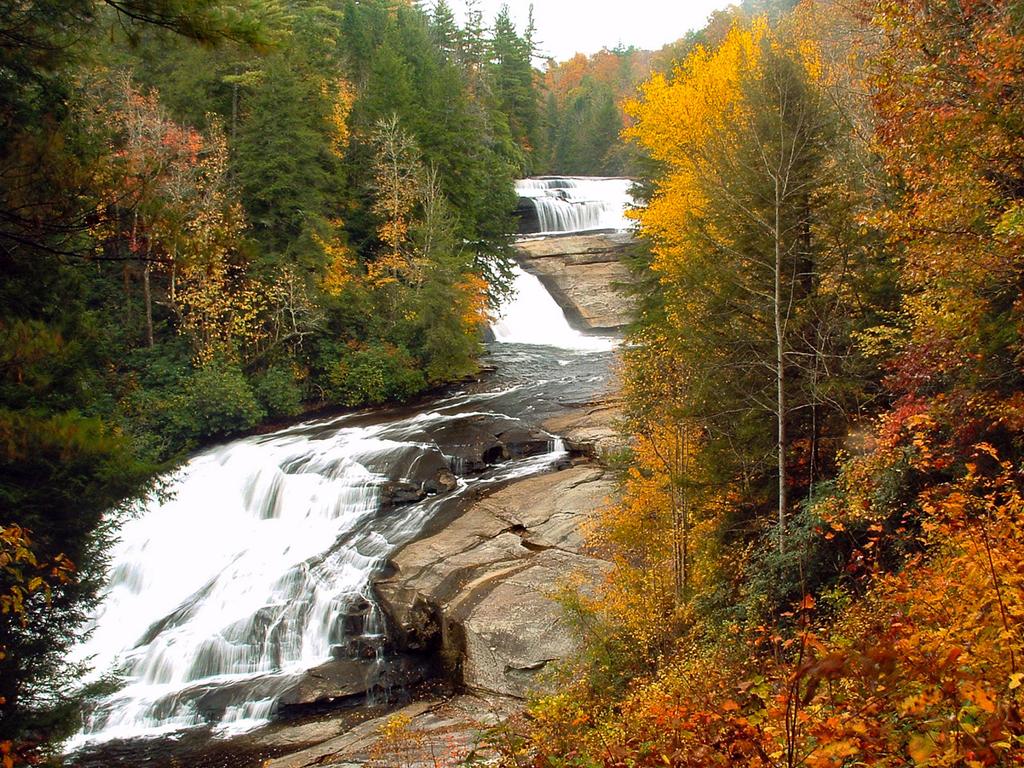 Triple Falls is a unique beauty and High Falls is the highest on the Little River, and shouldn't be missed. While these are some of the easier destinations, you can also make longer loops from this parking area by including (for instance) the Holly Road and Lake Imaging trails. Or head on up to Lake Dense for a relaxing picnic or a refreshing swim, not too much farther beyond High Falls.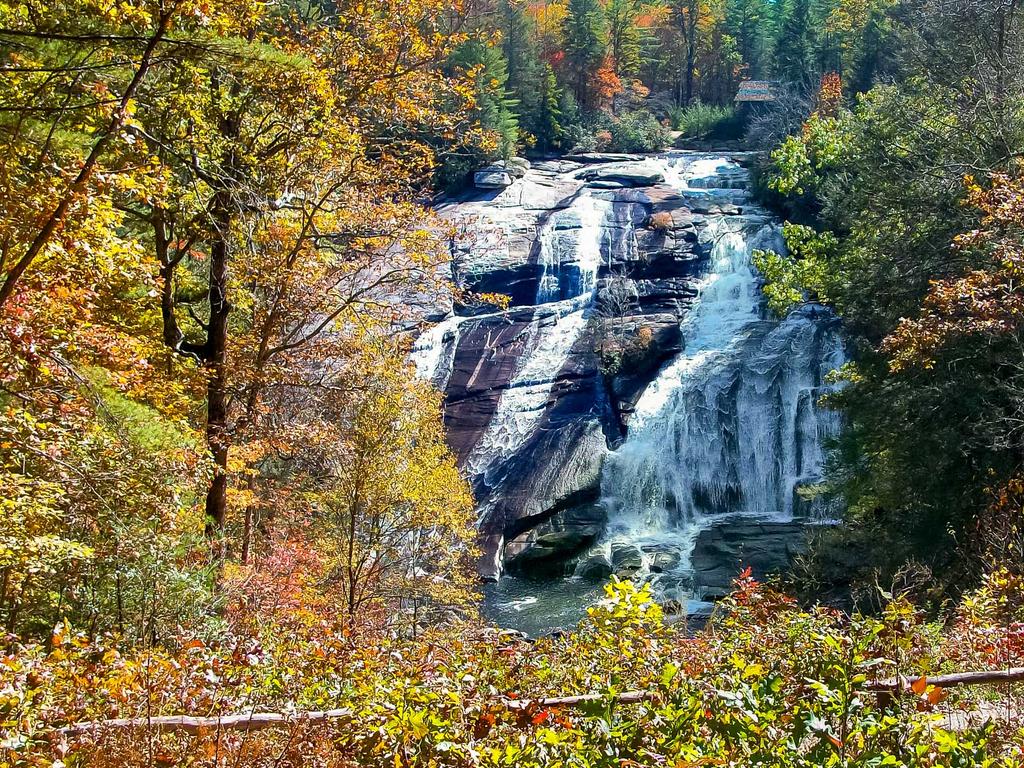 The DuPont Waterfalls and Lakes Tour hike starts at this parking area and includes nearly all of the waterfalls and several scenic lakes in the Forest. We think that hike pieces together some of the best trails and destinations in DuPont mentioned above!
In the High Falls Area
This parking area is right in the heart of the forest and includes the main visitor center, with upgraded restrooms featuring running water.
The High Falls parking area is just up the road from the Hooker Falls area, and as such, many of the same trails are accessible from there. But it's closer to High Falls, and Triple Falls is downhill from there instead of up.
Looking for a swimming hole? This parking area is also close enough to Lake Dense, and its clear water is inviting on a hot summer day. Larger Lake Julia and Bridal Veil Falls are also close enough to make an easy hike. Longer distance treks from here might include the summit of Joanna Mountain overlooking Lake Dense, or some of the more remote areas around Reasonover Creek. Most of the forest is accessible from this parking area if you're ready to put in more mileage.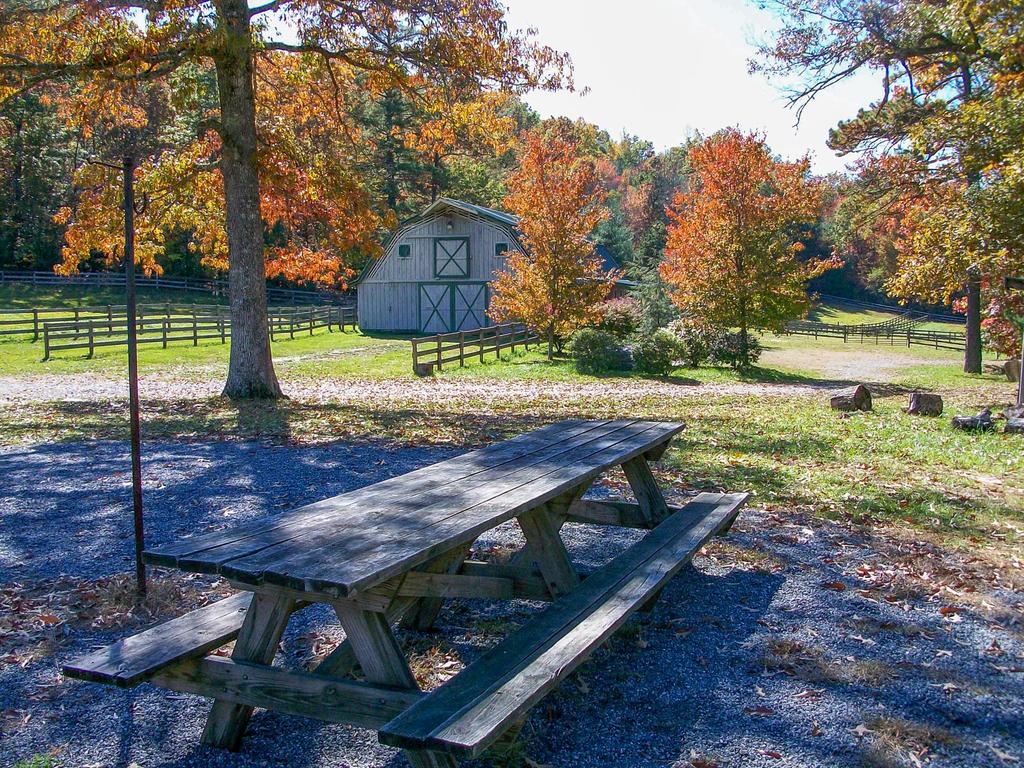 In the Guion Farm Area
This parking area is over on the northeast side of DSRF, at an old farmstead. It's close to DuPont's highest peak, Stone Mountain, which makes a good destination for a more difficult hike. Wintergreen Falls is a good moderate destination via the Tarkiln Branch and Wintergreen Falls trails. A whole host of opportunities exists back toward the west, including longer hikes to the larger waterfalls mentioned above.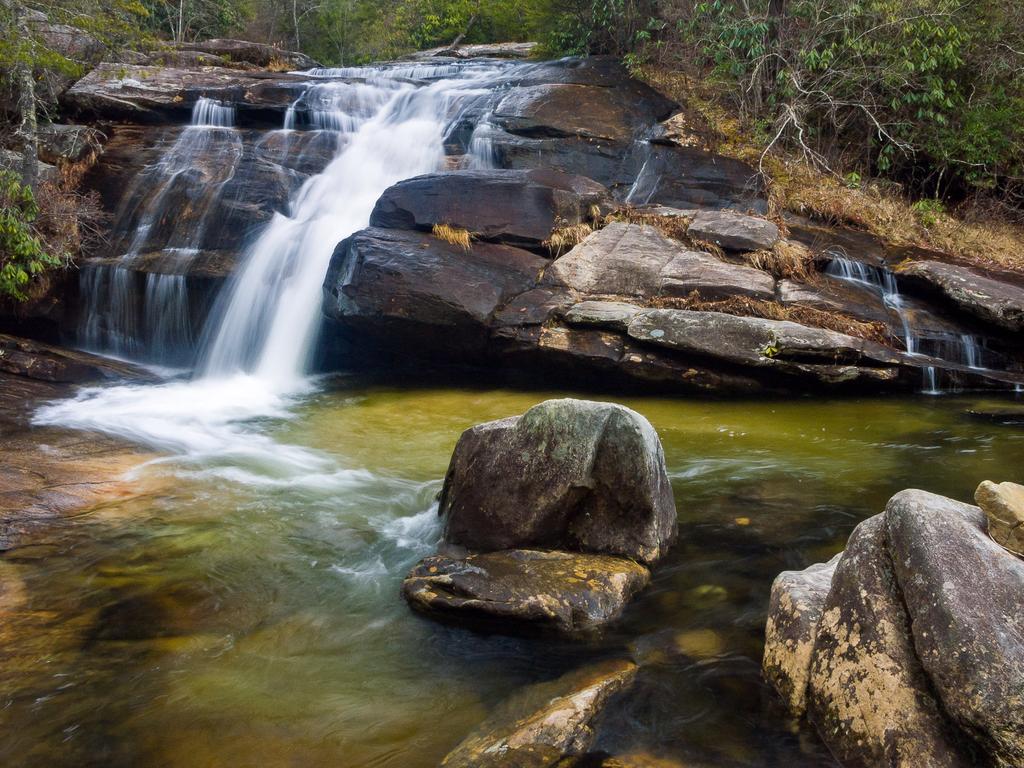 Loop hike opportunities are plentiful from here, and this area is also popular with equestrians and mountain bikers.
In the Fawn Lake Area
On the south side of DuPont is the Fawn Lake parking area, providing access to the water body of the same name which is another popular swimming hole in warm weather. Some of the more remote trails in DuPont are accessible from this parking area, though, including Reasonover Creek and Turkey Knob. Mine Mountain, Cart, and Laurel Ridge make a possible loop, and Corn Mill Shoals offers a longer option. This is the traditional way to access Bridal Veil Falls, the Airstrip trail, and Lake Julia, past Fawn Lake itself.
In the Corn Mill Shoals Area
DuPont's west side parking area offers access to a few trails west of Cascade Lake Road, but also to two of the non-water destinations in the forest: Big Rock and Cedar Rock, which are low, rounded granite domes devoid of trees in places. Two trails by the same name provide access to the mountains' summits and views in all directions. You'll see sweeping vistas back across the forest, as well as a spectacular view of the Pisgah Ridge and higher peaks to the northwest. Round off a hike with the Little River, Corn Mill Shoals or Burnt Mountain to add some mileage.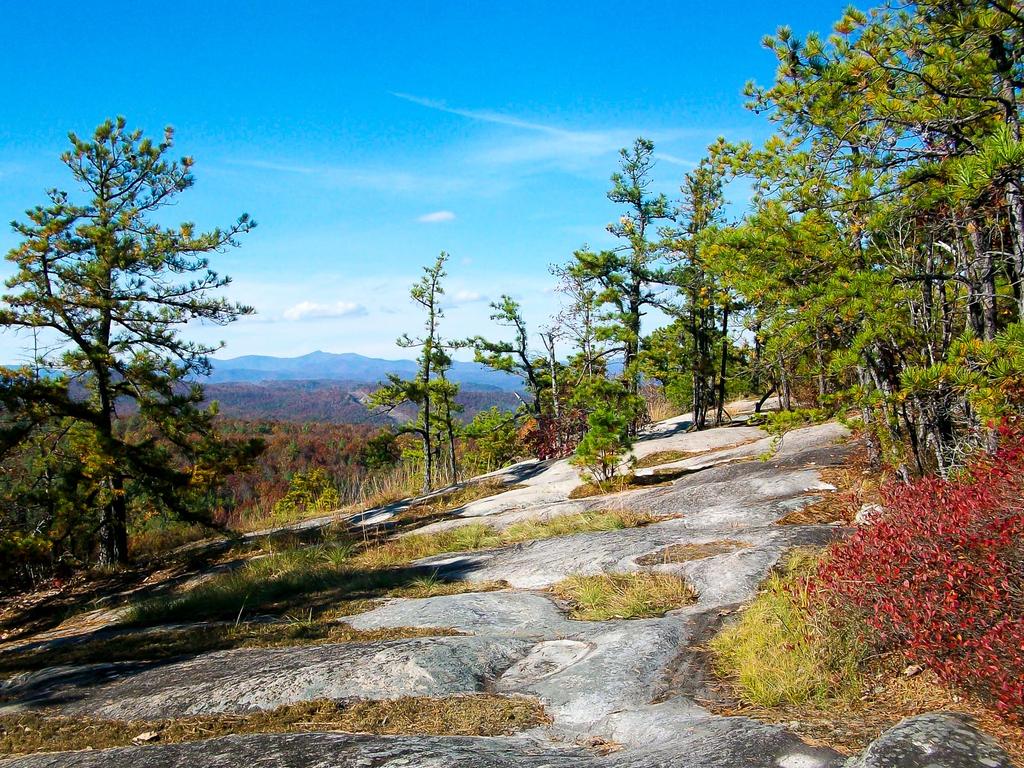 Keep in mind that this is just an overview of the trails available at DSRF. For each trail's details, visit the DuPont State Recreational Forest trails page. Or, if you don't want to piece together a hike out of the individual trails, our DuPont State Recreational Forest Best Hikes page is for you!
Special Considerations
Rules and regulations are a bit tighter in State Forests than nearby National Forests, so please keep the following in mind when visiting DuPont.
⚠️ Trail Closures
DuPont State Recreational forest has been implementing a policy of trail closures in wet or snowy weather fairly consistently. Construction, logging projects or other damage can close trails for long stretches. For information on current trail status and closures, visit the State's web site at dupontstaterecreationalforest.com.
Waterfalls: Be very careful near waterfalls! Climbing on rocks around the falls is prohibited, as several people are injured or killed at the area's waterfalls every single year due to unsafe actions such as this. Seriously, folks!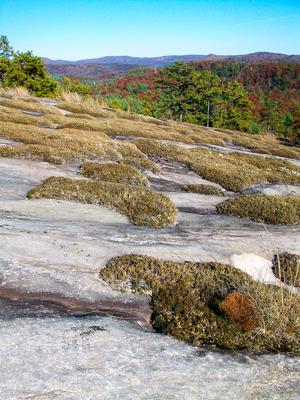 Granite Domes: When traveling on granite, watch closely for blazes painted on the rocks and rock cairns (small piles of rocks) to mark the trail. Avoid stepping on moss and fragile vegetation growing between the rock. The moss will die wherever a shoe treads on it, and the growing conditions are hard enough up there without human intervention.
Parking: Do not block gates when you park.
Posted Areas: Obey all posted signs including property boundaries. There is private property all around the forest, and some located right in the middle of it.
Hours of Operation: DuPont State Recreational Forest is open only during the posted hours of 5 a.m. to 10 p.m. Being in the forest without a permit outside posted hours may result in a citation. There is no camping in DuPont State Recreational Forest.
Picnic Shelters: a few shelters, some of which have been refurbished, are now available for anyone to use when not reserved and available for reservation for a fee. Hike in and enjoy a rain-free picnic at High Falls, Triple Falls, Lake Dense, or several other locations on the Forest! A reservation includes a limited number of vehicle passes to the shelter. See the Dupont State Forest Map for locations of the picnic shelters.
Hunting Season: Wear bright colors during hunting season - hunting is allowed in the forest.
For more information about DuPont State Recreational Forest, visit Friends of DuPont's site.
Map
Here's a map of the DuPont State Forest area. For more maps, including information about printed publications including a good topographic map by Friends of DuPont State Forest, see our DuPont State Forest maps page.
Map Information
Download GPS Data
Click on a route, trail, or point on the map and select the GPS Data tab to download its data.
Data Formats
KML (Google Earth)
KML is the main file type used by Google Earth. If you have Google Earth installed, clicking the KML link should open the trail or point directly in Google Earth for viewing. This is the native file format used by Google Earth, but many other map applications can use and understand KML as well, so if you're not sure which one to download, KML is a good bet.
GPX
The GPX format stands for GPS Exchange - a free, open, XML format for exchanging GPS and map data. GPX is compatible with Google Earth, many other mapping programs, and most GPS devices (such as Garmin). Load the file directly into your GPS to help find your way on your next trip!
GeoJSON
GeoJSON is a newer, lightweight data exchange format which can be used to quickly share map data and may have a smaller size than KML or GPX. Many professional mapping and GIS applications support the GeoJSON format.
About the Map
Copyright
Base Layers
Base layers provided by OpenStreetMap, the US Geological Survey, the US Forest Service, and NC OneMap. Base layer images are subject to the respective copyright policies of their owners. Base layers may not be available at all times due to system maintenance or outages.
WNCOutdoors Base Layer
The WNCOutdoors Base layer is provided by WNCOutdoors.info. It is licensed by Creative Commons Attribution 3.0.
Trail and Marker Overlays
Trail layers and downloadable data are all original works created by WNCOutdoors with guidance from a variety of sources, including ensembles of our own GPS tracks, user contributed GPS tracks, official maps and GIS data from government agencies, and field observations. WNCOutdoors data is made freely available under the Open Database License - you are free to copy and use it for any purpose under the terms of that license (summary).
Tips
Hover over a trail to see it highlighted. Helps to see start and end points for an individual trail.
Scroll and zoom the map before printing, and that view will persist into the printed image.
Click a trail for more details and to download it individually.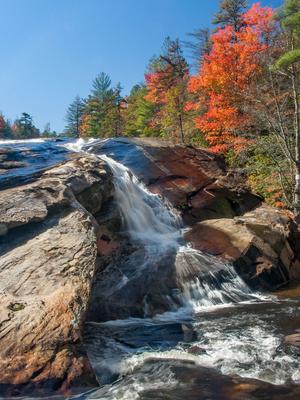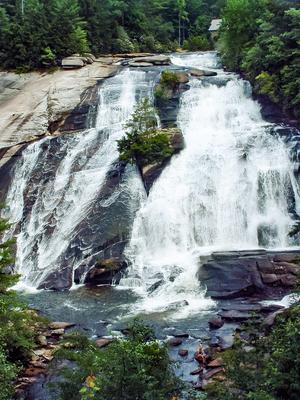 Places to Stay
Campgrounds
Public camping is not available within Dupont State Forest itself, but camping is available at nearby private campgrounds.
Black Forest Family Camping Resort
Located 4 miles from the trailhead at the Dupont State Forest, making it the closest place to DSF to camp. Tent sites as well as RV sites with hookups are available.
http://www.blackforestcampground.com
Lodging
Big Branch Cabins
Experience the best of a Blue Ridge Mountain getaway in beautiful Brevard, North Carolina! Enjoy our charming mountain cabins and our 12 private, wooded acres, bordered by thousands of acres of forestry land. You'll be just a short distance from Dupont State Forest, Pisgah National Forest, Gorges State Park, and Nantahala National Forest including the spectacular Whitewater Falls, highest in the Eastern US. You can hike the Big Branch trail to stream, or enjoy nature in the surrounding thousands of acres of public forest lands. Our two-bedroom cabins are decorated with unique antiques & include a fully functional kitchen, AC, TV/DVD, bed linens/towels, covered porches, outdoor grills, washer/dryer, and a picnic area.
http://www.bigbranchcabins.com/
Hampton Inn Brevard
Fall from your cloud nine bed to the trail when you stay with us at the Hampton Inn Brevard. We are conveniently located at the gateway to the Pisgah National forest where you can actually hike straight from your room to the trail. The hotel is bike friendly and host to numerous cycling groups, races and training programs throughout the year. We also offer a large meeting room for events and can also assist with your group tours.
http://www.hamptoninnbrevard.com
Serenade Cove
After wearing out the tread, you'll need a good bed! Rustic elegance abounds in this recently renovated cabin on 22 private acres. Just a 10 minute drive from Dupont State Forest and a 12 minute drive from the entrance to Pisgah National Forest, this home has a fully equipped kitchen, an open living/dining room with gas-log fireplace and hardwood floors throughout. The main floor features two bedrooms with queen size beds (one Tempurpedic) and a full tile bath. Upstairs you'll find a loft with two twin beds and a half bath. Amenities include a covered deck with views of Fodderstack mountain, high speed wireless Internet, satellite TV, DVD player with movies, Wii gaming system, gas grill, full-size washer and dryer, dishwasher, bed and bath linens, lockable storage shed for gear and walking trails on the property. Accommodates 6 people.
http://deerridgepm.com/rentals/serenade-cove/
Sunset Motel
Walk to downtown from this kitschy, clean, quaint and affordable vintage gem. Recently renovated, the motel has an apartment, cottage and 18 rooms – all differently decorated. Smoke-free with modern amenities.
http://thesunsetmotel.com
For more information on the Dupont State Forest, visit the Friends of DuPont Forest's excellent web site. Get current news, user policy information, maps, and more.
Directions
There are several parking areas at DuPont State Forest, and the way to get to them varies quite a bit since it's a large forest. The one you will want to use depends on which trails you will be hiking. The following directions are from Asheville; see the maps to get directions from your location.
To the NC 280/US 64/US 276 Intersection
From downtown (Map Point A), take I-240 west to I-26 east. Go about 12 miles and take Exit 40 for the Asheville Airport/NC Hwy. 280. Turn right toward Brevard, and go south on 280 (a 4-lane highway) for 16 miles to the big intersection with US Hwy. 64/276. Directions below continue from this intersection.
North Side Parking Areas
Hooker Falls Parking Area
From the intersection above, turn left on US 64 East and drive 3.7 miles. Turn right on Crab Creek Road. Drive 4.3 miles and turn right on Dupont Road. Go 3.1 miles to the newly-expanded parking area on the right. (The road changes to Staton Road along the way. It will climb and then begin a long downhill, at the bottom of which is the bridge over the Little River. The parking area is on the right just before the bridge. A new footbridge is available to reach the Triple Falls trail without having to cross the road bridge.)
---
Buck Forest Parking Area
Continue past the Hooker Falls parking area (above) about 1 mile to this parking area on the left. This parking area provides restrooms, a visitor center (under construction), and the easiest access to the center of the forest including High Falls, Triple Falls, Bridal Veil Falls, and several lakes.
---
Guion Farm Parking Area
From the intersection above, turn left on US 64 East and drive 3.7 miles. Turn right on Crab Creek Road. Drive 4.3 miles and turn right on Dupont Road. Go 0.7 miles and turn left onto Sky Valley Road. The parking area is on the right after 1.4 miles.
---
South Side Parking Areas
From the intersection above, continue straight on the 4-lane highway about 3.5 miles to downtown Brevard. Turn turn left on US 276 (Main St.). Go just under 11 miles on 276 and turn left on Cascade Lake Road, at the Cedar Mountain Fire Department building (with the red metal roof).
Corn Mill Shoals Parking Area
After you turn onto Cascade Lake Road, the parking area is about two miles on the left, lined with huge boulders and with an information board in the back of the lot. The Corn Mill Shoals Road trail starts across the road from the parking lot.
---
Fawn Lake Parking Area
After you turn onto Cascade Lake Road, pass the fire station and make an immediate right onto Reasonover Road. Follow Reasonover for about 2.5 miles to the parking area entrance on the left.