Hiking in Elk Knob State Park
Overview
One of North Carolina's newest state parks is Elk Knob, located near the colorfully-named community of Meat Camp, NC - not too far from the larger city of Boone and a stone's throw from the Tennessee state line.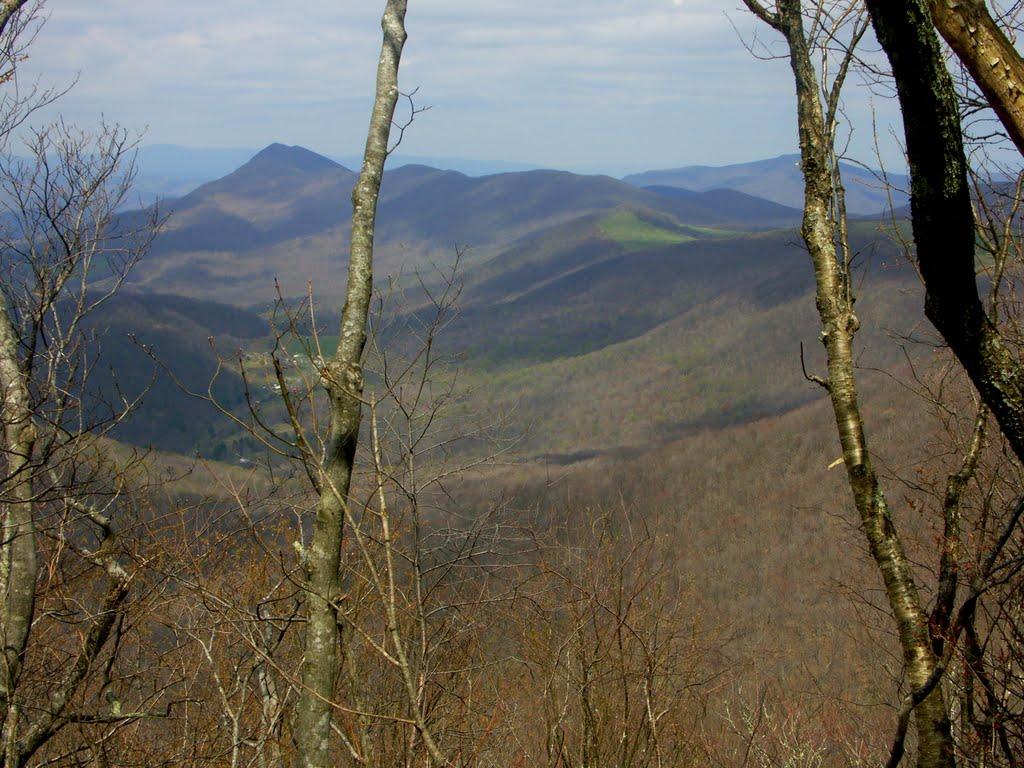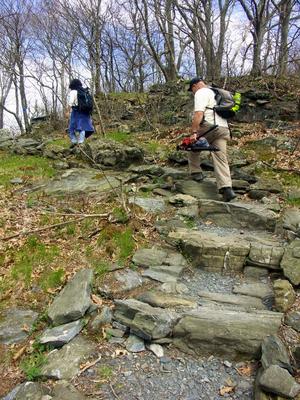 There are plenty of mountains and scenic areas in this northwest corner of the state. Historically, much of it has been under private ownership and thus inaccessible to the public (at least officially: locals have been hiking here for years, but technically it's been without proper agreements from property owners). The new state park at Elk Knob changes that to a large extent; this is a superb destination and everyone is welcome and encouraged to visit!
Elk Knob itself is a rounded, east-west oriented ridge that tops out at 5,520 ft elevation, making it one of the higher peaks of the Appalachians. It lies in a cluster of mountains north of Boone known as the Amphibolite Mountains.
These high peaks share a unique geology: they are underlain by Amphibolite - a metamorphic rock which, when it breaks down, forms rich soils. These soils - unlike those across much of the rest of the region - do not encourage heath plants such as mountain laurel, rhododendron, and blueberries to grow.
So while the forest consists of Northern Hardwood trees you'll see all over the high peaks in WNC - such as maples, birch, and beech - you won't find any of the heath shrubs that that typically crowd the understory areas. That makes the woods feel more open (at least in the winter) - totally different than others in the region. It's a unique and appealing!
The rich soils also provide perfect growing conditions for several rare and threatened species of plants. Wildflowers of all kinds carpet the understory areas throughout the growing season.
Hiking Trails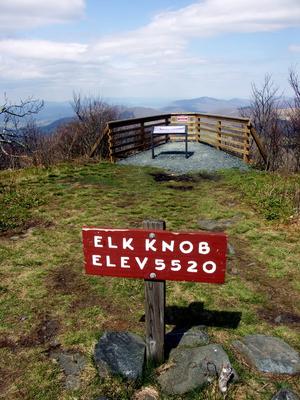 There are a few official trails in the park (not including the old road which was once used to access the top).
The park's primary trail is called the Summit trail. This 1.9 mile trail climbs from the trailhead parking area to the summit, winding through many swithchbacks along the way. The trail is well-routed and was built by volunteers, and completed in 2011. Though the trail will need some touch-up and periodic maintenance throughout the years, overall it's in great shape and a great hike.
There are several other trails in the park besides the one leading to the summit. The Backcountry trail, 2 miles long, descends steeply from the park facilities, and leads to some primitive campsites and a group camping area along various forks near its end.
The easier Beech Tree trail is a 1 mile loop around the picnic area, perfect for casual hikes after a picnic. This is a Kids In Parks TRACK Trail, meaning you can earn prizes for the little ones if they complete and track this hike!
The easier Maple Run trail goes from the park headquarters area to the trailhead parking, making another loop - and an extension to the summit hike - possible.
Amenities
Portable toilets were available at the parking area last time I visited; an amphitheater is nearby. There is a park office where you can stop in and get any information you might need. If you turn left on the main road before the parking area, you'll arrive at a nice picnic area with tables, grills, and restrooms.
Camping
There are about half a dozen first-come, first-served campsites along the Backcountry trail, and a reservation-only group campsite in the same general area. Camp fires are not allowed; use a camp stove for cooking. No facilities are provided except a pit toilet at the group camping area.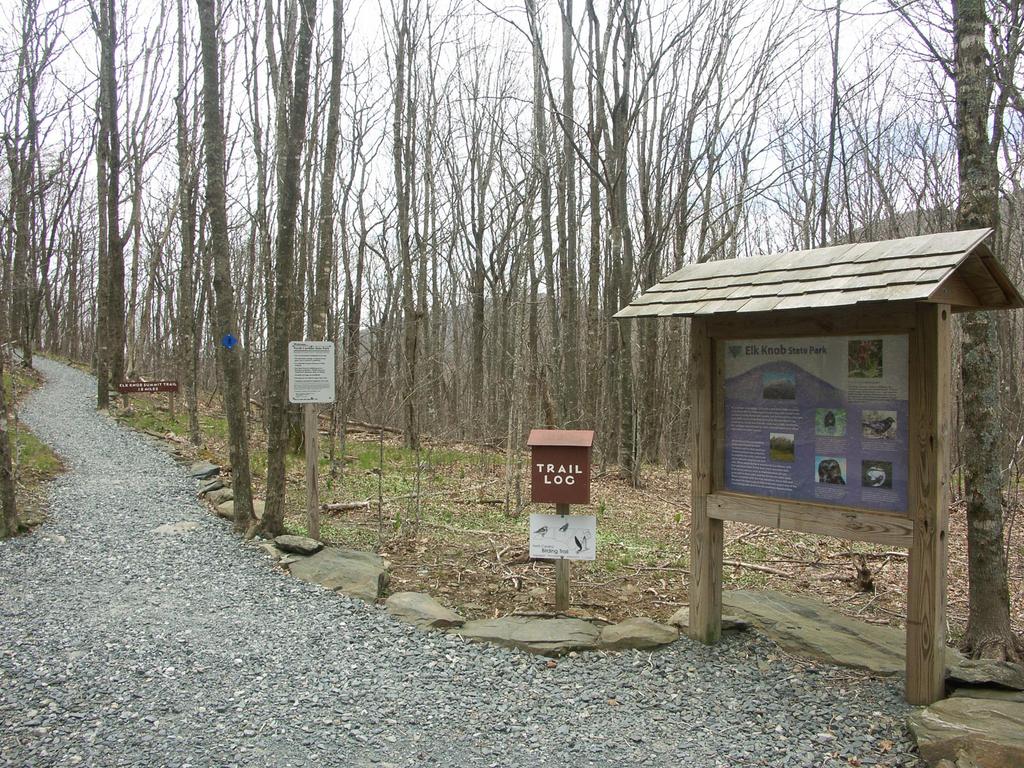 Interactive Trail Map
Map Information
Download GPS Data
Click on a route, trail, or point on the map and select the GPS Data tab to download its data.
Data Formats
KML (Google Earth)
KML is the main file type used by Google Earth. If you have Google Earth installed, clicking the KML link should open the trail or point directly in Google Earth for viewing. This is the native file format used by Google Earth, but many other map applications can use and understand KML as well, so if you're not sure which one to download, KML is a good bet.
GPX
The GPX format stands for GPS Exchange - a free, open, XML format for exchanging GPS and map data. GPX is compatible with Google Earth, many other mapping programs, and most GPS devices (such as Garmin). Load the file directly into your GPS to help find your way on your next trip!
GeoJSON
GeoJSON is a newer, lightweight data exchange format which can be used to quickly share map data and may have a smaller size than KML or GPX. Many professional mapping and GIS applications support the GeoJSON format.
About the Map
Copyright
Base Layers
Base layers provided by OpenStreetMap, the US Geological Survey, the US Forest Service, and NC OneMap. Base layer images are subject to the respective copyright policies of their owners. Base layers may not be available at all times due to system maintenance or outages.
WNCOutdoors Base Layer
The WNCOutdoors Base layer is provided by WNCOutdoors.info. It is licensed by Creative Commons Attribution 3.0.
Trail and Marker Overlays
Trail layers and downloadable data are all original works created by WNCOutdoors with guidance from a variety of sources, including ensembles of our own GPS tracks, user contributed GPS tracks, official maps and GIS data from government agencies, and field observations. WNCOutdoors data is made freely available under the Open Database License - you are free to copy and use it for any purpose under the terms of that license (summary).
Tips
Hover over a trail to see it highlighted. Helps to see start and end points for an individual trail.
Scroll and zoom the map before printing, and that view will persist into the printed image.
Click a trail for more details and to download it individually.
Directions
From Boone, NC
From the US Hwy. 421/221 intersection near Boone, NC, take US Hwy. 421 East for about 0.6 miles. Turn left onto NC Hwy. 194 North and go 4.3 miles. Turn left onto Meat Camp Road (there is a sign for the state park there) and go 5.4 miles. The last portion of Meat Camp Road is steep and goes up the mountain. Turn right into the state park; it is 0.4 miles straight ahead to the trailhead parking on a gravel road.