Hiking in Gorges State Park
Overview
This state park might as well be called "Gorgeous" State Park due to its unique collection of waterfalls, rugged river gorges, sheer rock cliffs and one of the greatest concentrations of rare and unique plant and animal species to be found in the eastern United States.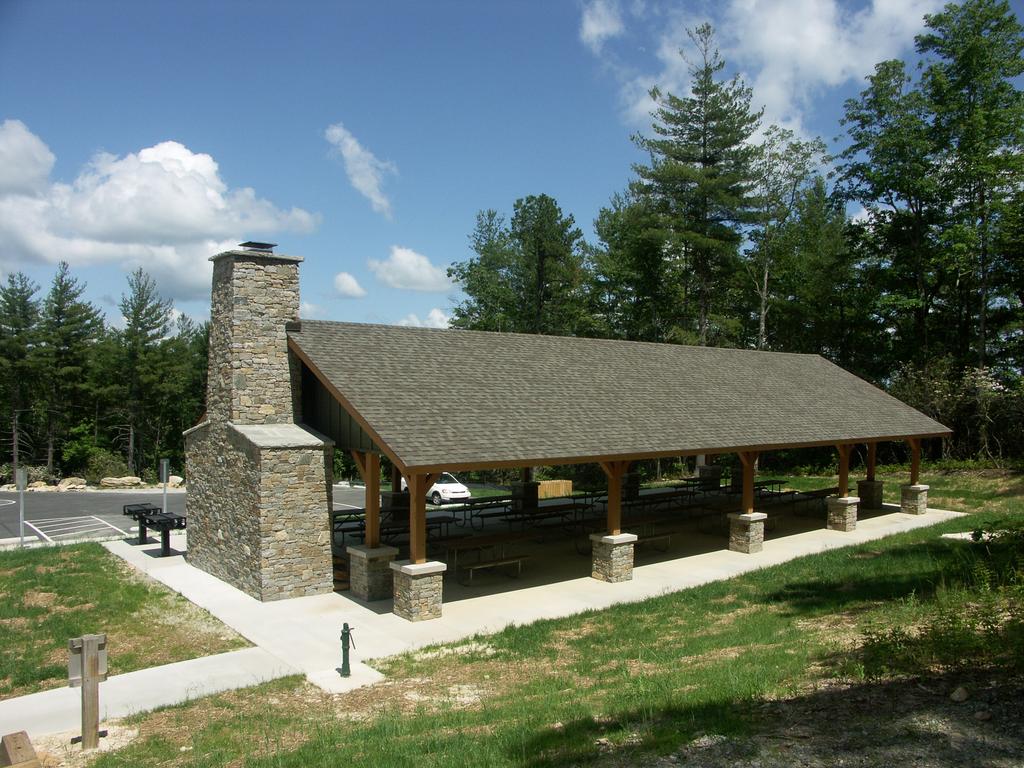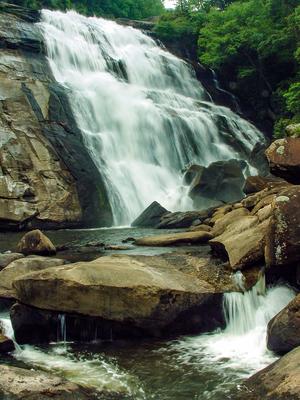 The park is located on the Blue Ridge Escarpment, an area where elevations rise 2,000 feet in only four miles. Moisture is squeezed out of the atmosphere during a southerly flow, resulting in average rainfall in excess of 80 inches per year. This is enough rain to qualify the area as a temperate rain forest.
Water from all that rain winds up in beautiful Lake Jocassee (after dropping over numerous significant waterfalls), which straddles the South Carolina state line and is visible from various points within the park. Those so inclined can take a difficult hike all the way down to the lake, where primitive campsites are available. Easier trails thread the forests higher up near the visitor center, meaning there's something for every type of hiker in Gorges State Park.
Hiking Trails
Gorges State Park has a variety of trails inside its boundaries, but many of the attractions associated with the park - such as Rainbow Falls - actually lie outside the park on adjacent Pisgah National Forest land. However, the only public access to them is from within the park.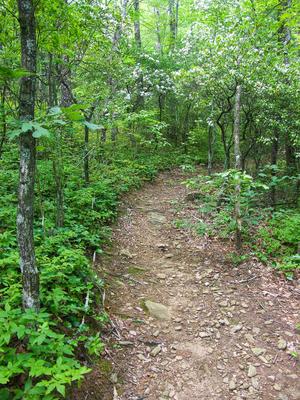 Easy
Park at the visitor center or either of the two picnic shelters along the main road to hike the Picnic Connector, Bearwallow Valley, and Bearwallow Falls trails. These three connected trails lead through some nice forests, up to an overlook off the Blue Ridge Escarpment, and down to a view of a cascading waterfall (respectively). Hike all three after your picnic for a total distance of about 3 miles. Even the kids will love these!
Moderate
At the southern tip of the loop road is the Grassy Ridge trailhead parking area. The Rainbow Falls trail leads out of the park onto Pisgah National Forest lands, down to the Horsepasture River and to Rainbow Falls, for a hike of 3 miles round-trip. Hike another mile round-trip (for 4 miles total) to see two more waterfalls: Turtleback and Drift Falls.
This unforgettable trail is highly recommended, and as such Rainbow Falls is one of the Best Hikes on this site.
The moderate, 1.5 mile Raymond Fisher trail leads to a pond and campsites at its end. It also starts at the Grassy Ridge trailhead parking area. Anyone can hike the trail to the pond, but camping requires registration beforehand.
Difficult
Main Entrance
To find any truly difficult hiking on the west side of the park, you'll have to go off the beaten path.
Located along the Horsepasture River below Rainbow Falls (on adjacent Pisgah National Forest property) are two more waterfalls, but these are more difficult to reach. Stairway Falls - by far the easier of the two - is a series of 7 or 8 (depending on what you count) wide, shallow cascades. It's along an unofficial trail starting where the Rainbow Falls trail approaches the river and heading downstream. If you're OK with the idea of hiking an un-signed trail, this one is fairly reasonable and worth the trip.
Windy Falls, even further downstream from Stairway Falls, is widely regarded as one of the most difficult falls to access in the state. You'll need technical climbing experience and the right climbing gear to safely see them in all their glory. Needless to say, it's not recommended for most visitors to Gorges State Park.
Both of these waterfalls can be reached from the Rainbow Falls trailhead, past the visitor center at the main Grassy Ridge entrance to the park off of NC Hwy. 281.
Frozen Creek Entrance
On the other side of the park from the main entrance, at the Frozen Creek parking area, are two long, difficult trails which provide access to a third.
The Auger Hole trail is a long, multi-use trail (hiking, mountain biking, and horseback riding) which leads down into one of the "gorges" for which the park is named. It's an old road, and provides access to some other hidden waterfalls after some short off-trail connections.
The Canebrake trail is a hiking-only trail which winds its way down to an arm of Lake Jocassee, and the backcountry campsites found in that area.
Both the Auger Hole and Canebrake trail connect to the Foothills Trail, a long-distance trail that lies in both North and South Carolina (and part of which passes through the park). These three trails can be hiked in a long (18 1/2 mi) loop, most often completed as an overnight trip but technically do-able as one very long day hike by some determined hikers.
This is only an overview of the hiking trails available. For details on each individual trail, visit the Grassy Ridge or Frozen Creek Trails pages, and for what we consider to be the Best Hikes in the park, see the Hikes page.
Amenities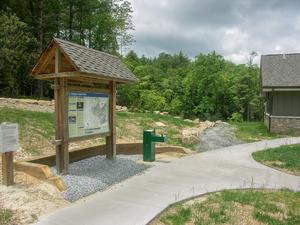 The Grassy Ridge access area at the main entrance on the west side of the park has a new 7,100 square foot park headquarters and visitor center. It's home to the park offices, a large exhibit hall, a 75-person auditorium, 40-person classroom, and large covered wrap around decks offering outstanding southern views of the escarpment and park.
A one-way, clockwise loop road starts near the visitor center and winds around the upper part of the park. A couple of nice, large picnic shelters (which also serve as trailhead access areas) are located along the loop road. These have dozens of covered tables, grills, water, restrooms, and ample parking. Work on the park's master plan continues; a family campground is planned for future construction.
The trailhead parking area, located at the southern tip of the loop road, is open as well. It marks the beginning of the Rainbow Falls trail, which leads to the Horsepasture River. Ample parking spaces and an informational kiosk are available, but there are no other facilities there.
Interactive Trail Map
Map Information
Download GPS Data
Click on a route, trail, or point on the map and select the GPS Data tab to download its data.
Data Formats
KML (Google Earth)
KML is the main file type used by Google Earth. If you have Google Earth installed, clicking the KML link should open the trail or point directly in Google Earth for viewing. This is the native file format used by Google Earth, but many other map applications can use and understand KML as well, so if you're not sure which one to download, KML is a good bet.
GPX
The GPX format stands for GPS Exchange - a free, open, XML format for exchanging GPS and map data. GPX is compatible with Google Earth, many other mapping programs, and most GPS devices (such as Garmin). Load the file directly into your GPS to help find your way on your next trip!
GeoJSON
GeoJSON is a newer, lightweight data exchange format which can be used to quickly share map data and may have a smaller size than KML or GPX. Many professional mapping and GIS applications support the GeoJSON format.
About the Map
Copyright
Base Layers
Base layers provided by OpenStreetMap, the US Geological Survey, the US Forest Service, and NC OneMap. Base layer images are subject to the respective copyright policies of their owners. Base layers may not be available at all times due to system maintenance or outages.
WNCOutdoors Base Layer
The WNCOutdoors Base layer is provided by WNCOutdoors.info. It is licensed by Creative Commons Attribution 3.0.
Trail and Marker Overlays
Trail layers and downloadable data are all original works created by WNCOutdoors with guidance from a variety of sources, including ensembles of our own GPS tracks, user contributed GPS tracks, official maps and GIS data from government agencies, and field observations. WNCOutdoors data is made freely available under the Open Database License - you are free to copy and use it for any purpose under the terms of that license (summary).
Tips
Hover over a trail to see it highlighted. Helps to see start and end points for an individual trail.
Scroll and zoom the map before printing, and that view will persist into the printed image.
Click a trail for more details and to download it individually.
History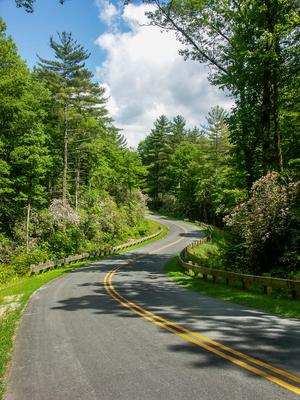 Quoted from the State Park's official guide:
On April 29, 1999, thanks to a unique partnership of industry, the environmental community and the state of North Carolina, 10,000 acres of the Jocassee Gorges in Transylvania County were placed in public ownership to be preserved for future generations of North Carolinians. The property was purchased by the state from Duke Energy Corporation, and the transaction created a 2,900-acre gameland managed by the NC Wildlife Resources Commission and a 7,100-acre state park - North Carolina's newest state park and our first state park west of Asheville.
Places to Stay
Camping/Lodging
There is no roadside camping within the park yet (this should be coming in the form of a family campground in future years).
However, 8 hike-in primitive campsites are available at the Raymond Fisher Campground. The campground is reachable via a 1.5 mile hike on the Raymond Fisher trail and is located on Ray Fisher pond. Each had a picnic table, fire ring and lantern post as well as a pit toilet. Reservations are required and available at Reserve America.
Additionally, 6 primitive, backcountry campsites are available near Lake Jocassee and the southern boundary of the park along the Foothills trail, which is reachable via a 5 mile hike on the Cane Brake trail from the Frozen Creek access area. No reservations are accepted; the sites are free, and available on a first-come, first-serve basis.
Lodging is available in the nearby towns of Brevard, Lake Toxaway, Sapphire Valley, Cashiers, and Highlands.
Directions
To the main Grassy Ridge Access (West Side)
From downtown Brevard, it is just over 18 miles on US 64 West to the intersection with NC Hwy 281 South - turn left. From Highlands, it's just over 20 miles on US 64 East, thru Cashiers, to NC 281 South - turn right. Go 0.9 miles South on NC 281 from US 64 to the park entrance road on the left. It's about a mile to the Rainbow Falls parking area straight ahead. Or take the loop road to a couple of other parking areas for the Bearwallow Falls area trails, which are now open and ready.
To the Frozen Creek Access (East Side)
From downtown Brevard, it is 9.8 miles on US Hwy. 64 West to Frozen Creek Road - turn left. From Highlands, it is 28.7 miles on US Hwy. 64 East - turn right. The parking are is on the right after 3 miles on Frozen Creek Road.