Shut-In Trail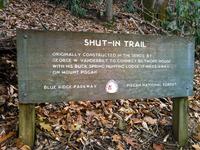 At A Glance


16.3 mi one-way
Steepness: Hilly
Tread Condition: Moderately Rough
Blaze Color: White
Trail Number: 345

This trail is located in the Bent Creek area. For a list of all the trails in that area, see the Bent Creek trails list page.
This trail also crosses into these trailhead areas:
Description
The Shut-In Trail is a long, historic route which shares the path with the Mountains to Sea Trail. It travels from NC 191 near Bent Creek and Asheville to the Mount Pisgah parking area. George W. Vanderbilt, builder of the famous Biltmore Estate near Asheville, constructed the Shut-In Trail around the year 1890. He used it to climb the Pisgah Ridge, linking his hunting lodge at Buck Springs below the summit of Mt. Pisgah to his famous Estate. Although parts were obliterated with the construction of the Parkway, parts of this trail still follow the original route. Hikers today will find many access points where the trail touches and crosses the Blue Ridge Parkway, mainly at overlooks. This leads to many opportunities for short day hikes on the trail, which are mainly necessary since overnight stays are not allowed along the Parkway (and 16.3 miles is a bit long for most day hikers).
All Photos from the Trail
GPS Map
Download GPS Data
Click routes, trails, or points on the map to download them (on the GPS Data tab).
Trail Segments
Trails are often made up of several connecting paths which may have different characteristics, allowed uses, and seasons. This trail is divided into multiple segments as follows:
Mountains to Sea Trail - Shut-In - Beaver Dam Gap Overlook to Bent Creek Gap
Allowed Uses:
Length: 1.86 mi
Mountains to Sea Trail - Shut-In - Chestnut Cove Overlook to Sleepy Gap
Allowed Uses:
Length: 0.79 mi
Mountains to Sea Trail - Shut-In - Sleepy Gap to NC 197
Allowed Uses:
Length: 5.02 mi
Total Calculated Length: 7.68 mi
This value is derived from our underlying map data, so it may not match officially published information.
Intersecting Trails
Feedback
Ratings
Average Rating: (rated 0 times)
Rate It Now:
Comments