Staire Creek Trail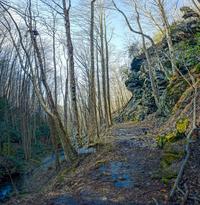 At A Glance



1.1 mi one-way
Difficulty Rating: 1.1 (More Difficult)
Steepness: Climbs Steeply
Tread Condition: Some Obstacles
Blaze Color: Orange
Trail Number: 183

This trail is located in the Big Ivy (Coleman Boundary) area. For a list of all the trails in that area, see the Big Ivy (Coleman Boundary) trails list page.
Description
Steep climb or descent mostly on eroded old roadbeds. Follows creek near the bottom; ascends to ridge near the top where it flattens out and passes through a clearing before ending on FS 74. Passes through a nice mature hardwood forest with a smattering of rhododendron in the lower sections. There are some cliffs & small rock caves along the trail - at one point the rushing water can be heard in stereo as it bounces off a rock face.
All Photos from the Trail
GPS Map
Download GPS Data
Click routes, trails, or points on the map to download them (on the GPS Data tab).
Total Calculated Length: 1.12 mi
This value is derived from our underlying map data, and it may not match officially published information.