Little Sam Trail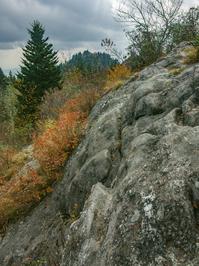 At A Glance


1.3 mi one-way
Difficulty Rating: 1.3


Steepness: Climbs Moderately


Tread Condition: Moderately Rough


Blaze Color: Yellow
Trail Number: 347

Description
Connects the Flat Laurel Creek to the Mountains to Sea trail, providing several loop options. High elevation trail. Follows old road/railroad grades with one larger stream crossing. Very muddy and wet, and somewhat overgrown. Passes above a very interesting, wild valley. Nice views of Little Sam Knob near the upper end.
Intersecting Trails
This trail is located in the Black Balsam area. For a list of all the trails in that area, see the Black Balsam trails list page.
All Photos from the Trail
GPS Map
Download GPS Data
Click routes, trails, or points on the map to download them (on the GPS Data tab).
Feedback
Ratings
Average Rating: (rated 0 times)
Rate It Now:
Comments