Mountains to Sea Section 5 Trail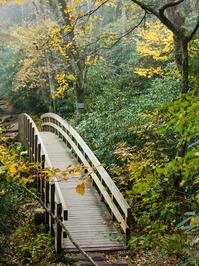 At A Glance


90.3 mi one-way
Difficulty Rating: 90.3


Steepness: Hilly


Tread Condition: Moderately Rough


Blaze Color: None (wilderness)

Description
Beacon Heights to Devil's Garden Overlook
Beacon Heights, BRP mp 305.3 (near Grandfather Mountain) to Blowing Rock (US-321) BRP mp 291.9. Among the co-signed trails followed by the Mountains to Sea Trail on this stretch is the exceptionally scenic Tanawha Trail. Going under the Lynn Cove viaduct and around Grandfather Mountain through the high elevation forest makes this area a great hike in the fall.
From Horse Gap (NC-16), BRP mp 261.2 to Devils Garden Overlook BRP mp 235.7 (Ashe, Alleghany, and Wilkes Counties). Passes through Doughton Park with campground for 7 mi of MST route. The Bluff Mountain Trail / MST offers views to Mt. Rogers in Virginia on clear days. The MST has been extended from Bringer Cabin to Devils Garden Overlook, just follow the white MST blazes.
This trail is located in the Blue Ridge Parkway Section 2 area. For a list of all the trails in that area, see the Blue Ridge Parkway Section 2 trails list page.
All Photos from the Trail
Feedback
Ratings
Average Rating: 5.0 (rated 1 times)
Rate It Now:
Comments