Craggy Pinnacle Trail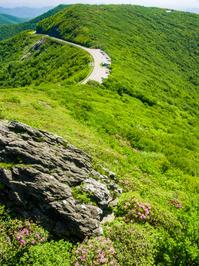 At A Glance


0.73 mi one-way
Difficulty Rating: 0.73 (Moderate)
Steepness: Climbs Moderately
Tread Condition: Some Obstacles
Other Map ID: BRP MP 364.2
Hikes That Use This Trail: Craggy Pinnacle

This trail is located in the Blue Ridge Parkway Section 4 area. For a list of all the trails in that area, see the Blue Ridge Parkway Section 4 trails list page.
This trail also crosses into these trailhead areas:
Description
Starting at the Craggy Dome overlook, this excellent trail travels to the top of a rather pointy mountain, where a spectacular 360 degree view awaits. It is moderately steep, quite rocky, sometimes wet, and has some log steps as well, but it is well worth the effort.
Passes through a northern hardwood forest on the lower portion. There is a spring about halfway up - this is the headwaters for Waterfall Creek, which flows over Douglas Falls further down the mountain. Closer to the top, the trail wraps around a big rock with a small "cave" under it, and then travels through a heath bald - where trees are lacking but the mountain is covered with heath shrubs such as Catawba rhododendron, mountain laurel, and blueberries.
Just below the summit, the trail splits - head right to reach the lower overlook; head left to achieve the 5700' summit. It is worth going to both overlooks. From the top, you can see the Barnardsville valley in the west, to Mount Mitchell and Big Butt in the north, to Graybeard Mountain and the North Fork Reservior in the east, and the visitor center and Craggy Flats and Craggy Knob to the south. This view is not to be missed!
Please note that the Craggy Pinnacle trail is planned to be closed, due to the prevalence of rare and endangered species of plants on or near the summit, and the impact that hikers leaving the trail has on them. The Blue Ridge Parkway General Management Plan/Final Environmental Impact Statement released January 15, 2013 outlines closing the trail completely, and replacing it with one to the top of Craggy Dome.
All Photos from the Trail
GPS Map
Download GPS Data
Click routes, trails, or points on the map to download them (on the GPS Data tab).
Trail Segments
Trails are often made up of several connecting paths which may have different characteristics, allowed uses, and seasons. This trail is divided into multiple segments as follows:
Parking to Summit
Allowed Uses: Hiking
Length: 0.38 mi
Split to Lower Overlook
Allowed Uses: Hiking
Length: 395 ft
Total Calculated Length: 0.46 mi
This value is derived from our underlying map data, and it may not match officially published information.
Feedback
Ratings
Average Rating: (rated 0 times)
Rate It Now:
Comments