Snowball Trail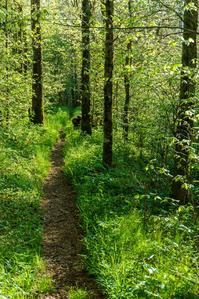 At A Glance


3 mi one-way
Difficulty Rating: 7.2


Steepness: Hilly


Tread Condition: Moderately Rough


Lowest Elevation: 4360
Highest Elevation: 5380
Total Elevation Gain: 2040
Blaze Color: White
Trail Number: 170
Hikes That Use This Trail: Snowball

Description
From the intersection of Stoney Fork Road and the Craggy Gardens Picnic Area access road in Beetree Gap, the Mountains to Sea Trail climbs past a nice clearing to a junction with the Snowball trail on the right. The Snowball trail slips off the north side of the ridge and makes a few switchbacks as it climbs through a beautiful northern hardwood forest toward the summit, a forest with some big old oaks in it. There are patches of spruce-fir forest, too, which are unusual for the Craggies.
Crosses the summit of 5,341 ft Snowball Mountain in an areas where the ridge drops steeply on both sides of the trail. Winds downhill on the other side of the summit to a gap, then climbs again to Hawkbill Rock, where the trail becomes steep and rough. On Hawkbill Rock, there are limited views mostly to the southeast back toward Snowball Mountain and Lane Pinnacle, but also to the west toward the Craggies.
The trail continues to follow the ridge toward Snowball Gap, a drop of 800 ft from the top of the ridge near Hawkbill, but with some uphill sections along the way, too.
The trail widens at Snowball Gap due to illegal ATV use and begins to climb toward Little Snowball Mountain. There are some downhill spots, though, which will be uphill on the way back. On Little Snowball, you may spot the remains of the old fire lookout tower that once stood on the summit. It was relocated to the Big Ivy Historical Park years ago, and only the concrete foundation remains.
The hike back is more of a climb than a descent, so factor that in when deciding how much of this trail to hike. A great out-and-back destination using this trail is Hawkbill Rock (2.75 mi round-trip), since that covers the most interesting parts of the trail. See the Snowball Hike for more details.
Intersecting Trails
This trail is located in the Blue Ridge Parkway Section 4 area. For a list of all the trails in that area, see the Blue Ridge Parkway Section 4 trails list page.
This trail also crosses into these trailhead areas:
All Photos from the Trail
GPS Map
Download GPS Data
Click routes, trails, or points on the map to download them (on the GPS Data tab).
Trail Segments
Trails are often made up of several connecting paths which may have different characteristics, allowed uses, and seasons. This trail is divided into multiple segments as follows:
Snowball - MST to Hawkbill Rock
Allowed Uses: Hiking
Length: 1.27 mi
Snowball - Hawkbill Rock to Snowball Gap
Allowed Uses: Hiking
Length: 1.1 mi
Snowball Trail - Snowball Gap to Little Snowball Mtn
Allowed Uses: Hiking
Length: 1.03 mi
Snowball Trail - to Little Snowball Summit
Allowed Uses: Hiking
Length: 134 ft
Total Calculated Length: 3.43 mi
This value is derived from our underlying map data, and it may not match officially published information.
Feedback
Ratings
Average Rating: 5.0 (rated 2 times)
Rate It Now:
Comments