Devil's Courthouse Trail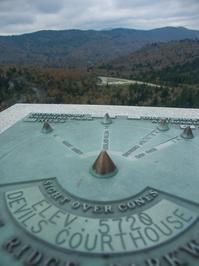 At A Glance


0.4 mi one-way
Difficulty Rating: 0.4 (Moderate)
Steepness: Climbs Steeply
Tread Condition: Few Obstacles
Other Map ID: BRP MP 422.4
Hikes That Use This Trail: Devil's Courthouse

This trail is located in the Blue Ridge Parkway Section 5 area. For a list of all the trails in that area, see the Blue Ridge Parkway Section 5 trails list page.
Description
This steep but half-paved path leads to the top of the spectacular Devil's Courthouse. It travels through a high-elevation, spruce-fir forest to an enclosed overlook area at the summit. Identifier plaques on the overlook walls allow you to align your views and find the names of nearby peaks and landmarks.
Devil's Courthouse used to be a popular rock climbing destination, but has been closed due to the fragile habitat that exists on and around the rock cliffs, including nesting sites for the Peregrine Falcon. Not only that, but it's a 200 ft sheer drop over the edge. It is illegal to leave the established trail and marked overlook in this area.
All Photos from the Trail
GPS Map
Download GPS Data
Click routes, trails, or points on the map to download them (on the GPS Data tab).
Trail Segments
Trails are often made up of several connecting paths which may have different characteristics, allowed uses, and seasons. This trail is divided into multiple segments as follows:
Devil's Courthouse - Parking to Connector
Allowed Uses:
Length: 0.3 mi
Devil's Courthouse - Connector to Summit
Allowed Uses:
Length: 0.15 mi
Total Calculated Length: 0.45 mi
This value is derived from our underlying map data, and it may not match officially published information.
Intersecting Trails
Feedback
Ratings
Average Rating: 5.0 (rated 2 times)
Rate It Now:
Comments