Mount Pisgah Trail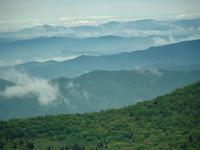 At A Glance


1.3 mi one-way
Difficulty Rating: 1.3 (Moderate)
Steepness: Climbs Steeply
Tread Condition: Moderately Rough
Hikes That Use This Trail: Mount Pisgah

This trail is located in the Blue Ridge Parkway Section 5 area. For a list of all the trails in that area, see the Blue Ridge Parkway Section 5 trails list page.
Description
A classic Blue Ridge Parkway hike. Travels from the Mount Pisgah parking area along a gently climbing, moderately rocky trail until it gains the ridgeline; then gets steeper with rougher tread condtions. Hardwood forest of mostly oaks with a few spruces and firs. Observation deck at the 5,721' summit near transmission tower for WLOS TV channel 13 of Asheville. Views from SC border to the South to Asheville and Mount Mitchell to the North.
All Photos from the Trail
GPS Map
Download GPS Data
Click routes, trails, or points on the map to download them (on the GPS Data tab).
Total Calculated Length: 1.18 mi
This value is derived from our underlying map data, and it may not match officially published information.