Outcroppings Trail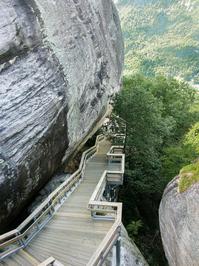 At A Glance


0.25 mi one-way
Difficulty Rating: 0.25 (Moderate)
Steepness: Climbs Moderately
Tread Condition: Some Obstacles
Hikes That Use This Trail: Chimney Rock Tour

This trail is located in the Chimney Rock State Park area. For a list of all the trails in that area, see the Chimney Rock State Park trails list page.
Description
Note: the old all-wood staircases have been removed and replaced with sturdy state-park style steel and wood structures. The Needle's Eye spiral staircase has been removed.
This "trail" provides walking access to the Chimney in lieu of the elevator, and it's a climb of its own right. This is actually a series of impressive structures which take you up through a huge jumble of rock outcroppings and boulders near the base of the Chimney.
All Photos from the Trail
GPS Map
Download GPS Data
Click routes, trails, or points on the map to download them (on the GPS Data tab).
Trail Segments
Trails are often made up of several connecting paths which may have different characteristics, allowed uses, and seasons. This trail is divided into multiple segments as follows:
Outcroppings - Hickory Nut Falls to Pkg. Lot Tr.
Allowed Uses:
Length: 224 ft
Outcroppings - Parking Lot Level
Allowed Uses:
Length: 254 ft
Outcroppings - Pkg. Lot Level to Chimney
Allowed Uses:
Length: 484 ft
Total Calculated Length: 0.18 mi
This value is derived from our underlying map data, and it may not match officially published information.
Intersecting Trails
Feedback
Ratings
Average Rating: (rated 0 times)
Rate It Now:
Comments