Exclamation Point Trail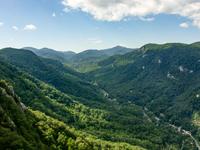 At A Glance


0.6 mi one-way
Difficulty Rating: 0.6 (Moderate)
Steepness: Climbs Steeply
Tread Condition: Moderately Rough
Hikes That Use This Trail: Chimney Rock Tour

This trail is located in the Chimney Rock State Park area. For a list of all the trails in that area, see the Chimney Rock State Park trails list page.
Description
The Exclamation Point trail leads from the Chimney to the eponymous point in Chimney Rock Park, a rock outcropping overlooking the Hickory Nut Gorge at 2480 ft. This strenuous trail finds you looking down over Chimney Rock and Lake Lure as you start your ascent of the mountain. The trek courses through dry, rocky woodland on natural cliffs, up stairs and around a few switchbacks to such geologic spectacles as the Devil's Head (a head-shaped rock); the Opera Box (a remarkable overhang with panoramic vistas); and then on to Exclamation Point.
The overlook looms high over the Gorge and valley floor more than 1,300 feet below. The dramatic beauty of Hickory Nut Gorge with its breathtaking sheer cliffs makes the effort needed to reach Exclamation Point well worthwhile.
Note: this trail is the first part of what used to be named the Skyline trail. When the bulk of it was closed for safety reasons, the part remaining open was renamed the Exclamation Point trail. A new Skyline trail leading beyond Exclamation Point to the top of Hickory Nut Falls has been opened as of September 2017!
All Photos from the Trail
GPS Map
Download GPS Data
Click routes, trails, or points on the map to download them (on the GPS Data tab).
Trail Segments
Trails are often made up of several connecting paths which may have different characteristics, allowed uses, and seasons. This trail is divided into multiple segments as follows:
Skyline Trail - Chimney to Split
Allowed Uses:
Length: 0.2 mi
Skyline Trail - Exclamation Point Loop (Lower)
Allowed Uses:
Length: 132 ft
Skyline Trail - Exclamation Point Loop (Upper)
Allowed Uses:
Length: 261 ft
Skyline - Opera Box Spur
Allowed Uses:
Length: 90 ft
Skyline - Devil's Head Spur
Allowed Uses:
Length: 84 ft
Total Calculated Length: 0.31 mi
This value is derived from our underlying map data, and it may not match officially published information.
Intersecting Trails
Feedback
Ratings
Average Rating: 4.0 (rated 1 times)
Rate It Now:
Comments