Buck Spring Trail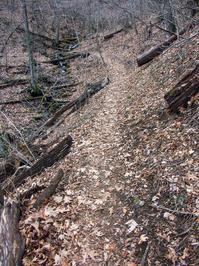 At A Glance


6.2 mi one-way
Difficulty Rating: 6.2 (More Difficult)
Steepness: Climbs Moderately
Tread Condition: Some Obstacles
Blaze Color: White
Trail Number: 104

This trail is located in the Davidson River area. For a list of all the trails in that area, see the Davidson River trails list page.
Description
Travels first from the first switchback on US 276 above the Pink Beds to the Pisgah Inn. This is a gradual, pleasant climb that dips into coves & rounds the nose of many ridges with cove hardwoods in the coves and mixed hardwoods on the ridges. There are a few small stream crossings. Then travels to the Mount Pisgah parking area. This section is moderately steep and passes through the remnants of a Chestnut forest with some relatively large remaining specimens. Rest of forest is mixed high elevation hardwoods with a few hemlocks, spruces and firs. Also passes cliff-top views and the historic Buck Springs Lodge site with interpretive signs. Ends at the Mount Pisgah parking area, where you can continue on to the top of Mt. Pisgah itself or hike to Asheville via the Shut-in Trail.
All Photos from the Trail
GPS Map
Download GPS Data
Click routes, trails, or points on the map to download them (on the GPS Data tab).
Trail Segments
Trails are often made up of several connecting paths which may have different characteristics, allowed uses, and seasons. This trail is divided into multiple segments as follows:
Buck Spring - 276 to MST
Allowed Uses:
Length: 0.94 mi
Mountains to Sea Trail - Buck Spring Trail to Barnett Branch Trail
Allowed Uses:
Length: 0.16 mi
Total Calculated Length: 1.1 mi
This value is derived from our underlying map data, and it may not match officially published information.
Intersecting Trails
Feedback
Ratings
Average Rating: (rated 0 times)
Rate It Now:
Comments