Hiking in the Davidson River Area
Overview
The Davidson River area is one of the most popular for outdoor recreation within the Pisgah National Forest. Visitors enjoy hiking, mountain biking, horseback riding, rock climbing, fishing, nature study, photography, and other types of outdoor activities within this pristine and diverse watershed. It is the region's flagship National Forest recreation area.
Located along a good highway and close to town, the area is perfect for someone who loves the outdoors but also likes being close to the amenities of the modern world. But some of the Pisgah Ranger District's greatest backcountry and wilderness areas lie within or adjacent to this drainage as well.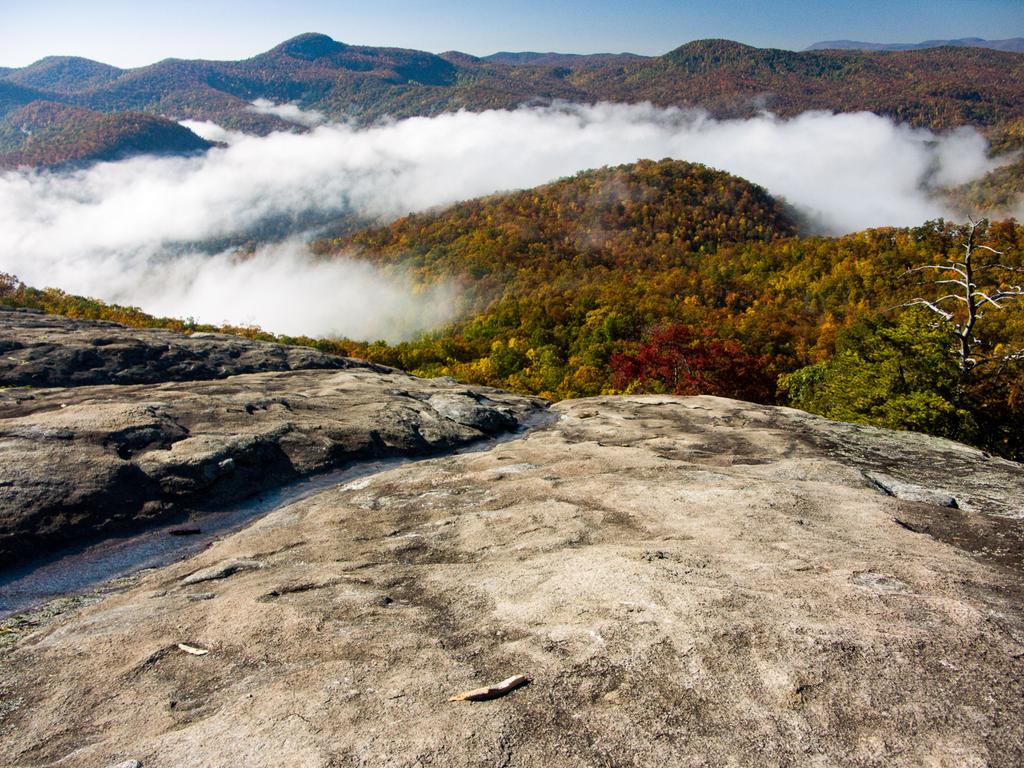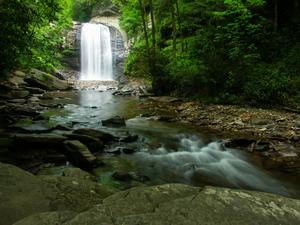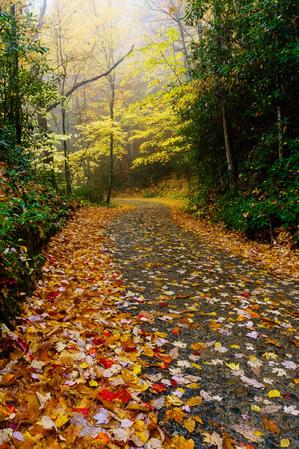 Geography
The Davidson River's watershed area is bisected by US Hwy. 276 as it climbs northwest from the town of Brevard, up the valley and then the Pisgah Ridge, to the Blue Ridge Parkway, which roughly forms the northwest boundary of the area.
Two mountain ridges reaching southeast from the Pisgah Ridge - Black Mountain and Pilot Mountain - form the northeast and southwest edges of the watershed, respectively, while the lower end spills out into the French Broad River valley and civilization along NC Hwy. 280 and US 64, which forms the far southeastern boundary. Looking Glass Rock - as much an icon of the area as Mt. Pisgah itself - sits right in the middle of the valley.
As it leaves Brevard, US highway 276 follows the lower parts of the Davidson River before branching off along Looking Glass Creek. It then follows that tributary uphill to a reprieve at the relatively flat Pink Beds area, before next ascending the Pisgah Ridge to join the Blue Ridge Parkway. A good road, a spectacular natural setting and a great network of trails attract throngs of people to this area during the warmer months.
The area is so popular, in fact, that groups have called for the creation of a new National Recreation Area to include the Davidson River watershed. However unlikely that is, the area certainly fits the bill as one of the finest outdoor playgrounds in the southern Appalachians - if not the entire country.
Trails and Other Attractions Along US Hwy. 276
Below is a description of what you'll find when driving north up US 276 from Brevard to the Blue Ridge Parkway. (This stretch of highway constitutes 15 miles of the 79-mile Forest Heritage Scenic Byway, which loops back around to Brevard via NC 215 and US 64.) Points of interest are shown in red; trails are shown in bold. Mileage is the distance from the Pisgah National Forest stone entrance sign, so reset your odometer there. All of this is also shown on the Davidson River Area Map.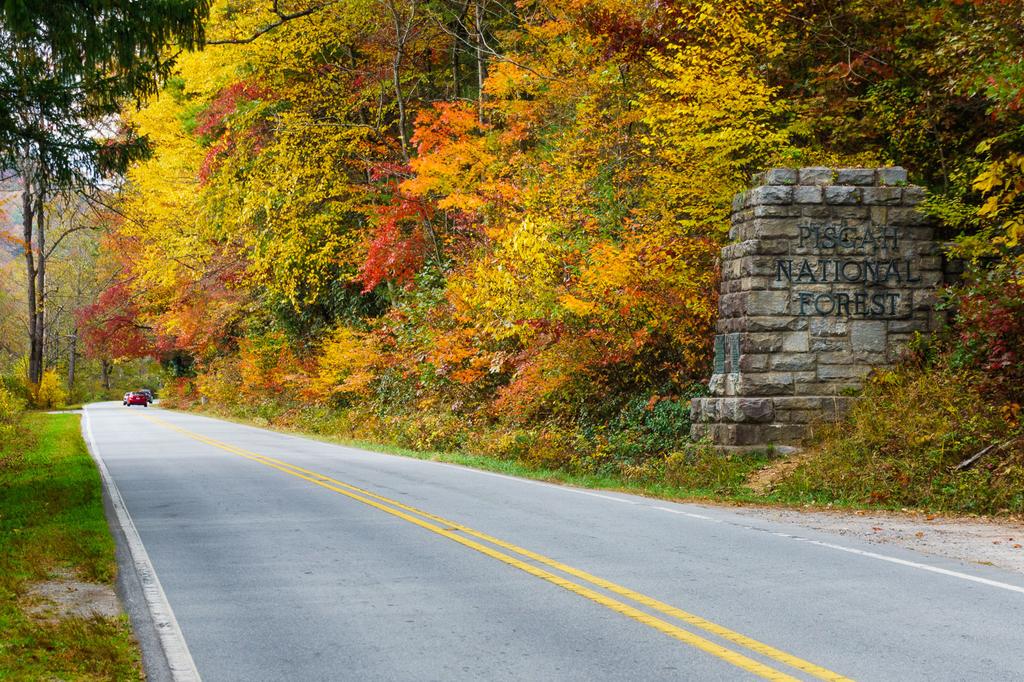 Starting at the intersection of US 64/NC 280, you enter the Pisgah National Forest by a dramatic stone entrance marker (0 mi).
0.3 mi:

Sycamore Flats Recreation Area

is the first site you encounter. A large, flat riverside picnic area is located there with all facilities.
1.1 mi:

Davidson River Campground

and the Art Loeb Trailhead on the left. The North Slope and Sycamore Cove trails (both moderate half-day loops) are both accessible from this parking area.
1.4 mi:

Pisgah Ranger District Ranger Station and Visitor Center

on the right, which offers plenty of parking, exhibits, restrooms, and a gift and book store. They carry excellent maps, and staff can provide information about the entire Pisgah National Forest.
Featured Trails near the Ranger Station
From the ranger station you can access the Andy Cove Nature Trail, the Exercise Trail, the Thrift Cove Trail, Black Mountain Trail, and Grass Road (all nice, easy to moderate trails).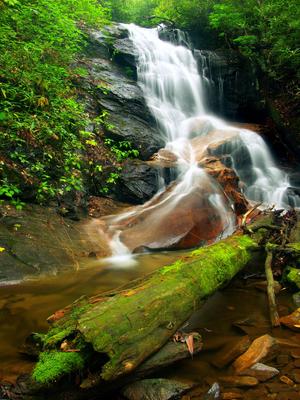 2.1 mi:

FS 477

turns right into the

Avery Creek valley

. There are a few interconnecting trails including Bennet Gap, Buckwheat Knob, Buckhorn Gap, Avery Creek, Clawhammer Cove and Black Mountain. The

Pisgah Horse Stables

are also located along FS 477.
Continuing along US 276, small pull-offs with enough room for just one or two cars invite you to stop and walk into the lush woods or down to the river, and some have

roadside picnic tables

.
4.7 mi:

Coontree Picnic Area

(left) which sits next to an island and a great swimming hole in the Davidson River. It also provides access to the Coontree Loop Trail across the road.
5.2 mi: The Davidson River and Looking Glass Creek fork apart, and the road splits as well. To the left is FS 475 which continues up the Davidson River; US 276 continues to the right along Looking Glass Creek.
Side trip: FS 475
If you turn left here off of US 276 and onto FS 475, you'll reach the following:
5.6 mi: Looking Glass Rock trailhead and parking. Use caution as this is a a congested section of highway.
6.6 mi

Pisgah Center for Wildlife Education

and

Fish Hatchery

. This is a great place to visit to learn about Pisgah's wildlife & see fish rearing in operation.
Featured Trails near the Fish Hatchery
The Fish Hatchery parking lot provides access to the Cat Gap Loop, Butter Gap, John Rock and Long Branch trails. Continuing along FS 475, you will find the parking areas for the Cove Creek group camping area and Caney Bottom trail. Past that the road turns to gravel, passes the Daniel Ridge, Cemetery Loop, Long Branch and Art Loeb/Mountains to Sea trails, then exits the Davidson River area after climbing over Gloucester Gap.
Continuing on US 276
If you stay on US 276 at the FS 475 junction, you'll reach the following: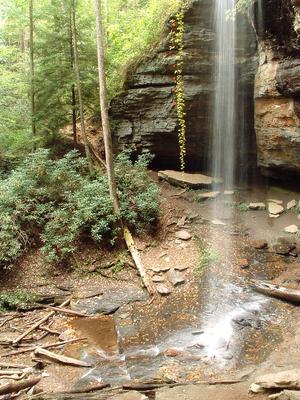 5.6 mi:

Looking Glass Falls

, one of the most scenic and most-photographed in the state.
6 - 6.5 mi: A few more small, pleasant roadside picnic areas as the road climbs above the falls.
6.6 mi: Moore Cove Falls trailhead parking, which is one of the Best Hikes featured on this site.
7.7 mi:

Sliding Rock

parking area on the left. This natural, 60-foot rock water slide ends in a deep, cold, clear pool and is an extremely popular spot for cooling off in the summer. The huge parking lot is often nearly full on warm summer weekends. However, sliding the rock is something everyone should do at least once!
10.1 mi: Junction with FS 475B on the left. This gravel road leads back around the north side of Looking Glass Rock to the Fish Hatchery area.
11.2 mi:

Forest Discovery Center and Museum

at the

Cradle of Forestry in America

. This is a large interpretive indoor/outdoor museum showcasing the science and practice of forestry, from its historical beginnings right here in the Pisgah National Forest, up to modern day practices used across the nation. A fee is charged there.
11.4 mi:

Pink Beds Picnic Area

. The Pink Beds is a high-elevation, relatively level valley sitting at the base of the Pisgah Ridge. (Technically, the Mills River drains this valley instead of the Davidson, but since it is off of 276 we include it here.) You can access the Pink Beds Loop, Mountains to Sea, Barnett Branch, and Club Gap trails from the picnic area.
Past the Pink Beds, US 276 begins a winding ascent of the Pisgah Ridge as it approaches the Blue Ridge Parkway.
12.8 mi: the Buck Spring trail is on the right
14.6 mi: the Mountains To Sea trail crosses US 276 inside a hairpin turn.
15.1: Junction with the Blue Ridge Parkway
Nearby on the Blue Ridge Parkway
If you go south along the Parkway, you'll reach more trailheads: Graveyard Fields, Black Balsam, and the Shining Rock and Middle Prong wilderness areas.
Four miles north on the parkway lies the Pisgah Inn & Mount Pisgah Recreation Area. It's about 16 miles beyond the Pisgah Inn to Asheville via the Parkway.
Farther along US 276
If you stay on US 276 beyond the Parkway, the road descends the other side of the Pisgah Ridge, passes an access point for the Shining Rock Wilderness (the Big East Fork trailhead) after 2.8 miles, and continues on into the town of Waynesville 22 miles beyond the Parkway.
More Trail Details
This is just an overview of the trails and visitor facilities along US 276. For details on all the individual trails, see the Davidson River trails page, and for what we consider to be the best hikes using this network of trails, see the Davidson River hikes page.
Map
Here's a map of the Davidson River area. For more maps, including printed publications, see our Davidson River maps page.
Map Information
Download GPS Data
Click on a route, trail, or point on the map and select the GPS Data tab to download its data.
Data Formats
KML (Google Earth)
KML is the main file type used by Google Earth. If you have Google Earth installed, clicking the KML link should open the trail or point directly in Google Earth for viewing. This is the native file format used by Google Earth, but many other map applications can use and understand KML as well, so if you're not sure which one to download, KML is a good bet.
GPX
The GPX format stands for GPS Exchange - a free, open, XML format for exchanging GPS and map data. GPX is compatible with Google Earth, many other mapping programs, and most GPS devices (such as Garmin). Load the file directly into your GPS to help find your way on your next trip!
GeoJSON
GeoJSON is a newer, lightweight data exchange format which can be used to quickly share map data and may have a smaller size than KML or GPX. Many professional mapping and GIS applications support the GeoJSON format.
About the Map
Copyright
Base Layers
Base layers provided by OpenStreetMap, the US Geological Survey, the US Forest Service, and NC OneMap. Base layer images are subject to the respective copyright policies of their owners. Base layers may not be available at all times due to system maintenance or outages.
WNCOutdoors Base Layer
The WNCOutdoors Base layer is provided by WNCOutdoors.info. It is licensed by Creative Commons Attribution 3.0.
Trail and Marker Overlays
Trail layers and downloadable data are all original works created by WNCOutdoors with guidance from a variety of sources, including ensembles of our own GPS tracks, user contributed GPS tracks, official maps and GIS data from government agencies, and field observations. WNCOutdoors data is made freely available under the Open Database License - you are free to copy and use it for any purpose under the terms of that license (summary).
Tips
Hover over a trail to see it highlighted. Helps to see start and end points for an individual trail.
Scroll and zoom the map before printing, and that view will persist into the printed image.
Click a trail for more details and to download it individually.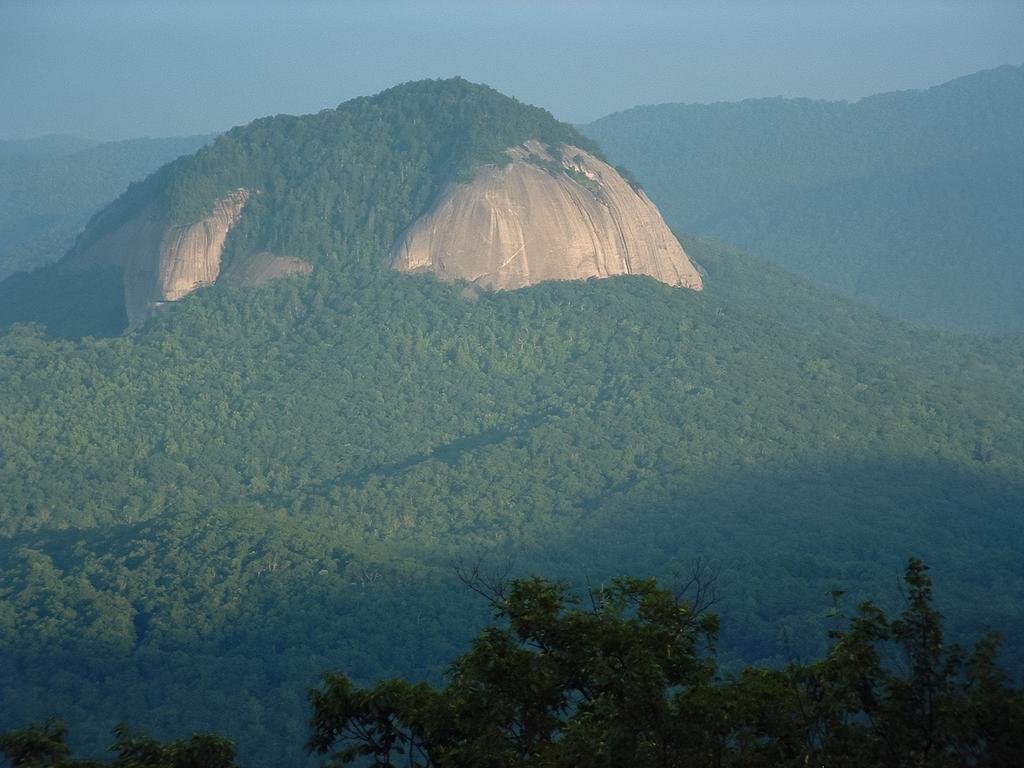 Amenities in Pisgah Forest and Brevard
The formerly unincorporated town of Pisgah Forest (now a neighborhood of Brevard) lies at the big intersection of NC Hwy. 280, US Hwy. 64 and US Hwy. 276. From this intersection, the National Forest entrance gate is 100 yds. W. on US 276. Brevard's downtown is just 3 miles south on US 276. Dupont State Forest via Crab Creek Rd. is 3.7 mi. east on US 64. Hendersonville is 18 miles east on US 64. Asheville via I-26 is 16 mi. north on NC 280.
Besides the food, lodging, and outfitters listed below, everything else you might need - gas stations, a shopping center containing a Wal-Mart and Bi-Lo grocery store, banks, ATM's, and a pharmacy - are all located in Brevard.
Dining
After a long hike or a day in the river, everyone is bound to be hungry. For a sit-down meal, Pizza Hut is adjacent to Bi-Lo, and El Chapala Mexican Restaurant is one block East on US 64. My favorite, Hawg Wild BBQ, is right outside the National Forest gate on US 276, as is Dolly's Ice Cream shop. If you're in a hurry, there is also fast food in the shopping center (Subway, Taco Bell) and more 2 miles south along US 276/64 (Arby's, McDonalds & Wendy's, among others).
Be sure to make time to visit the wide variety of local restaurants in downtown Brevard as well, though. They offer upscale and casual dining for every appetite!
Outfitters
At the US 64/US 276/NC 280 intersection is Backcountry Outdoors outfitters & The Hub bike shop & bar (that's right), with all the gear you need for your trip into the Davidson River Area. Across the street, Davidson River Outfitters offers fishing gear, and Sycamore Cycles offers more in the way of mountain biking gear. Be sure to stop in before heading into the forest!
Lodging
The Hampton Inn is located at this corner. The Holiday Inn Express is 0.3 mi. S. on US 276/64. The town of Brevard is approx. 3 miles S. on US 276/64 and presents other lodging options.
Suggested Places of Lodging
Big Branch Cabins
Experience the best of a Blue Ridge Mountain getaway in beautiful Brevard, North Carolina! Enjoy our charming mountain cabins and our 12 private, wooded acres, bordered by thousands of acres of forestry land. You'll be just a short distance from Dupont State Forest, Pisgah National Forest, Gorges State Park, and Nantahala National Forest including the spectacular Whitewater Falls, highest in the Eastern US. You can hike the Big Branch trail to stream, or enjoy nature in the surrounding thousands of acres of public forest lands. Our two-bedroom cabins are decorated with unique antiques & include a fully functional kitchen, AC, TV/DVD, bed linens/towels, covered porches, outdoor grills, washer/dryer, and a picnic area.
http://www.bigbranchcabins.com/
Hampton Inn Brevard
Fall from your cloud nine bed to the trail when you stay with us at the Hampton Inn Brevard. We are conveniently located at the gateway to the Pisgah National forest where you can actually hike straight from your room to the trail. The hotel is bike friendly and host to numerous cycling groups, races and training programs throughout the year. We also offer a large meeting room for events and can also assist with your group tours.
http://www.hamptoninnbrevard.com
Red House Inn English Bed and Breakfast
The newly renovated Red House Inn provides comfortable bed and breakfast accommodation in downtown Brevard, NC. The Inn is a short walk from many shopping and dining opportunities and within easy driving distance to Brevard Music Center, Pisgah National Forest and Dupont State forest. It is ideally situated for exploring the North Carolina mountains, visiting waterfalls, hiking, mountain biking and fishing. The Red House Inn is owned and operated by a couple who hike and bike frequently with their daughter and dog and will help you plan your outdoor experience in WNC!
http://brevardbedandbreakfast.com/
Sunset Motel
Walk to downtown from this kitschy, clean, quaint and affordable vintage gem. Recently renovated, the motel has an apartment, cottage and 18 rooms – all differently decorated. Smoke-free with modern amenities.
http://thesunsetmotel.com
Camping
Backcountry Camping
Camping is allowed anywhere on National Forest property, except within 500' of a road or in a designated closed area. Good campsites can be found along many trails in the area for possible backpacking loops.
Developed Camping
The Davidson River Campground is located about a mile past the main entrance to the National Forest when coming from Pisgah Forest, on the left. It is open year-round. There are 161 sites, some of which are closed during the winter months. Fees for sites range from $18/00/night for a single site (up to 8 people) away from the river and $20.00/night on the river to $36 & $40 for double sites. Flush toilets, hot showers, and amphitheater, and river swimming and tubing are all offered here. This campground is closest to the most trails: the North Slope trail starts right out of the campground itself, and several others start across the street! It's within a 10 minute drive of all trails in the Davidson River area.
For more information and to make reservations, visit the Davidson River Campground's page on Reserve America.
There are designated roadside campsites along forest service roads in the area as well. Roadside camping is only allowed in designated sites. Most offer level tent pads, with some having lantern posts and fire rings. Others are just nice flat areas. They are first-come, first-served and are usually completely full on summer weekends.
Directions
From Asheville, take I-240 west to I-26 east. Take Asheville Airport exit (exit 9) and go south (right) on NC 280 for 16 miles. At the intersection with US 64/276, turn right onto US 276 and enter the National Forest.
US 276 follows the Davidson River most of the way up to the Blue Ridge Parkway, with many attractions and trailheads along the way.