Davidson River Trail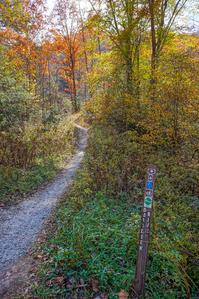 At A Glance



1.1 mi one-way
Difficulty Rating: 1.1 (Easy)
Steepness: Climbs Gently
Tread Condition: Few Obstacles
Blaze Color: Blue
Trail Number: 650

This trail is located in the Davidson River area. For a list of all the trails in that area, see the Davidson River trails list page.
Description
Follows old FR 475. The road has been re-routed further uphill now. Level or gentle climbs, gravel surface. Davidson River is in scenic small gorge below this road at this point. Several landslides in September of 2004 sent parts of this trail sliding 100' into the river below.
All Photos from the Trail
GPS Map
Download GPS Data
Click routes, trails, or points on the map to download them (on the GPS Data tab).
Total Calculated Length: 1.31 mi
This value is derived from our underlying map data, and it may not match officially published information.