Grassy Road Trail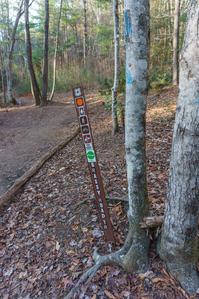 At A Glance



1 mi one-way
Blaze Color: Orange
Trail Number: 396

This trail is located in the Davidson River area. For a list of all the trails in that area, see the Davidson River trails list page.
Description
An old road bed that is becoming a trail again. Moderate climb near the junction with Thrift Cove; levels out near the junction with Sycamore Cove. The open forest along the trail is filled with Appalachian Hill Cane in many areas.
All Photos from the Trail
GPS Map
Download GPS Data
Click routes, trails, or points on the map to download them individually (on the GPS Data tab).
Intersecting Trails
Feedback
Ratings
Average Rating: (rated 0 times)
Rate It Now:
Comments