John Rock Trail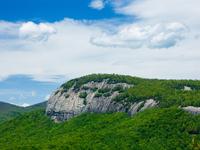 At A Glance


1.8 mi one-way
Difficulty Rating: 1.8 (Moderate)
Steepness: Hilly
Tread Condition: Some Obstacles
Blaze Color: Yellow
Trail Number: 365
Hikes That Use This Trail: John Rock Loop

This trail is located in the Davidson River area. For a list of all the trails in that area, see the Davidson River trails list page.
Description
Steep and rocky near upper intersection w/ Cat Gap. Travels over wide ridgeline to face of John Rock; spectacular view of Looking Glass Rock & the Pisgah Ridge near the Black Balsam Mountain area. Travels through flat areas & steep coves near lower intersection with Cat Gap. Mixed hardwood forests.
All Photos from the Trail
GPS Map
Download GPS Data
Click routes, trails, or points on the map to download them (on the GPS Data tab).
Total Calculated Length: 1.71 mi
This value is derived from our underlying map data, and it may not match officially published information.