Long Branch Trail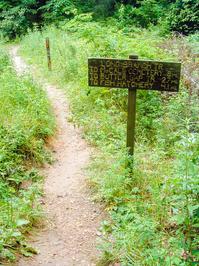 At A Glance



2.5 mi one-way
Difficulty Rating: 2.5


Steepness: Hilly


Tread Condition: Moderately Rough


Blaze Color: Orange
Trail Number: 116

Description
Trail passes through the interesting, relatively flat Long Branch valley near its western end and up and over some low ridges farther east. Some muddy sections near the west end have been reinforced with puncheon and/or rock & gravel causeways; some sections are still quite muddy.
Most stream crossings are bridged, but some of the bridge logs are getting rotted and sketchy.
If there is one plant that has the greatest influence on the scenery along this trail, it's mountain laurel. Tree-sized versions of what's normally just a shrub tower over the trail in places, forming a second canopy below the taller oaks and pines. Some individuals are easily 30 ft tall. Their twisted, mossy trunks are rather unusual in appearance.
As of 2018, most hemlock along the trail are dead, but a few up to medium-sized ones still survive. Will these play a part in future generations' enjoyment of this trail?
Intersecting Trails
This trail is located in the Davidson River area. For a list of all the trails in that area, see the Davidson River trails list page.
All Photos from the Trail
GPS Map
Download GPS Data
Click routes, trails, or points on the map to download them (on the GPS Data tab).
Trail Segments
Trails are often made up of several connecting paths which may have different characteristics, allowed uses, and seasons. This trail is divided into multiple segments as follows:
Long Branch - FS 475 to Cemetery Loop
Allowed Uses: Hiking, Mountain Biking
Length: 0.79 mi
Long Branch - Cemetery Loop to Butter Gap Tr.
Allowed Uses: Hiking, Mountain Biking
Length: 1.83 mi
Total Calculated Length: 2.62 mi
This value is derived from our underlying map data, and it may not match officially published information.
Feedback
Ratings
Average Rating: (rated 0 times)
Rate It Now:
Comments