Looking Glass Rock Trail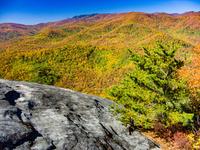 At A Glance


3.1 mi one-way
Difficulty Rating: 3.1


Steepness: Climbs Steeply


Tread Condition: Somewhat Rough


Blaze Color: Yellow
Trail Number: 114
Hikes That Use This Trail: Looking Glass Rock

Description
A classic Pisgah trail. Travels first through small cove, then steeply up the back side of Looking Glass Rock through many switchbacks. Mixed cove hardwood, hardwood, and pine-oak forests. Some areas of rare Carolina hemlocks. Rock slabs. End of trail is at top of cliffs; use extreme caution (however rock at edge of forest is nearly level; watch out for moss & wet rock). Incredible views of Pisgah Ridge from Mt. Pisgah toward the Shining Rock/Black Balsam Mtn. Area & valleys below. Highly recommended.
This trail is located in the Davidson River area. For a list of all the trails in that area, see the Davidson River trails list page.
All Photos from the Trail
GPS Map
Download GPS Data
Click routes, trails, or points on the map to download them (on the GPS Data tab).
Feedback
Ratings
Average Rating: 4.0 (rated 7 times)
Rate It Now:
Comments